There are restaurants in the city that seem to have endless menu options. Then there is J's Steak Frites. Located just a couple of doors away from the Gladstone Hotel and in the former location of Dandelion on Queen St. West, this newcomer to the restaurant scene serves just one dish. You guessed it, Steak Frites. For the times when we don't want to make any more decisions (like now), this is music to my ears in these "just feed me something delicious and uncomplicated" moments in life. Steak Frites is comfort food and consistently satisfies when done right. And it's absolutely done right here.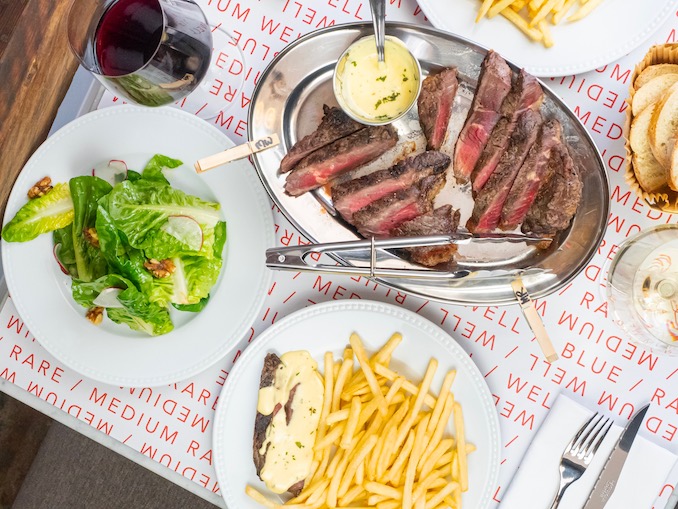 Husband and wife team Jad Sfeir and Tara Tang felt there was a gap in Toronto's food scene. When it came to high quality steak options, there are many but are often at a hefty price point. Their idea was to make a really delicious steak meal where steak lovers won't have to drop a week's worth of their food budget in one sitting.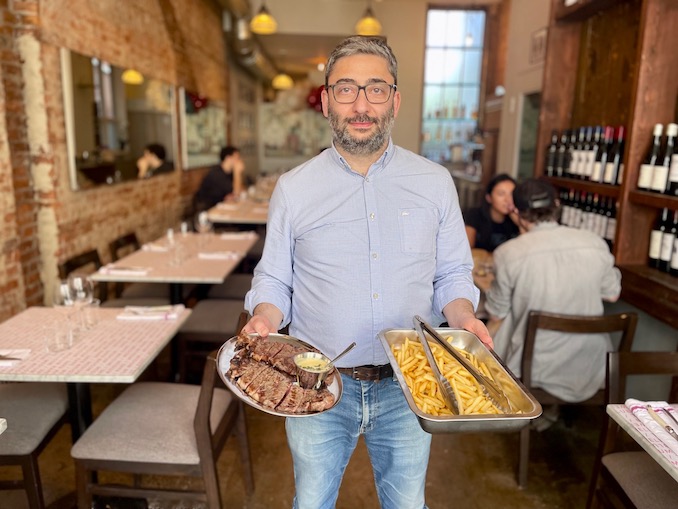 Having travelled the world, and as restauranteurs, they were drawn to the charm of this popular go-to dish found across Europe and North America. French Bistro style meals that are casual and not fussy.  The best ones they discovered didn't have overwhelming menus. They were inspired by the focus and attention to details. The "less is more" approach is a concept they love. That, paired with the warm and inviting hospitality we experienced here at J's Steak Frites, will quickly make this spot a popular one.
Steaks here are seared to the diner's liking. Like Sfeir, we prefer our steaks done medium rare but if a diner insists on well-done, he tells us they will respect that. "That's really the only decision they will have to make at our restaurant," said Sfeir. The perfectly seasoned 10 oz Canadian AAA grade steak (per person) comes to the table on it's own platter served with a side of the house-made buttery Bernaise sauce (made with a balanced hint of spices) and deliciously addictive thin and crispy fries.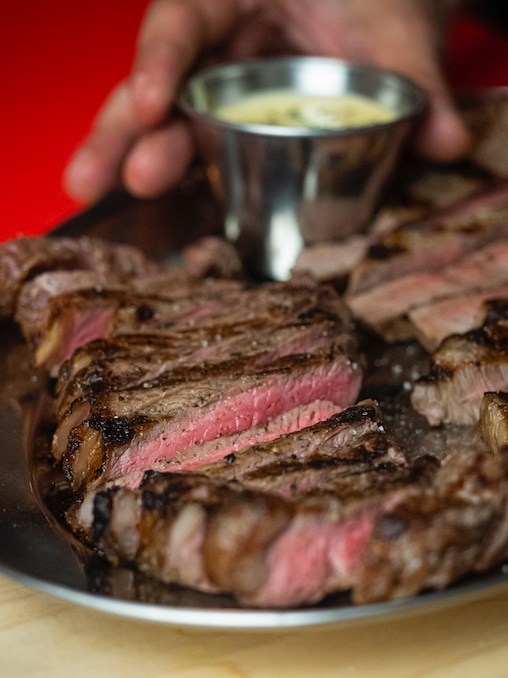 Did we mention fries are unlimited? Sfeir rolled by our table three times to check on our fries situation and at one point said "you must have more," to which I couldn't resist as a fry addict. However, my friend Libby politely declined to which his response was "I can't hear you," and tossed a few more on her plate as we laughed.
At $49, in our city, for a steak dinner is already a decent price point but it's not just steak and fries! The meal also comes with a basket of fresh baked bread and an equally fresh green baby gem lettuce salad in a housemade lemon vinaigrette topped with candied walnuts.
Then, there's dessert, if you have space and the bandwidth to make one more decision (pro tip: do it!). It is a serious treat here as we learned Tang is also the house pastry chef and Cordon Bleu trained. She also owned her own cake and pastry shop "Taramissu" in Ottawa before moving here to Toronto. An eyes-are-bigger-than-my-stomach moment caught us by surprise as the dessert trolley (a nod to old school steak houses, for sure) displayed four offerings that night.  The selection was an over-the-top 5 layer deep and deliciously moist Chocolate Cake, a bountiful classic French Baba au Rhum, a fresh and pretty raspberry "Macaron", and a beautifully presented Mille-feuille. The Chocolate Cake was calling for us and it was definitely more than one person could handle especially after a satisfying steak dinner. We decided to share one dessert at our table, not wanting to over indulge or waste any food. Desserts start at $14.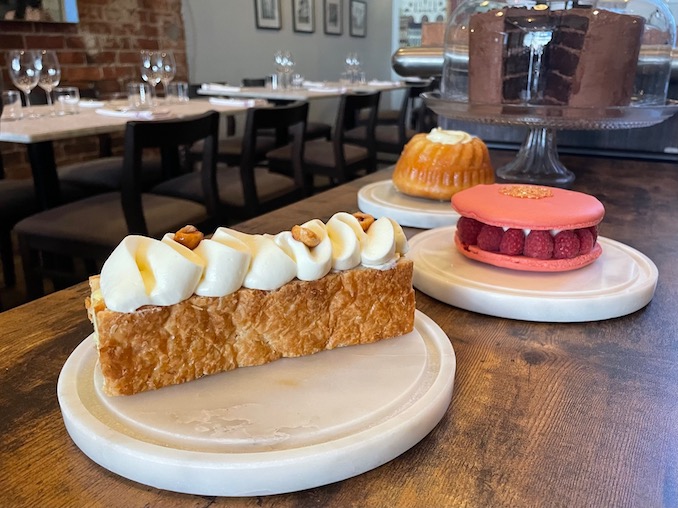 If you love your meal to be accompanied with a luscious red wine, there's a well-thought out selection from Bordeaux or a Malbec from Argentina that are available by the glass ($13 and up) and a Napa Valley Chardonnay ($15 and up)– other reds (Chianti, Pinot Noir, Shiraz, Tempranillo, Merlot Syrah, Barolo, Grenache, Cabernet Sauvignon), sparkling, rose, and whites are also available by the bottle. If you want to start with a cocktail, they have a four on their menu as well. A tasty choice is their  "Twilight" is a citrusy option that is little sweet and a hint of tarty ($18). Again, the wine, cocktail program is focused. There is one beer option currently –Kroenbourg 1664 ($10).
J's Steak Frites is currently opened for dinner service in their 30-seat establishment from 5 pm to late (Wednesdays to Saturdays) and from noon to 8 pm on Sundays. No reservations required at this time. There are some thoughts of eventually rolling out to offer take out but one step at a time. They want to do everything right.