I've always had this romantic notion about camping but to be completely candid, I have never been. The thought of having to haul gear and pitch a tent sounds like a lot of work but I do like the idea of cuddling under the stars and just listening to crickets in the wilderness! When the opportunity to visit the newly opened Whispering Springs Wilderness Retreat came up, I didn't hesitate.
Located just an hour and a half east of Toronto in the quiet rolling hills of Northumberland County, in Shelter Valley, is this secret getaway. This 200-acre property is sprawling with hidden trails and a pure springs pond that trickles into gentle waterfalls. Dotted along the way are several large luxury tents that made me catch my breath ending with a  "WOW" at first glance.  Each one has its own theme and uniquely decorated by the owners. We requested the "Willow Rush" that was cozy with hints of the Canadiana.  If the term "glamping" comes to mind, you're right.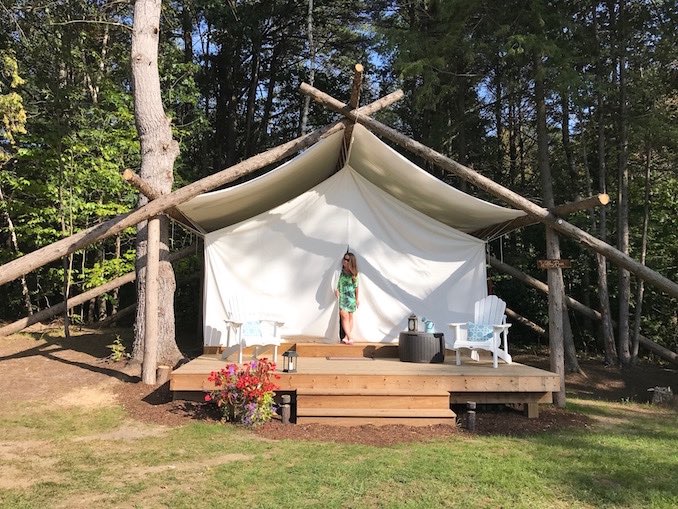 This is what dreams are made of. No need to rough it but, as I've been told, it brings the elements of camping that people love without the worry. Tents sleep 2 or 4 people and by sleep they mean full on cushy soft beds with duvets and fluffy pillows that you can sink into and not want to leave.  This is luxury camping and something worth experiencing.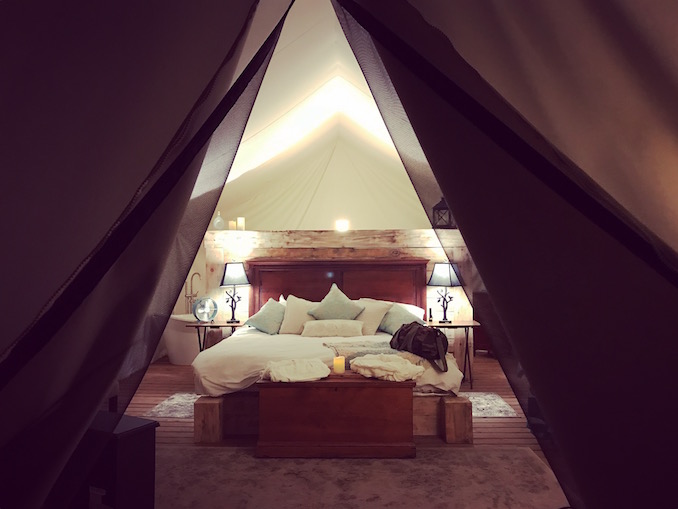 The rooms, I mean tents, are also equipped with a full open air bathroom inside complete with a soaker tub. A real selling feature after a day of exploring. But for those who prefer a closer to camping experience there are private open air showers located in the common area. Each tent also comes with luscious white bathrobes yours to lounge around in during your stay. Guests were wearing them in the mornings enjoying fresh perked coffee at their tents while others donned them for a late night dip into the pool and hot tub.
Each tent has it's own large hammocks, fire pit and barbecue, again part of the camping experiences that people enjoy. The owners encourage people to bring what they like to cook up right at their tents. But if you would rather not hassle with packing food to cook, guests can order up a barbecue basket that would be delivered to the tent ready for cooking. They were also working on adding a wood fire pizza oven that will be in place shortly. There are also nearby towns to visit if you decide not to cook at all. They have a few recommendations to offer if needed. We stopped into the Oasis Bar & Grill in Cobourg and had a great lunch. We had learned it was a popular spot for live bands too. For dinner, we brought up small salads, snacks, and cold cuts for our visit and kept them cool our tent's mini-fridge. If we had planned to stay an extra day we probably would have taking an afternoon to visit Prince Edward County since it was so close.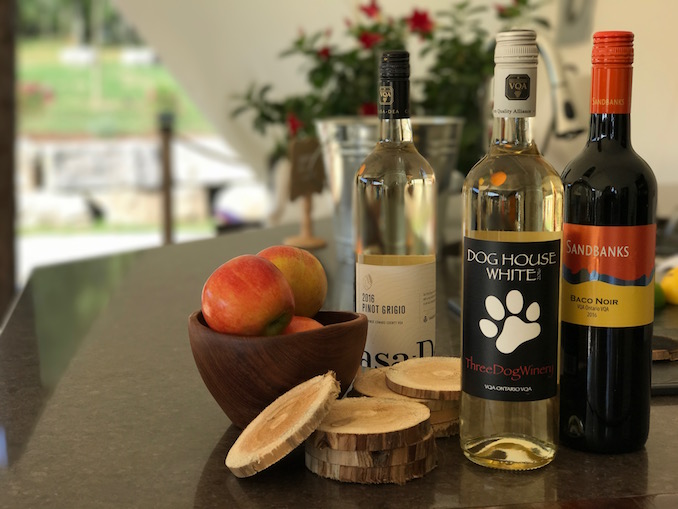 Yes, you can bring your own wine/beer and enjoy in your tent but the "Watering Hole" gathering place here is worth a visit. Everyday Whispering Springs hosts "Magic Hour" and invite guests to enjoy a complimentary glass of local wine or craft beer as the sun starts to set in the horizon at the outdoor lounge. Here Dave, the bar keep is happy to introduce you to some of the areas finest but stay a while and order up one of his cocktails. Luckily for us, the owners John and Nancy Corcoran happen to be on site and spending time with them was as though we've known them forever.
We had learned that John, Nancy and their family are no newbies to the hotel industry. The Corcoran family has been involved with another popular getaway destination in the area, Ste. Anne's Inn & Spa. Nancy was the Inn's keeper for many years so you can safely say that they know what they're doing. They also charter winter catamaran excursions in the Bahamas over the winter months. This new venture is another love of theirs and it absolutely shows in every detail. They tell us the idea behind Whispering Springs is to offer a place where people can slow down and disconnect in nature but in comfort and style.
You can find John completely hands-on around the property and welcomes chatting with guests about the family's history and future plans the area. Nancy is the the ultimate and most sincere host we've ever come across on our travels. You'll want to give this woman a hug especially when she delivers her fresh baked goodies to your tent in the morning for breakfast! Their daughter Jenna helps to manage the business and son Christopher, a certified nutritionist, will be creating health focused retreats.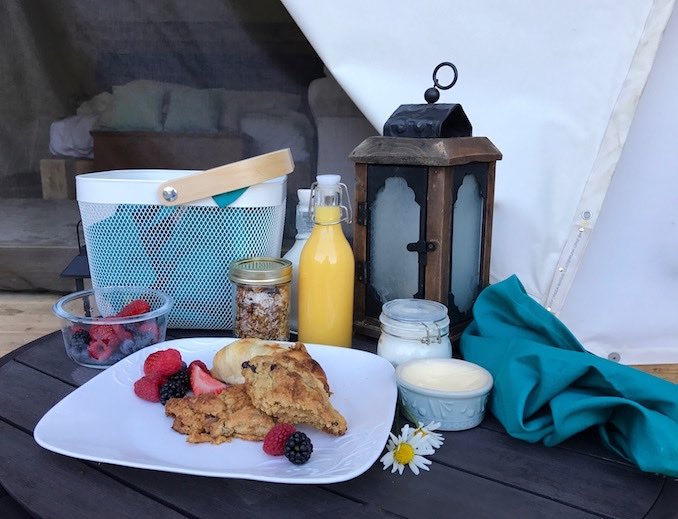 There are plans to expand Whispering Springs for the summer season in 2018 with an additional 10 tents. But from now until the end of October of 2017, they are accepting reservations for this secret getaway. Note that the nights are starting to cool down so remember to pack a jacket if you're planning to visit in the next couple of months. After all, this is still a "camping" experience. Heaters are brought up to the tents when needed or um….generate your own heat.
Wedding parties have started getting wind of this spectacular piece of land as well as people interested in Yoga, Meditation and Wellness retreats. Currently we are told that it is an adults only retreat and in the future they are considering family weekend bookings on designated dates.
It's an idyllic peaceful getaway that is well thought out for a great escape from the city and certainly a very romantic getaway under the moon and stars.
For more information visit WhisperingSprings.ca