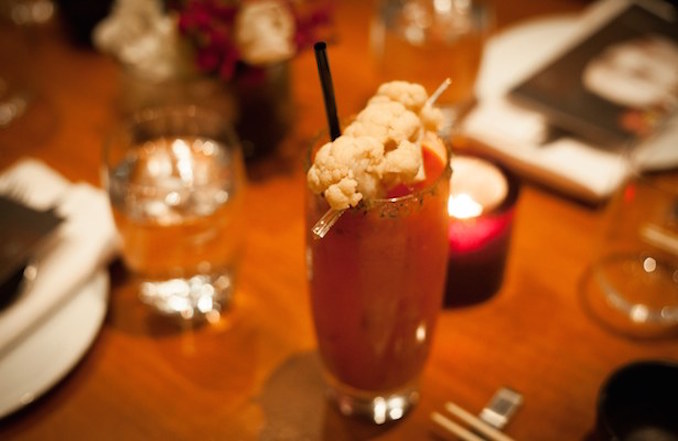 Shogun Caesar *Fun Fact: Shogun is a Japanese General, or Commander-in-Cheif in Feudal Japan.
Created by Head Chef Elio Zannoni and Bar Manager Natalie Pare
Ingredients:
1.75 oz Moonlight Shochu
.25 oz Dolin white vermouth
1 bar spoon sriracha sauce
4.5 oz Walter caesar mix
Ki Rim spice
Method: 
1. Using a lemon, wet the rim of a Collins glass and rim with Ki rim spice
2. Stir the remaining ingredients in a separate glass
3. FILL the rimmed glass with ice and pour the mix over it.
Garnish: 2 pieces of pickled 7-spice cauliflower on a skewer
This cocktail is garnished with our house made pickled cauliflower. Please see below for the pickling recipe:
Ingredients:
.5 head cauliflower
1 cup water
1/2 cup sugar
1 cup rice wine vinegar
3 tsp salt
1 bay leaf
1 tsp mustard seeds
5 black peppercorns
1 tbsp 7 spice
Method:
1. Sanitize glass jars with boiling water
2. Wash cauliflower and break down into florets
3. Place cauliflower into sanitized jars
4. Bring pickling liquid to a boil
5. Pour over cauliflower
6. Seal jars and let cool
7. Place in fridge and enjoy in 7 days
ABOUT WALTER CAESAR MIX:  Walter is a premium, all-natural craft Caesar mix. It is made in Canada in small batches with vine-ripened tomatoes, spices, horseradish, Worcestershire sauce, hot sauce, & clam juice from the North Atlantic. It contains NO MSG, NO artificial colour or flavor, and NO high fructose corn syrup. It is named after the inventor of the Caesar, Walter Chell
This unique drink will be featured every Friday for the month of February at Ki Modern Japanese + Bar.