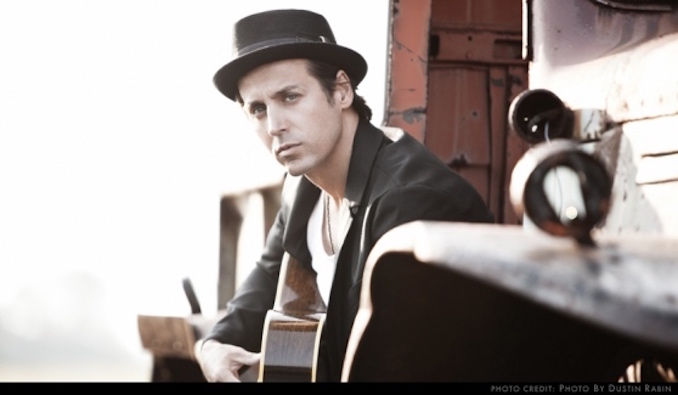 Raine Maida released his sophomore solo album, We All Get Lighter this past Tuesday and I had the pleasure to sit down with him to discuss it in a downtown Toronto cafe. The album's title comes from an encounter Raine had with famous beat poet John Giorno at a spoken word festival four years ago. Giorno signed his book,'Demons in America' for Raine with the words,'Dear Raine, Everyone get's lighter.' This quote, which is a poem of Giorno's, left such a profound effect on Maida that it would become the basis for his entire album. The meaning behind it basically saying that at some point we all turn to dust and leave this planet, and we shouldn't waste time searching for the meaning of life. We should just live it. The whole record had to have a thread to that statement, according to Maida.
We All Get Lighter is Maida's follow up to his album The Hunters Lullaby. In between the two albums, Maida released a pair of 3-song mix tapes Maida released last year, called the Pachamama EP 1 & 2 that stood strong on their own but Maida felt they didn't quite fit the theme of We All Get Lighter. After spending the last 18 months recording in Toronto and Los Angeles, We All Get Lighter is now finally available to the public. Like his last solo record, We All Get Lighter was recorded in Maida's studio and self produced. The difference this time with the album was that Maida had a lot of back and forth contact via email with musicians with different musical parts. Giving someone the freedom to play various parts and then send it back to Maida worked very well, Maida said. The first single from off the new album is called "Montreal"  and includes an amazing horn section that really brought the song to life for Maida. Check out the lyric video below.
It's all about finding a balance. Along with solo and Our Lady Peace records, Maida has kept busy as a founder of Busking for Change in 2007, helping fund War Child projects such as building a school in Congo. In 2011, Maida and Kreviazuk won the Allan Slaight Humanitarian Spirit Award, which recognizes musicians for their high ideals and humanitarian service. With his wife Chantal Kreviazuk, the pair also have a boutique film and television production company, Arc 49 based in both Toronto and Los Angeles, in which they develop and produce projects in which scoring original music is a major component.
Maida sounds at ease with his new album and to be honest, I think he has it right. Sincere, intimate and with substance, We All get Lighter is a record about something we should all do but often forget to do: live in the moment.
If this clip doesn't entice you for good things to come, I don't know what will.