We've all heard that tired old adage about "10,000 hours" – as if there's some concrete, magical number that can make you truly good at something. Especially in something as fickle as comedy. Comedy is one of those things where you have to have that innate talent, those gears in your brain. And if you do, the only thing that will bring it out is getting out there – night after night, show after show, bomb after bomb and kill after kill. And if this life is for you, you'll find out. Not all of the sea turtles are meant to make the swim. It's a lesson learned by trial if not error, and the audience is the jury.
That's the funny thing about Canadian comedy. You can exist on the scene for so long, surpass your peers, earn the respect of your entire industry – and most Canadians probably have no idea you even exist. And then, at some point, they find out. Your moment arrives. Your name becomes a name… well, ok kinda. And by the way, even that's not easy to achieve in Canada. And for the rare ones who do, people seem to just assume you arrived there overnight.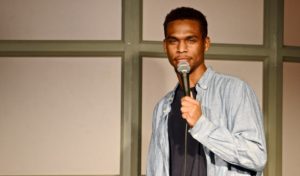 Chris Robinson is a comic who has definitely had one of those game-changing years. I first came across Chris early on when I arrived on the Toronto standup scene some six years ago (yes, that's right – six years in The 6ix) And by that time Chris was already a few years out of Humber's comedy class, and a fixture on the local standup scene. He was a young, hungry comic with serious chops. And a comic that other comics of our generation respected. One of those comics that the newer open mic'ers (myself included) would always stick around to watch. Sometimes it seemed like he was up there just fucking around, sometimes he was grabbing it by the throat – but on any given night he always had that air of someone who came at it with a lot of love, and was most likely never going to pull back on that dream. He lived the grind. And it never seemed to take much for him to get the audience on board. I remember to me Chris Robinson always just seemed like someone who was going to "make it" (whatever that means in Canadian comedy)
Fast forward to 2016. Heading towards the tail end of his 20s, Chris Robinson suddenly had a baby due to arrive (which turned out to be a boy, by the way) and comedy was now very obviously and very realistically transitioning from a long-time 'love of the game' to a full-blown career path. Performing at Montreal's iconic Just for Laughs festival this year, rubbing elbows with comics he came up admiring, and performing with a handful of his own personal heroes, there was that unmistakable moment of realizing 'you've arrived'. Without question, JFL is the biggest comedy festival in the world. An institution that's been around for a few years longer than Chris Robinson has been alive. And for Canadian comics especially, it's a rite of passage that means all eyes and ears of our entire industry are on you. A well publicized appearance at Just for Laughs can certainly fill up your calendar with club dates and keep the new offers rolling in. And for many, it could be the one major festival credit that finally gets you passage into the U.S.
While performing in Montreal and soaking up the experience, Chris was a fierce competitor in the annual 'Homegrown' competition – pitting the best of the best upcoming comics from across Canada against each other for a shot at a seldom-seen payday, more sought after festival spots, and some serious notoriety in the incestuous small town that is the Canadian comedy business. In the end, Nigel Grinstead (another young comic who's been rapidly ascending the ranks these last few years) took the Homegrown prize. But Robinson savoured the entire festival experience, and in typical Chris Robinson fashion (not always typical of other comedians) he took in the whole thing with an air of humble appreciation. Setting his sights on that next big gig.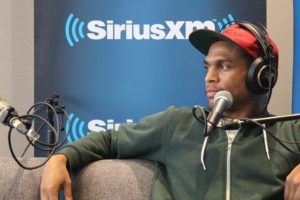 What came next, was Top Comic. As a comic with under a decade of skin in the game, I've already been around long enough to appreciate what a milestone turn of events it would be, spending your summer transitioning from the biggest festival on the planet, to the most career-making competition our industry has to offer. Top Comic, like a larger version of Homegrown, culls the entire country coast to coast – every major comedy hub and standup scene from St. John's to Saskatoon, Toronto to Vancouver – and spends the summer months placing the cream of the Canadian comedy crop on club stages to ultimately vie for a cool $25k prize. The biggest payday in Canadian comedy and "quit your day job" money, as far as the majority of hungry young standups are concerned. It's another major event on the calendar where the festival brass, big bookers, and network heads are tuning in and paying attention. Let alone that Canadian audience I mentioned who might not normally hear these names on these lineups, now being broadcast across the satellite airwaves on Sirius XM.
When we spoke to Chris and a few other comics on the Top Comic bill about the competition this past July on Toronto's AM640 (Inside Jokes hosted by my friend and longtime radio co-conspirator Sandra Carusi) they talked about the awkward pressures involved. Getting up on stage and 'killing it' was one thing (arguably, something Robinson is pretty used to at this point, though it's never a "given". Every night at any show can, as we all know, could be your best or your worst set) – but if you make it through that first initial wave of audition shows and competitive rounds, then comes the dreaded voting phase. Comics are (for the most part) social media butterflies. But some tend to be more introverted off stage and keep a lower profile. Chris is more of the 'post funny shit' kind of social media commentator, and not exactly known as the 'humble brag' type or the 'oversharing' kind (trust me, I know of what I speak). So, when you hit the phase of the competition where you're tasked with taking to Facebook and Twitter on a relentless campaign of pandering for audience votes and the support of friends (not to mention begrudgingly asking the same of your friends in comedy who didn't make the cut) – Chris just did it his way. Ridiculous videos and public prompts for votes that garnered attention and playfully mocked the process while playing by the rules. Once again, in typically laidback (and uniquely flavoured) Chris Robinson fashion, he approached the whole thing in a way that just seemed – well, fun. He didn't seem to sweat it. And if he did, he definitely didn't show it.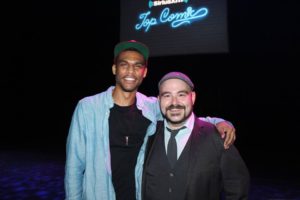 And while in that final night of competition, with Ben Miner – the face and voice of Sirius XM's Canada Laughs, and himself a tireless champion of promoting Canadian comedy – hosting to a packed crowd, Chris Robinson came to kill. He walked away that night $25,000 richer. His phone buzzing a hole in his pocket. The respect of his fellow comics here in Toronto and across the country had long ago been earned, but suddenly was incredibly amplified. The new work rolling in, and the attention of the "industry" laser focused on him. All this happening at once, with a newborn son at home and the next chapter awaiting.
He joined me again on the air. This time on my Forever Young podcast on Talkhole comedy podcast network. It had been a month since the big win at Top Comic, and a couple of months settling into the life-changing role of parenthood, and some time to reflect on the festival and the collective watershed of 2016. He's a younger comic all in all, though not exactly an "overnight success" as those earlier mentioned Canadian audiences might imagine. He first cut his teeth in standup almost a decade ago, fresh from the Humber College comedy program, and the tutelage of our friend Rob Trick. He's been at this a while now – and he always came at it hard. After all, it's what he's known he wanted to do for most of his life. So I asked him about all of this. Aside from the life changes, and the career changes, has anything changed him as a comic? He just kind of shrugged it off, and gave a typically Chris Robinson answer – he just wants to do his thing, be funny, and keep growing. Maybe it's just a little more serious now.
Comedy is a fairly fucked up world to live in. Me and Chris agreed, and most would, that we all do this thing because we aren't quite wired the same as everyone else. We have that thing in our brain, that filter that processes the world around us in a different way. And to 'make it', or even just to get by, we have to grow and adapt and always worry about the next credit coming our way. The next gig. The next pay check. And we have to do it all while staying relatively sane, and grounded, and reasonably balanced. For Chris, I have to assume that probably means even more now. And like everything else he does, Chris just approaches it his own way – be humble, be good to your fellow comics, work hard. His talent is pretty hard to deny, especially now. But his outlook on it all? I can tell you firsthand, that's pretty rare in comedy.
He did show up on morning television a while ago rocking gold chains and playing up the "high life" of a Canadian comic with 25-large to spare. And as usual, it killed.