Eight chefs are getting together August 7th on the Toronto Islands to cook a prix-fixe menu for guests of the ProvisionsTO Almanac Island event. The foodie event will feature four courses cooked over an open fire and a grill with proceeds going to support Artscape Gibraltar Point, a year-round arts and cultural facility.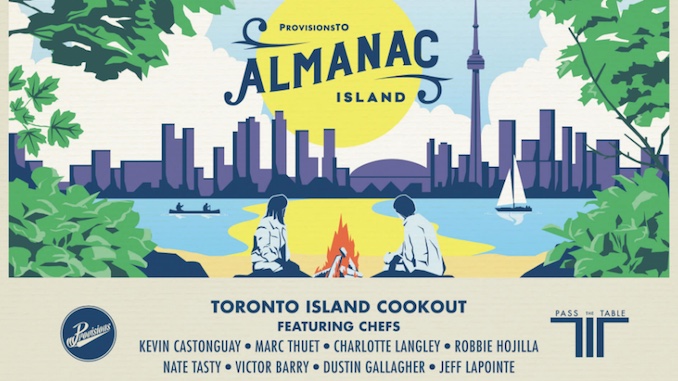 The event is being organized by ProvisionsTO's Kevin Castonguay whose catering company we have featured in a previous article. The event will also feature craft beers, good music and a clam bake. Guests will arrive on the island via a privately chartered ferry that will pickup passengers from Toronto and bring them across the harbour.
The four-course collaborative meal will be created using ethically raised Ontario meat and fresh seasonal produce. Each course will have 2 chefs preparing it for the 100 expected guests.
Chefs Involved
Kevin Castonguay (ProvisionsTO)
Victor Barry (Piano Piano)
Marc Thuet (Petite Thuet)
Dustin Gallagher (People's Eatery)
Nate Tasty (Home of the Brave)
Charlotte Langley (Scout Canning)
Jeff Lapointe (Nomad)
Robbie Hojilla (The Harbord Room)
Visit the Pass The Table website event page that has been set up for more info and to buy tickets.