Fox Theatre is the oldest continuously run cinema in Toronto, having been built in 1914, open and operating ever since. The theatre has an interesting history with ties to the first world war, Prince Edward, and has long-held rumours of being haunted. It's a key component to the lovely atmosphere and beloved businesses of the Beaches Toronto, a long-standing vibrant neighbourhood and tourist destination.
Fox Theatre's lobby is three steps from the street; they make themselves accessible to wheelchairs by putting out a makeshift ramp over the stairs. From there, the box office, concessions, and seating in the auditorium are on slopes, making them easily wheelchair accessible. However, they do not have an accessible washroom; their facilities are negligible.
Accessibility – 3/5 WHEELS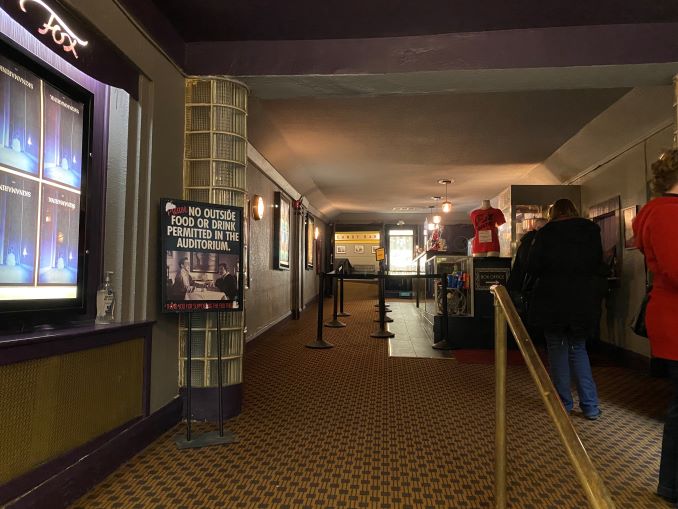 The auditorium is a good size and easy to spread out, although they are a popular local theatre, and most showtimes are well attended. Patrons are strongly advised to mask in the theatre, and employees must mask. However, most audience members were not masked in favour of having popcorn and drinks during the show.
COVID-19 Protocols – 3/5 MASKS
Fox Theatre is not in the most central location in Toronto. However, they are highly transitable, being on the Queen streetcar line. They are also walking distance from the beautiful beaches of Toronto.
Transit-ability – 4/5 TRAINS
A non-membership ticket costs $11.50+tax, an incredible deal compared to the bigger guy. Fox Theatre's concession prices are also a steal charging between $6-8 for popcorn and around $5 for a fountain pop.
Prices – 5/5 COINS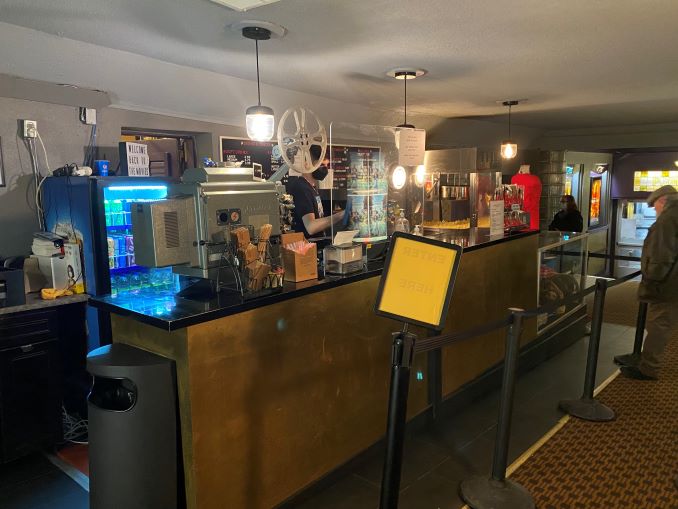 The theatre was promptly opened a half hour before showtime. Two staff members were helping out: one at the box office, the other at the concession. They were polite, friendly and efficient, like a well-oiled machine.
Customer Service – 5/5 HELPING HANDS
The Three Big S's
Sound: For the preshow, Fox Theatre played easy and indie rock, and there was a fair bit of chatter. The open cinema with minimal carpeting meant sound travelled. Still, I found that once the film started, the surround speakers kicked in and listening was very immersive, apart from the sharp crackle from a bite of popcorn a few rows over.
4/5 EARDRUMS
Seating: The seats were very comfortable and reclinable, and the rows had lots of legroom. It was a very comfortable viewing experience, for sure.
5/5 PILLOWS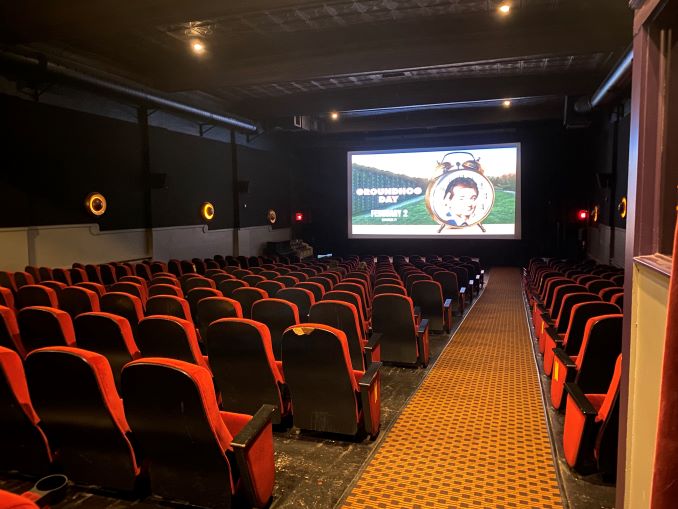 Screen: I was a little worried during the pre-show about the size of the screen compared to the size of the auditorium, but just before the previews began, something triggered the projector and screen to widen and expand for a vast and beautiful viewing experience. Whatever fuzziness I saw during the pre-show was absolutely non-existent during the showing.
5/5 CORNEAS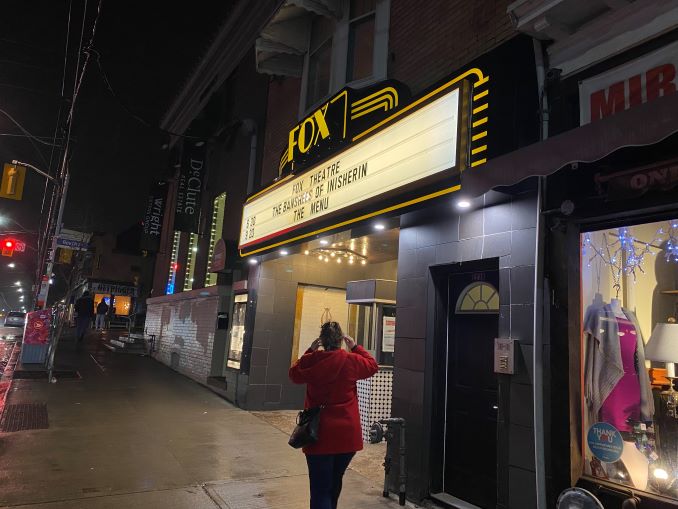 Films on the Roster
As far as their current schedule suggests, Fox Theatre is not a significant adversary of Canadian content.
Canadian Titles – 1/5 BUTTER TARTS
The Fox Theatre loves an anniversary showing and a niche holiday film! They review cult classics in their well-known What's A McGuffin series. They also partner with local businesses, i.e., High Tea Cinema events where a cup of Pippins tea and a scone comes with every ticket.
Special Events – 5/5 GIRL SCOUTS CREATIVITY RIBBONS
They like to show films with less chance of a wide run-in larger cinema chains, but that's not to say their choices are mostly Indie, but Critic's choices and festival films. Their review cinema brings in a fair amount of large production house classics or projects from distribution conglomerates.
Indie vs Mainstream Titles – 3/5 HIPSTERS
TOTAL SCORE – 43/55