For National Cheesecake Day which took place on July 31, Pizzeria Libretto's Chef Rocco created an irresistibly creamy and refreshing cake that will capture your taste buds. Try this Ricotta Lemon Cheesecake that has a much lighter and fluffier texture while preserving the integrity of the beloved dessert; the rich cream cheese base acts as the perfect vessel for the ricotta and lemon to shine.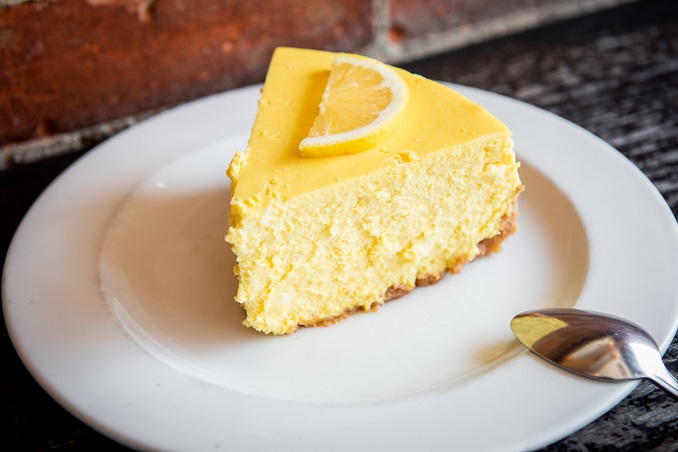 Ricotta Lemon Cheesecake
Ingredients:
For the Lemon Curd
4 lemons zested and juiced
1⁄2 cup sugar
3 whole eggs
3⁄4 stick butter
For the Cheesecake
1⁄2 cup ricotta cheese
1 1⁄4 cup cream cheese
1⁄4 cup sugar
1 cup 35% cream
For Macerated Strawberries (optional)
1⁄2 lt strawberries
1⁄4 cup sugar
1 lemon juiced
Directions:
For the Lemon Curd
1. In a heavy bottom pot add the lemon juice, lemon zest, sugar, eggs and whisk together.
2. Cook mixture on moderate low heat, whisking frequently.
3. Stir in butter and cook curd is thick enough to hold marks of a whisk and first bubble appears on the surface, about 6 minutes.
4. Transfer lemon curd to a container, cover the surface with plastic wrap and chill until cold, at least 1 hour.
For the Cheesecake
1. In a bowl add the 35% cream, and whisk until stiff peaks, then set aside.
2. In a stand mixer, add the ricotta cheese, cream cheese, sugar, and with the whisk attachment, whisk until mixture comes together, remembering to scrape down the sides a couple of times during the process. You are looking for a smooth consistency in the mixture.
3. Add the lemon curd to the cheese mixture and combine well.
4. With a spatula, fold in the whipped cream to the mixture.
5. Place the cheesecake mixture into a container large enough to hold, cover and refrigerate overnight.
For Macerated Strawberries:
1. Slice the strawberries into quarters
2. Mix the strawberries, sugar and lemon juice to a bowl, mix.
3. Place in a container and store in the refrigerator.
Assembly:
1. In a metal ice cream coup or any other preferred serving dish, place about 3⁄4 of a cup of the cheesecake mix.
2. Top with 2 tbsp. of macerated strawberries
3. Top with 1⁄2 tbsp. of your favourite crispy topping (we like crispy amaretti cookies crumbled on top)
4. And if you are feeling adventurous, finish with a drizzle of olive oil.