Maison-Basque is a Toronto store that offers North Americans colourful striped fabrics from the Basque Country to inhabit their homes and for their accessories. We got to speak with their owner Evelyne Dufau to find out more about them.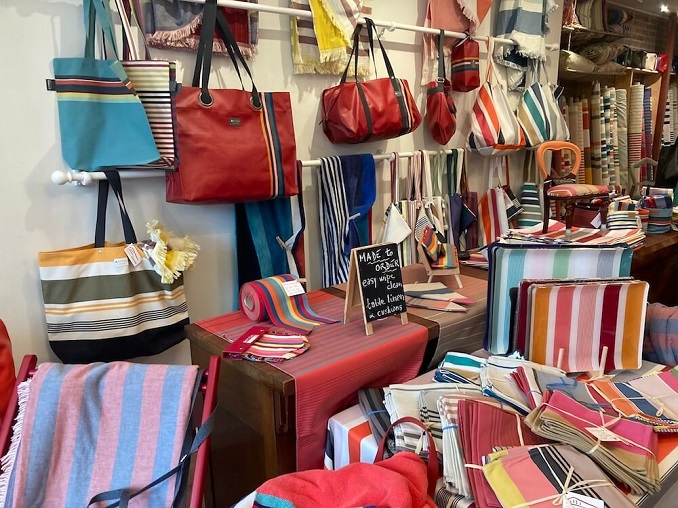 What is your business called and what does it do?
MAISON-BASQUE offers North Americans colourful striped fabrics from the Basque Country to inhabit their homes and brighten their accessories.
What made you want to do this work?
Raised and born in Southwest France, I wanted to act as a bridge connecting the ancestral weaving traditions of the Basque country with our local makers to contribute and make them relevant to our way of living here. I hope we enable our clients to find their own stripes, self-expression and joie de vivre while honouring artisanal weaving traditions from France and the work of quality makers in North America.
What problem did you want to solve with the business?
Spread joie de vivre and bien vivre from the Basque country through our textiles and honouring talents from both sides of the pond.
Who are your clientele/demographics?
North Americans who value design and quality striped textiles as a source of joy in their home and while on the go. Our clientele tends to be in their 40's and up, with a majority of women as decision-makers while we cater to all sorts of fans of textiles and décor who value quality and good relationships.
How does your business make money? How does it work?
We have a Toronto showroom where we meet in person with clients, an online shop and pop-ups at various venues in Ontario so far. We also consult more and more by video with our clients throughout North America towards their selection of made-to-order table linen, drapes, upholstery, and other décor services. We also offer made-in-France ready-made items such as tote bags, towels, folding deck chairs, pillows and more
Where in the city can we find your profession?
We are a niche boutique servicing our North American market as the only company stocking in North America bolts of Basque woven fabrics, coated (with their easy wipe-clean benefits) and uncoated. We combine this unique offering of fabrics with the ability to work on made-to-order table linen and décor projects.
What is the best question a prospective customer could ask a member of your profession when comparing services? Give the answer as well.
What does your company do best and enjoy doing at their best? Maison-basque's purpose is to spread joie de vivre and bien vivre from the Basque country through our textiles, relationships with clients and the execution of the project. Through our work, we hope to share with our clients a joy of living combined with a life of good values.
What is the best part about what you do?
When Maison-basque clients express their special joie de vivre through meaningful and strong personal choices of products for gathering around the table, enjoying their homes, and carrying on the go. When our clients feel connected to who they are, what they love, what they value and who they want to support.
What is the worst part?
Social media interactions do not deliver any of the quality interaction enjoyed with clients.
What is your favourite joke about your own profession?
Cannot think of anything. What I strongly believe is that all of us need to trust that voice in us to make meaningful design choices; what the heck if our neighbours/friends or family do not like what we select… this is for us, one life and it is short!
Where can we follow you?
Website | Instagram | Facebook | Youtube
PAY IT FORWARD: What is another local business that you love?
Any small business that does its work with passion and good values.