Our latest recipe comes from Summer's Ice Cream located in the Yorkville neighbourhood. They have shared with us this recipe for Salted Caramel Truffle Bombs.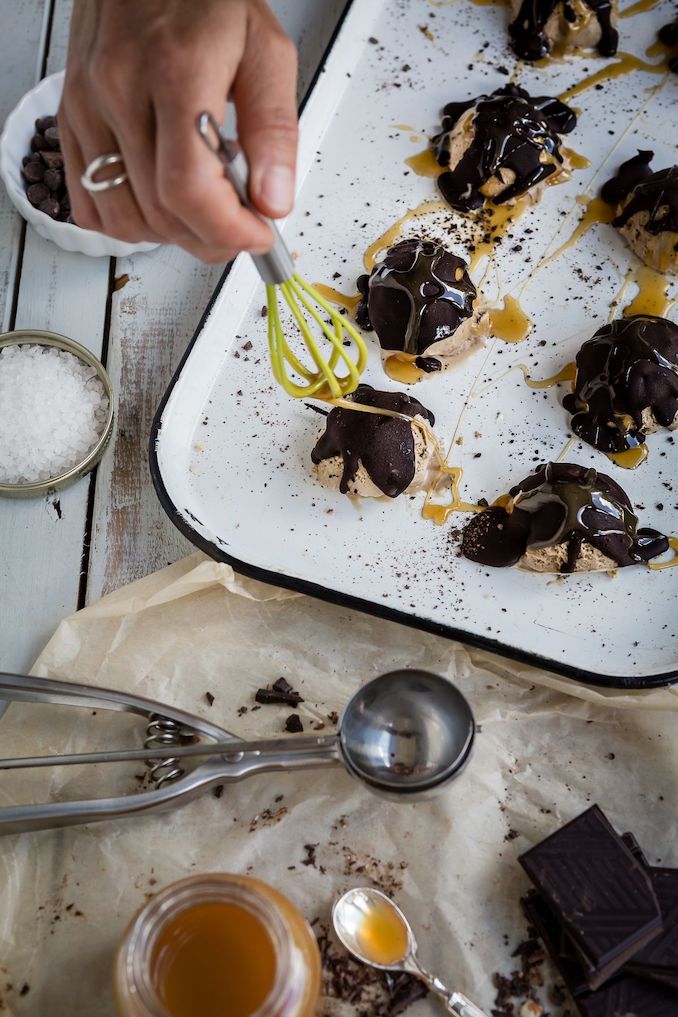 Makes 24 truffles
INGREDIENTS
For the Ice Cream Truffles:
• 1 x 500ml container of Sea Salt Caramel ice cream
• 3 cups (20 ounces) quality dark chocolate
• 1 cup caramel drizzle
• 1 tbsp coarse sea salt
For the caramel drizzle:
• 1 cup (200g) granulated sugar
• 6 Tablespoons (90g) salted butter, room temperature cut up into 6 pieces1
• 1/2 cup (120ml) heavy cream2
• 1 teaspoon salt
*Unsalted butter may be used instead, though I prefer salted. No other changes need to be made to the recipe if using unsalted.
*Heavy cream (approximately 36% milk fat) may also be sold as whipping cream. Light whipping cream (30% milk fat), or double cream (48% milk fat) may be substituted. Do not use milk. Room temperature cream is best.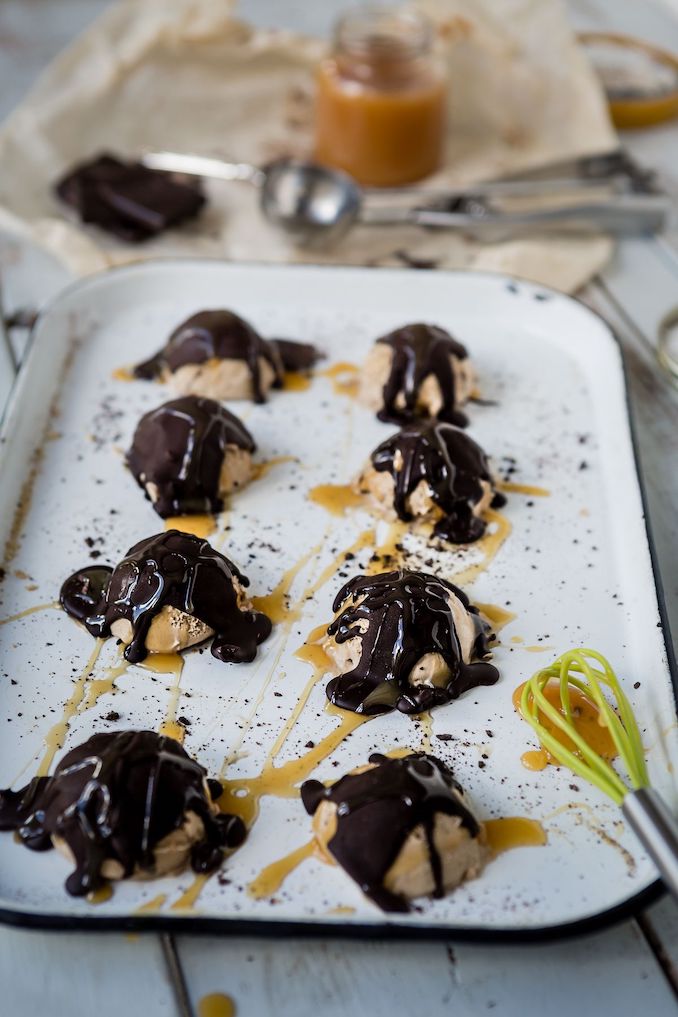 DIRECTIONS
For the ice cream truffles:
1. Line two small baking sheets with parchment paper, wax paper, or foil. Freeze the baking sheets for 10 minutes.
2. Remove one of the lined baking sheets from the freezer. Working quickly, use a 1½-inch ice cream scoop, melon baller, or round tablespoon to scoop out round balls of ice cream. Place the ice cream balls on the prepared baking sheet. Return the baking sheet with the ice cream balls to the freezer, and repeat this process with the second baking sheet.
3. Freeze the ice cream bombs for 30 minutes or up to overnight until firm.
4. Melt the chocolate in the microwave for 30 second intervals, stirring after each interval, until the chocolate is completely melted (90 seconds or more depending on your microwave).
5. Using a small spoon, drizzle the frozen ice cream bombs with the melted chocolate.
6. Drizzle each ball with caramel sauce and top with coarse sea salt. Work fast, because the chocolate will harden quickly. Repeat this process with the remaining ice cream bombs. You may need to re-melt the chocolate in the microwave at regular intervals during the process to keep it in liquid form.
7. Freeze the decorated ice cream truffles for 30 minutes or up to overnight until firm.
8. Store the ice cream truffles in an airtight container and keep frozen.
For the caramel drizzle:
1. Heat granulated sugar in a medium saucepan over medium heat, stirring constantly with a high heat resistant rubber spatula or wooden spoon.
2. Sugar will form clumps and eventually melt into a thick brown, amber-colored liquid as you continue to stir. Be careful not to burn.
3. Once sugar is completely melted, immediately add the butter. Be careful in this step because the caramel will bubble rapidly when the butter is added.
4. Stir the butter into the caramel until it is completely melted, about 2-3 minutes. A whisk helps if you find the butter is separating from the sugar.
5. Very slowly, drizzle in 1/2 cup of heavy cream while stirring. Since the heavy cream is colder than the caramel, the mixture will rapidly bubble and/or splatter when added.
6. Allow the mixture to boil for 1 minute. It will rise in the pan as it boils.
7. Remove from heat and stir in 1 teaspoon of salt. Allow to cool down before using.
Make ahead tip: You can make this caramel in advance. Make sure it is covered tightly and store it for up to 2 weeks in the refrigerator. Warm the caramel up for a few seconds before using. This caramel is OK at room temperature for a day.
Drizzle Notes:
Avoid doubling or tripling this caramel recipe. The added volume could prevent the sugar from melting evenly and properly. Make a couple batches instead.