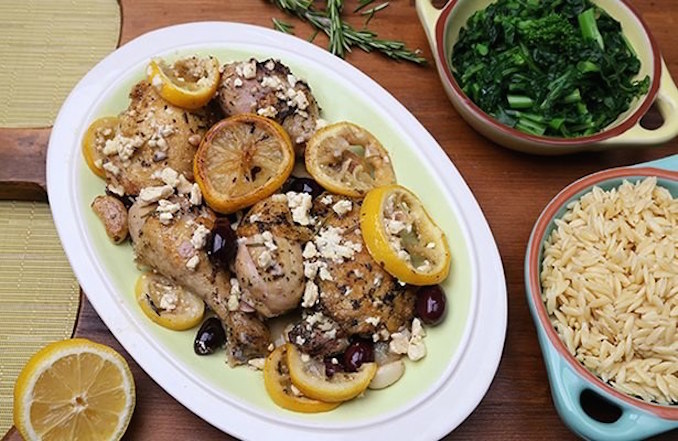 Fresh City Farms sent us this recipe for Roasted Mediterranean Chicken with Feta and Olives. Fresh Canteen delivers amazingly delicious and health-conscious meal kits direct to people's homes in Toronto.
For more information you can check out their website.
Ingredients
4 pieces chicken, mix of thighs and drumsticks
1 1/2 teaspoons fresh rosemary, roughly chopped
4 garlic cloves, 3 crushed and 1 minced
1/2 lemon, thinly sliced with seeds removed
2 tablespoons Kalamata olives, pitted and sliced in half
1 teaspoon fresh oregano, leaves removed and chopped
1 bunch rapini, stalks cut in 1" pieces and leaves sliced in ribbons
1 teaspoon dried parsley
Olive oil
Butter
1/4 cup chicken stock
3 tablespoons feta cheese
1/2 cup orzo
Directions
– Heat oven to 400F.
– Rinse and pat-dry chicken, then season with salt and pepper. Place the chicken in a bowl with the oregano, parsley, chopped rosemary, and crushed garlic. Using your hands, massage the herbs into the chicken. Set aside to marinate for 10 minutes (or longer if desired).
– Add chopped rapini stalks to a pot filled with lightly salted boiling water, then cook for 1 minute. Add the leafy rapini greens and cook until tender (2 to 3 minutes), then drain and set aside.
– In a medium-sized, oven-proof pan over medium heat, heat 1 1/2 teaspoons olive oil till hot. Add the seasoned chicken pieces and crushed garlic (do not crowd) and cook until golden brown on the outside, about 3 to 4 minutes. Flip the chicken and cook for another 2 minutes until golden. (Tip: If your garlic is browning too quickly place it on top of the chicken.) Add the lemon slices, olives, 1 tablespoon of butter, and chicken stock to the pan. Cover and place in the oven for 15 to 20 minutes.
– Cook the orzo in boiling, salted water until tender (about 6 to 8 minutes, or defer to package directions). Drain and set aside. Drizzle with olive oil if desired.
– While the orzo is boiling, remove chicken from oven, uncover and sprinkle the feta over the chicken. Then cook, uncovered, for another 8 to 10 minutes. Remove the chicken from the oven and stir in another 1/2 to 1 tablespoon of butter. Season to taste. Let rest for 2 to 3 minutes.
– In a pan set to medium heat, heat a small amount of olive oil, then add the minced garlic and saute until fragrant, about 45 seconds. Add rapini and coat in olive oil and garlic mixture until just reheated.
– Plate the orzo and rapini with chicken pieces, and drizzle any remaining sauce from the pan over top. Garnish with dried parsley, and enjoy!
Yields 2 servings.