"Pla is a Royal Thai Cuisine-style salad that has many kinds of herbs, including lemongrass, kaffir lime leaves, mint leaves, white turmeric or young ginger. The meat is grilled to medium or medium rare, mixed with lime juice and fish sauce vinaigrette." – Chef Nuit Regular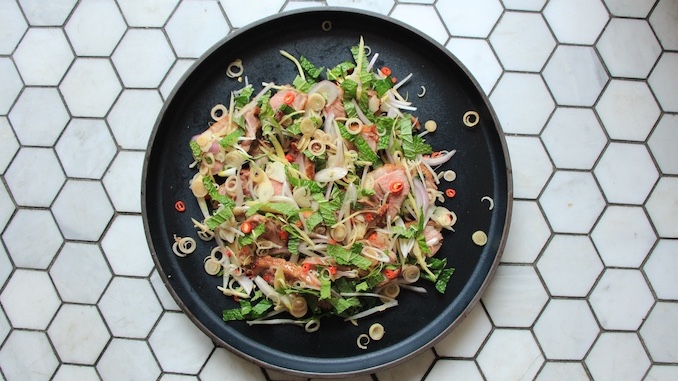 Grilled Duck Salad Recipe from Chef Nuit Regular of PAI
Ingredients
-1 duck breast, skin on
-1/2 tsp sea salt
-1 tbsp sunflower oil
-3 tbsp lime juice
-2 tbsp fish sauce
-1 tbsp coconut sugar
-3 pieces red bird eye chili, thinly sliced
-1 tbsp thinly sliced garlic
-1/4 cup thinly sliced shallots
-3 pieces white turmeric (young ginger to substitute), julienned, 2-inches length
-1/4 cup chopped mint leaves
-1/4 cup chopped coriander leaves
-5 kaffir lime leaves, thinly sliced
-10 Boston lettuce leaves
Directions
1. Marinate duck breast with sea salt and sunflower oil. Set aside for one hour.
2. Heat a large skillet over medium-high heat, grill duck breast two minutes per side or until medium rare. Then, thinly slice the duck breast.
3. In a medium bowl, combine lime juice, fish sauce and coconut sugar, stir to dissolve sugar. Add grilled duck breast, bird eye chili, garlic, shallots, white turmeric, mint leaves, coriander leaves and kaffir lime leaves. Use a ladle to mix the salad. Serve immediately with Boston lettuce leaves to wrap.