Xiao long baos (aka soup dumplings) have become so popular in Toronto. They are the ultimate in comfort food, and honestly, I can never get enough. When Qin's Garden Restaurant recently opened in downtown's Chinatown, it offered a soup dumpling menu that was unlike any others I've tried here. This neighbourhood gem focuses on the Wuxi regional cuisine and is quickly drawing the attention of local foodies and visitors alike, particularly for their soup filled dumplings.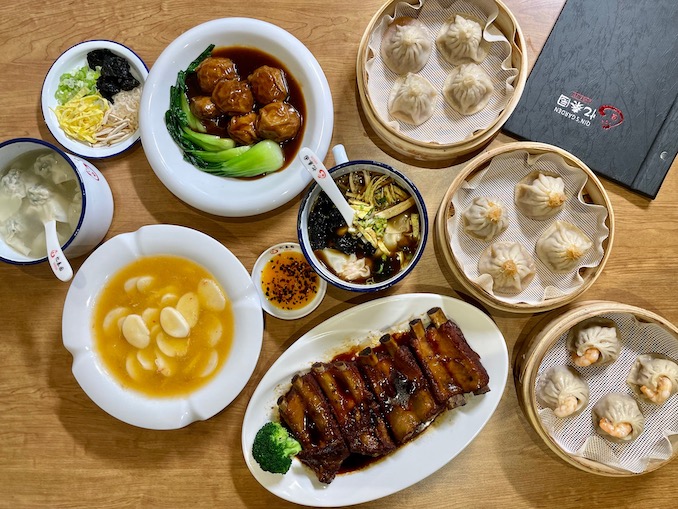 The four-generations old recipe is famous in China and the Wuxi region. Qin's Garden's recipe dates back to 1751 and was featured in a television show titled 'A Bit of China' where iconic foods from different Chinese cities were showcased. What is immediately noticeable from the dumplings is their size difference. While the sister xiao long baos are often one bite, Qin's Garden's are nearly double that in size. Made fresh to order, each dumpling is done by hand with fresh ingredients. Not pre-made or frozen.
We were told that they take approximately 10 minutes for the dough to be rolled out, filled, then wrapped and steam cooked to the right temperature before they arrive to the table. There is even an explanation on how to experience each dumpling. With chopsticks (and maybe even a soup spoon to catch it should it get out of your control) carefully lift out the dumpling from the round bamboo steamer. Carefully take a small bite to create a release for the rich and flavourful soup to flow into your mouth without burning. Then dip into the red vinegar sauce for the next few bites. They are ideally meant to be enjoyed immediately. The noodle wrapped around the filling has a perfect texture with a slight chew.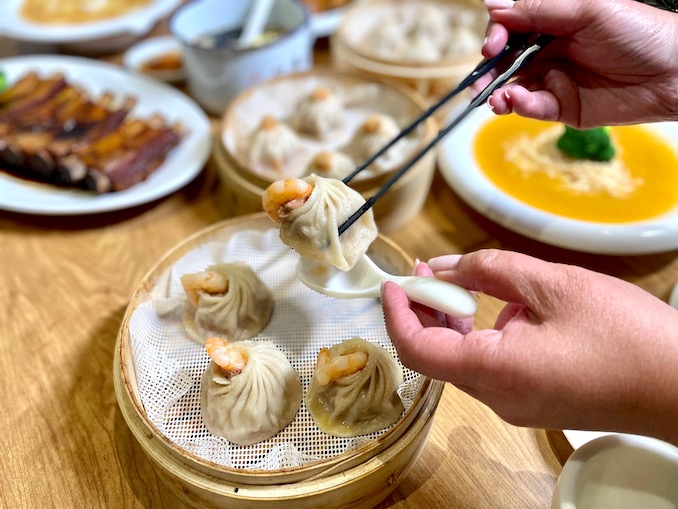 Their most popular ones are their crab meat & pork steamed soup dumplings made with real crab — not pollock or any other substitute often found on asian menus. They also feature pork steamed soup dumplings as well as crystal shrimp & pork steamed soup dumpling options. All good and perfect if you're visiting for the first time. Aside from size, what is also noticeably different is the taste. Qin's Garden soup dumplings are slightly sweeter than the ones we commonly find in other restaurants. We learned that traditional Wuxi cuisine leans towards the sweeter side which makes the regional dishes popular.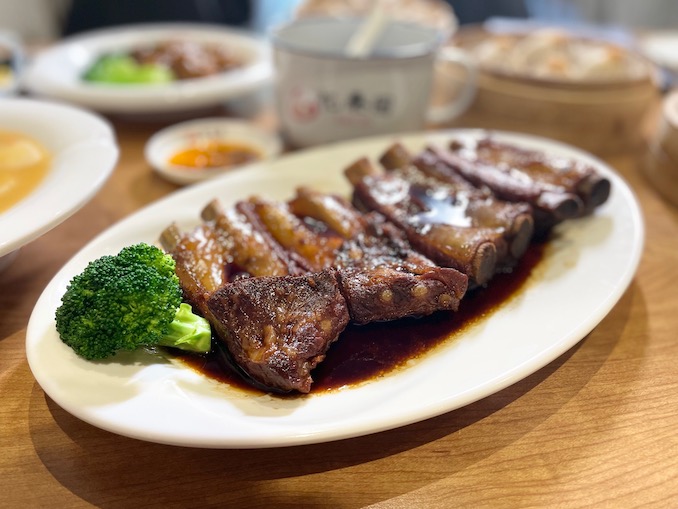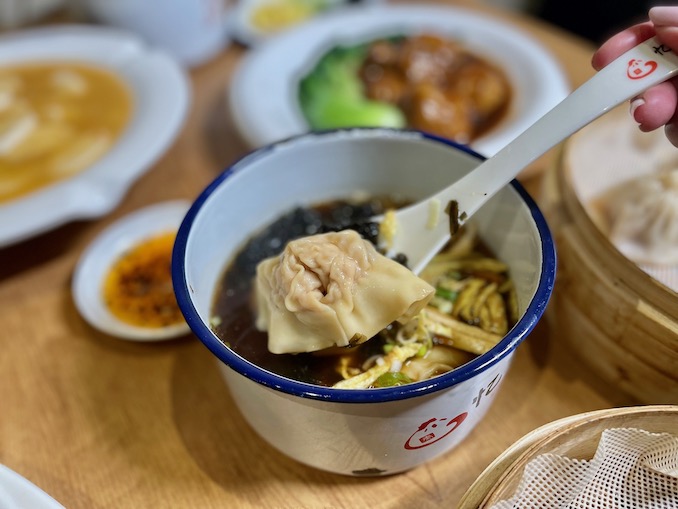 Aside from the delicious soup dumplings, Qin's Garden also offers other famous dishes including soup wontons and traditional wok stir fries with Wuxi flavours. Each wonton dish is paired with five ingredients — dried seaweed, dried shrimp, dried thinly sliced egg, green onion and dried thinly sliced tofu in a variety of broth options. Try the Original (Pork & Chicken) or the Original Red & Spicy (made with Chef's Soy Sauce, homemade chili oil, sesame). There is also a vegetarian option.
Other dishes worth trying are the Wuxi Spare Ribs that just fall off the bone. Again, on the slightly sweeter side but very satisfying. The Red Braised Fried Gluten Meatballs may look, and sound, peculiar but they are delicious. They are indeed meatballs wrapped with a glutenous sheet and braised in a savoury sweet sauce. Very filling!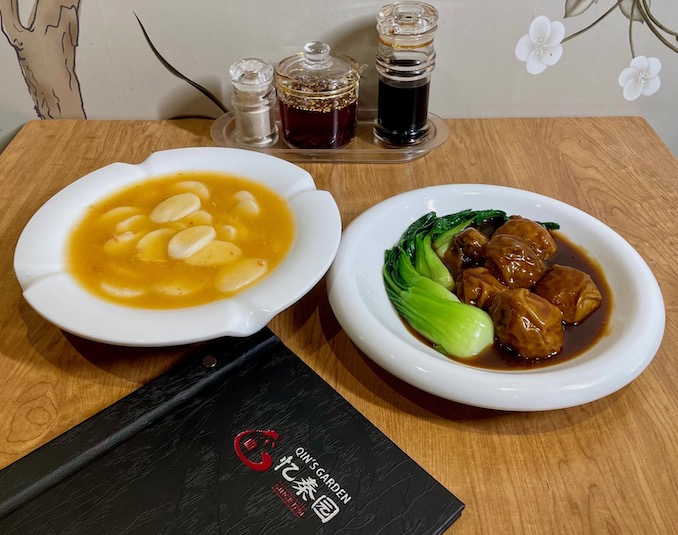 Also on the menu are Real Crab Meat dishes in a rich broth either served on rice, noodles, rice cakes are tofu. Round off your order with Shrimp sautéed with seasonal asparagus or even a go-to sautéed Shanghai bok choi in garlic sauce.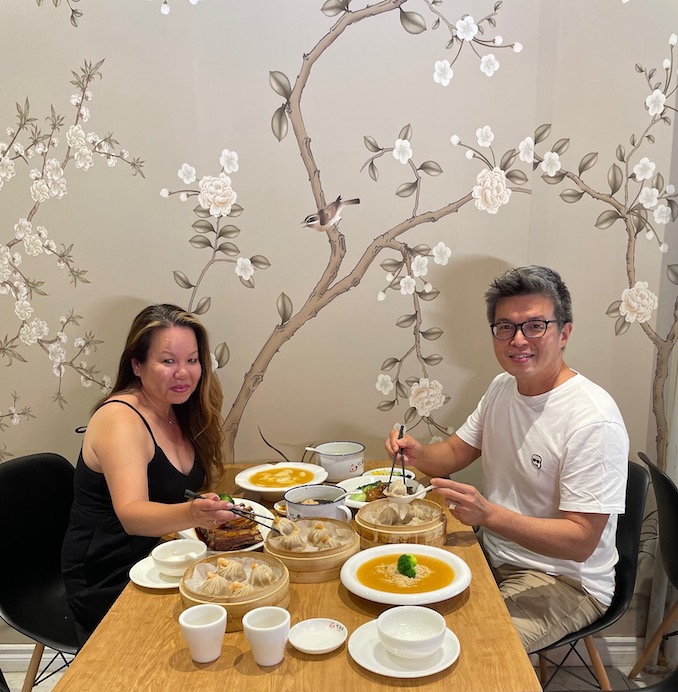 Qin's Garden is now open with a full menu to explore now that we're more comfortable dining in. The restaurant is located at 435 Spadina Avenue (just south of College). This is their first location in North America and the first outside of China. Visit their website for more information.