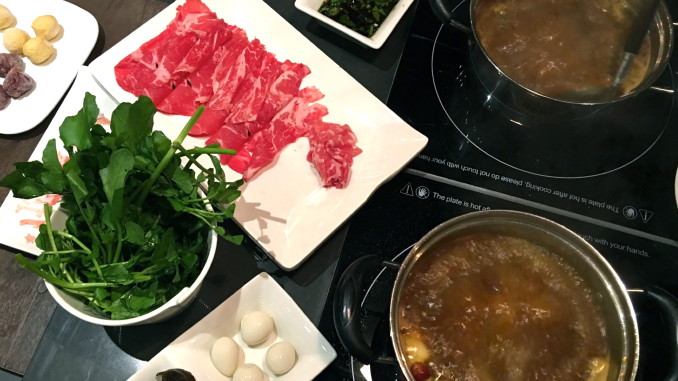 When I was growing up here in the city, the one thing I really looked forward to was our family hot pot meals. There would be at least 10 of us seated around a large table with a couple of large pots set in the centre of a table bubbling away with delicious broth. My parents would order endless rounds of meat, seafood, noodles and vegetables. It would be hours of eating as mom would toss the raw food into the soups to cook. It was comfort food at it's best and everyone participated.
There are many places north of the city where you can find Chinese restaurants that specialize in hot pots but recently Morals Village (439 Dundas Street West) opened up in Chinatown. This Szechuan Hot Pot restaurant is wedged in between countless other Chinese restaurants in the area. Look for a set of stairs leading up to this old world meets new world hot spot. The decor is modern and you'll find from grandmas (po po's) and grandpas (gong-gongs) to  young university students and wee tots.
In keeping with modern technology everyone is asked to sign in on tablets. Here you indicated number of people in your party, your name and telephone number. So, be patient and feel free to roam around the local shops while you wait as the host will call when a table is freed.
Each table has warming elements and here each person orders their own personal pot of broth to cook their own meal. You also control the element's heat intensity. You definitely want it to be consistently boiling but not overflowing.
An 'all you can eat' menu comes (English/Chinese) with a complete selection of soup based broths and items to cook ($2.50 to $8 per person/pot). First, select your broth (tip: there are split pots so you can order two flavours and that is highly recommended). I had opted for the 'original spicy' at the mildest heat and even that was was pretty spicy once the herbs and spices had settled into the broth. Other options include Mountain Cliff Wild Mushroom, Hong Kong Satay, Homemade Pork bone, 10 Year Special Spicy Soup Base and a few other tasty choices. But as the broth boils away staff will come and top up with fresh broth.
A "dip station" is located at the front of the restaurant where you can make your own concoction. I went for soy sauce, a bit of sugar, garlic and oil, and leek paste. There are many options but you can ask the staff if you're not sure what to do. You can also make a few dipping sauces.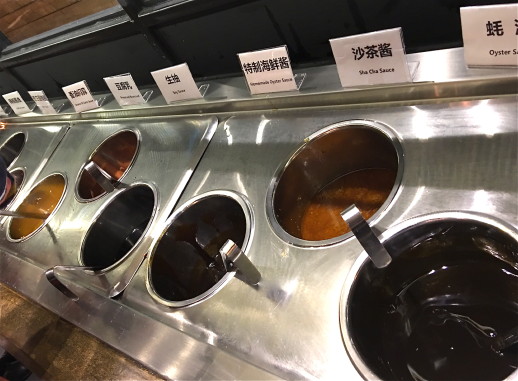 Then, you select all your vegetables and proteins with the staff who does everything again on a tablet. Our selections started arriving before our server was even finished taking our order. There are some "must try" items on the menu like Tender Spicy Marinade Beef, Crisp Pork Fillet, Deep Sea Spicy Fish Fillet, Quail eggs and more. The menu also includes a nice selection of vegetables including pumpkin slices, watercress, taro, lotus roots, seaweed and more. Lots of noodle choices including yam noodles, Korean rice cakes, udon, and rice noodles.  There are about 80 items to choose from and there's no limit to what you can order. But don't worry, they portion out accordingly. For example, I had an order of fish balls (a favourite of mine) and one order has two balls. So, you can have a great selection. There are also specialty items for an additional cost.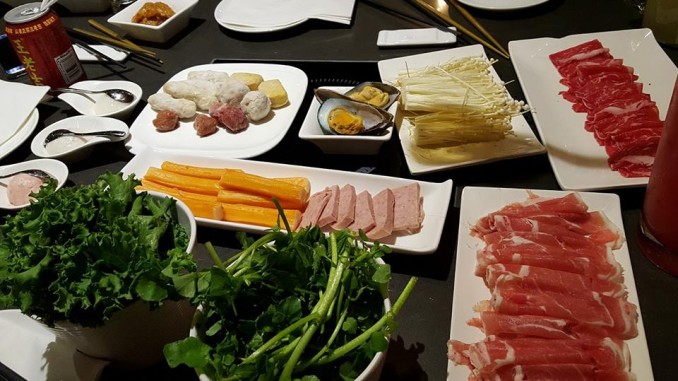 Two sets of chopsticks are given to each person. The longer ones are meant to use for picking up the raw foods and cooking. The gold shorter set is used for eating. Remember, it is your responsibility to cook your food.
The meat selections are thinly sliced so they cook quite rapidly in the boiling broth. Everything cooks quickly as long as your soup is boiling, and basically, you fish out your cooked items onto the plate in front of you to enjoy.
Bonus! Unlike the other Hot Pot restaurants I've eaten at, Morals Village has a great ventilation system. You don't leave smelling like the broth and spices have seeped into your pores and your clothes.
Morals Village Hot Pot has two locations:
8333 Kennedy Road, Unit 1073 in Markham
436 Dundas Street West, Second Floor, Toronto
Visit their facebook page for more info.