The White Cashmere show has been one of the most highly anticipated fashion runway shows of the season. Over the past 14 years, this unique event not only showcases the talent of established and emerging Canadian fashion designers but it also brings awareness to Breast Cancer Awareness month every October.
This year's show featured a student design competition with over 150 design submissions from eleven top design schools across Canada. Students were asked for their interpretation of Canadian style in recognition of Canada's 150 year history but the greatest challenge was to create their vision using Cashmere bathroom tissue as the fabric. Not easy!
Sixteen of the designs submitted were featured at the big event held at the Royal Ontario Museum in a final competition judged by some of the most highly respected figures in the fashion industry. The judging panel included Suzanne Rogers, David Dixon, Susan Langdon, Jeff Rustia, and Lolitta Dandy. The artistic director of the White Cashmere Collection is Canadian fashion designer, Farley Chatto. Top three designs as selected by the panel of judges took home cash bursaries to help the students pursue their fashion design careers.
Congrats to winner Chelsea Cox, Kwanten Polytechnic University of British Columbia, for her stunning top coat. This third year student's design was made with 9,689 individually, and precisely, rolled pieces of bathroom tissue sealed with clear tape to give that polished look of luxury. Her inspiration? A winter coat that pays homage to the iconic Hudson's Bay 4-point blanket.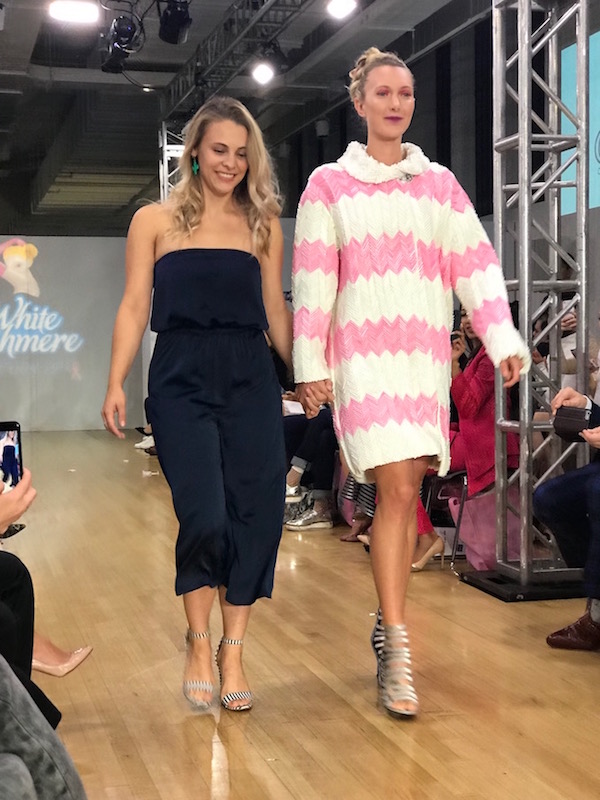 You can see the full runway collection from this year's show at cashmere.ca . Once again, Kruger Paper Products's  limited edition Cashmere bathroom tissue is available in stores this month. Part proceeds from each package sold will be donated to the Canadian Cancer Society in support of breast cancer research and support efforts.
Here are some more  designs that graced the runway: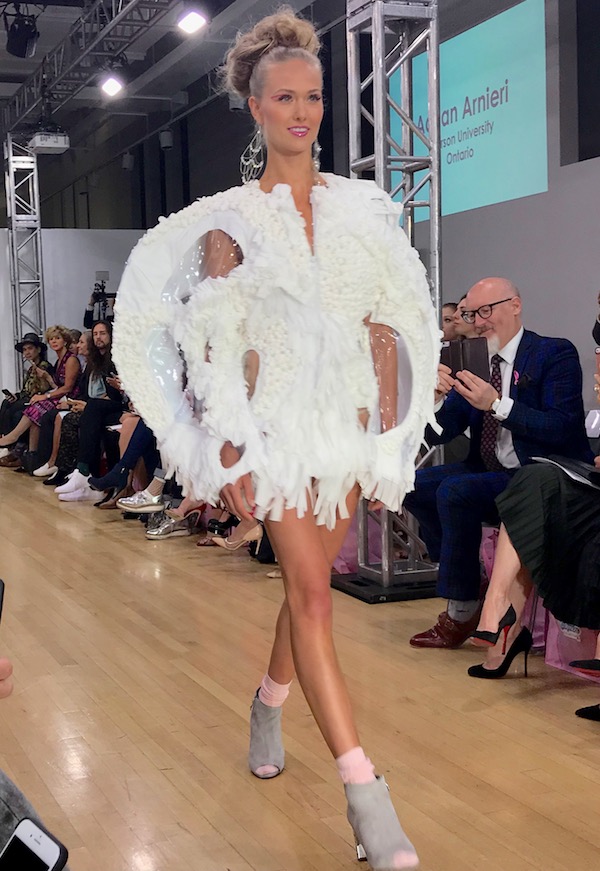 Adrian Artier, Ryerson University, Toronto. His garment is a high-fashion galactic  twist on the way Canadians does to shield of harsh winter weather.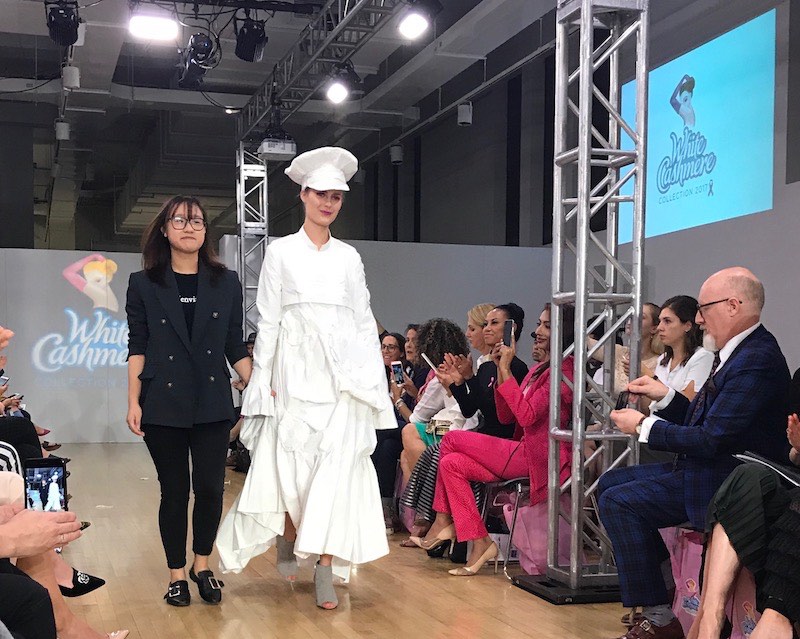 Charlotte Li, Seneca College, Toronto. For her creation, Li was inspired by 63 year old widow Anie Edson Taylor, who successfully barrelled over Niagara Falls in 1901. This brave "warrior" bodice hovers over the rolling cascades in this beautiful design.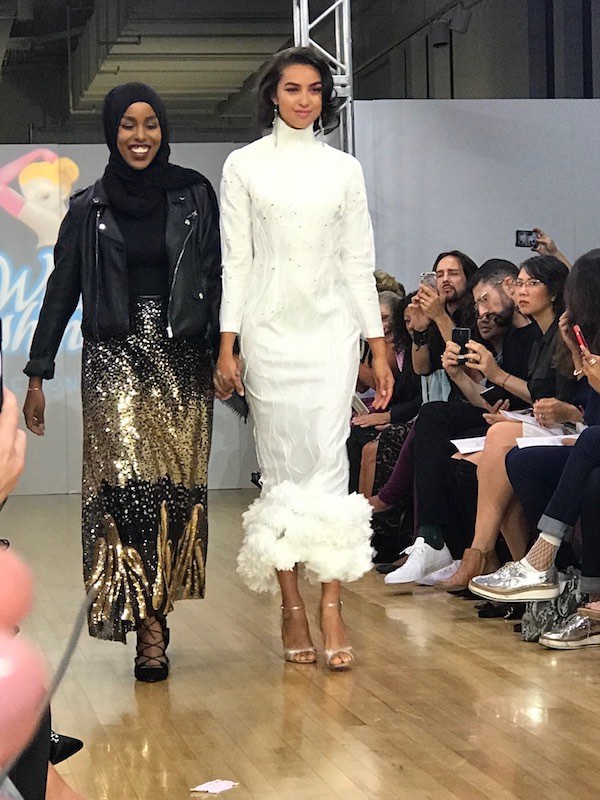 Juwyriya Hersi, George Brown College, Toronto. This design evokes acres of untouched snow with sunlight dancing on ice-coated branches and swirling powdery snowflakes. A true Canadian winter's landscape.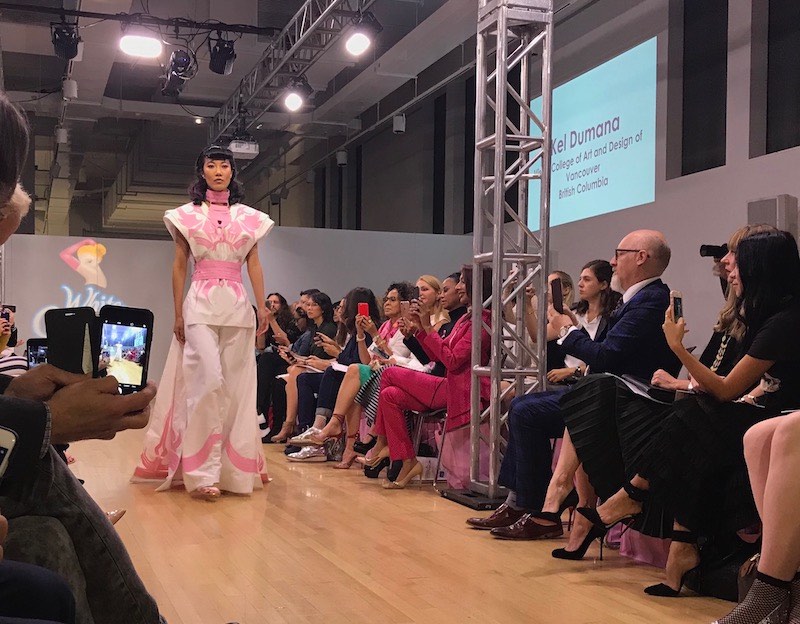 Kel Humana, Visual College of Art and Design of Vancouver, British Columbia. In his striking two piece ensemble, Kel calls on the myth of the Phoenix to represent the complexity and perseverance of the female spirit.