Patois' Chef Craig Wong began his career in the Longo's meat department when he was in high school and has a cousin in the bakery department of a Longo's today. His Red Curry Roasted Eggplant with Orecchiette, Sun-dried Tomatoes and Basil is a simple alternative to a holiday side dish.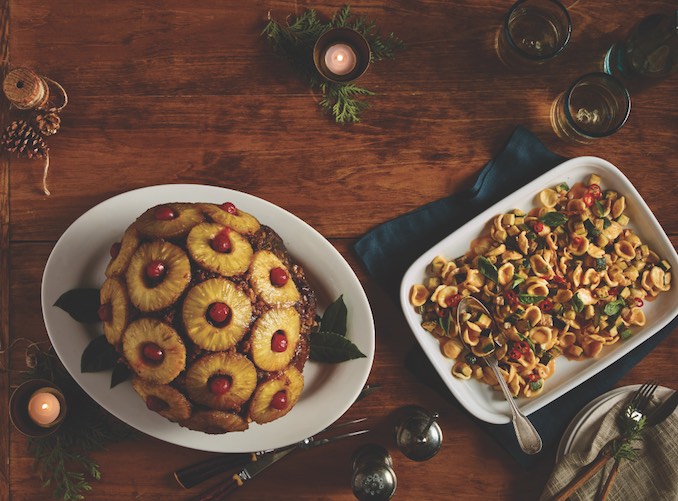 Red Curry Roasted Eggplant with Orecchiette, Sun-dried Tomatoes and Basil
PREP 30 min – COOK 40 min – SERVES 10-12
-1/2 bag Longo's Signature Orecchiette Artisan Pasta
-1 tbsp 100% Pure Canola Oil
-2 tbsp red curry paste
-1 small onion, thinly sliced
-1 can (400 mL) Longo's Coconut Milk, divided
-1/4 cup julienned sun-dried tomatoes
-3 tbsp fish sauce
-1 1/2 tsp brown sugar
-1 tsp grated lime zest
-1/2 bunch of fresh basil leaves
-Chopped red chilies (optional)
ROASTED EGGPLANT AND ZUCCHINI – Ingredients
-1 large eggplant or 2 small, diced
-2 zucchini, diced
-1 tbsp grated fresh ginger
-2 cloves garlic, minced
-2 tbsp Extra Virgin Olive Oil
-1/4 tsp salt
ROASTED EGGPLANT AND ZUCCHINI – Preparation
Toss together eggplant, zucchini, ginger, garlic, oil and salt. Spread on parchment-paper-lined baking sheet and roast in preheated 375°F oven for about 20 minutes or until softened.
MEANWHILE, cook pasta in large pot of boiling, salted water. Cook for about 10 minutes or until al dente. Drain, reserving 1/2 cup of cooking water; set aside.
HEAT oil over medium heat and cook curry paste and onion for 5 minutes or until softened. Add half the can of coconut milk, reserved pasta water and sun-dried tomatoes. Simmer for 5 minutes.
ADD remaining coconut milk, fish sauce, sugar and lime zest. Add pasta and cook until sauce coats pasta. Stir in roasted eggplant and zucchini, and toss to coat. Garnish with basil and chilies, if using.
PER SERVING (1 cup): 192 calories; 4 g protein; 10 g fat; 23 g carbohydrate; 3 g fibre; 3 g sugars; 459 mg sodium.
See more recipes from Longo's on their recipe website.