Eataly Toronto has launched its "Icons of Eataly" program, spotlighting one iconic pasta dish each month in the La Pizza & La Pasta restaurant. On this occasion, they shared with us this beloved Spaghetti Cacio e Pepe recipe made with rich cheese, bronze-extruded pasta and freshly-ground pepper, a deliciously simple Roman comfort food. Because of its simplicity, the quality of ingredients is key to crafting the best Cacio e Pepe.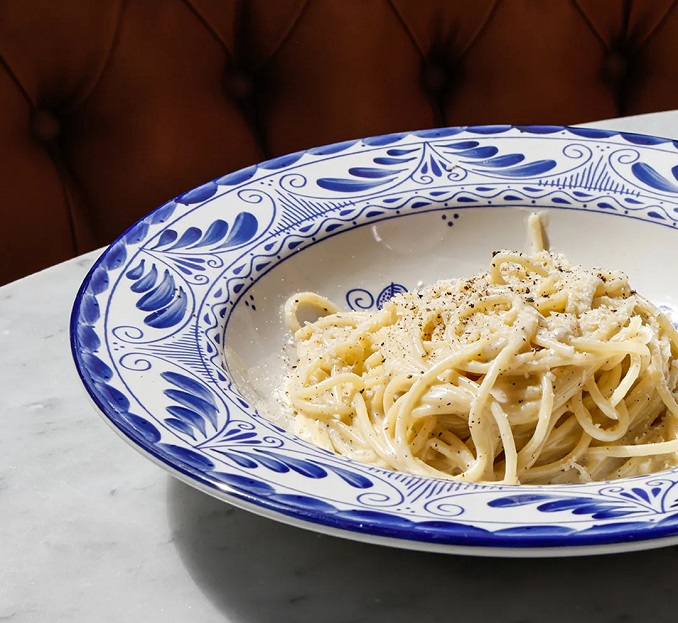 Spaghetti Cacio e Pepe
Yield: 6 servings
Ingredients:
1 pound spaghetti di Gragnano
2 tablespoons salt
2 tablespoons whole black peppercorns (or more), to taste
1½ cups Pecorino Romano DOP, freshly grated, to taste
Directions:
1. Bring a large pot with 6 quarts of water and 2 tablespoons of salt to a boil.
2. Grind the peppercorns very coarsely, preferably crushing them in a mortar with a pestle or in a spice grinder.
3. Warm up a big bowl for serving the pasta. Use some of the pasta water to heat the bowl, if you like.
4. Cook the spaghetti until al dente. Quickly lift it from the pot with tongs, let it drain for an instant, then drop it into the warm bowl.
5. Immediately scatter a cup of the grated cheese and most of the ground pepper on the pasta, and toss in quickly. As you mix, sprinkle over a spoonful of hot water from the cooking pot to moisten and amalgamate the pasta and condiments — add more pepper or cheese to taste.
6. Serve right away, while the spaghetti is very hot.