For this week's recipe, Executive Chef and owner of Open Concept Hospitality Michael Angleoni shared with us his delicious recipe for Bistecca Alla Fiorentina. Enjoy!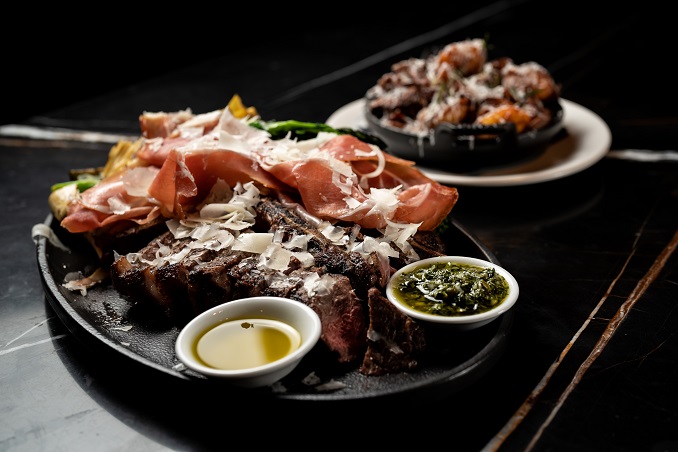 Bistecca Alla Fiorentina
Equipment
– BBQ or Grill plate
– Meat thermometer
– Tongs
– Pots
– Ice bath in a mixing bowl
Ingredients:
– 1pc Bistecca (this is a porterhouse or the center of a T-bone. We cut ours to 1 ¾ inch thick, the steak is roughly 3 ½ lbs)
– 1 bunch Rapini, cleaned and trimmed
– 1 jar Canned artichokes (you can clean and cook your own, but good quality canned artichokes are available in most good grocery stores)
– 1 lbs Yukon gold potatoes, cut into rough 1/8ths
– 2 sprigs Rosemary, picked
– 6 cloves Garlic, smashed
– 2-3Tbsp Spicy dressing (I like bomba with some garlic, lemon and olive oil added)
– ¼ cup Salsa Verde (Chimichurri works as well), optional
– 1 pc Parmesan for grating, optional
– 4-6pc Sliced prosciutto, optional
– To taste: Salt and pepper
– 1 bottle Extra virgin Olive oil
Directions:
1. First, we will prepare the vegetables. Fill a pot with water and bring to a boil. In the meantime, add the potatoes in another pot and cover with cold water and a good pinch of salt. Bring to a boil, then reduce heat to medium and cook until tender but not mushy. Remove the potatoes and let drain and cool. Now in the other pot, add the rapini and cook for 2-3min and then plunge the rapini into an ice bath to cool instantly. Once cold, remove from the water and place on a tray lined with paper towel to dry. Preheat the oven to 425 degrees.
2. Remove steak from fridge at least 1 hr before cooking to allow to come up to room temperature. Turn grill on high heat and leave to preheat for at least 10min. If using a charcoal grill, allow to preheat with venting at 50% open for 30 min or until it reaches 500*. Season steak with Salt, Pepper & a small amount of olive oil before grilling.
Once the grill is hot, give it a good brush to remove anything that may be stuck to the grill and using a rag or paper towel, rub the grill with some oil. Reduce the heat to medium and lay the steak on the grill. After 3-5 min, give the steak a quarter turn (do not flip); this will give you a nice cross hatch. Make sure to spray grill with water anytime you get flame flare-up to prevent any charring. After 3-5 min, flip the steak over. After 3-5 min, give the steak another ¼ turn (to check the steak, use a probe thermometer – see below for temperature guidelines chart). Remove the steak once reached its preferred temperature. Allow to rest while you finish the vegetables.
3. For the potatoes, preheat a pan in the oven that is preheat for 5 min. Toss the cooked potatoes in a bowl with garlic cloves, rosemary, and lots of olive oil salt and pepper. Add to the hot tray and place back into the oven and cook for 12-18 min until golden brown and crispy.
4. For the rapini and artichokes, lay on the grill across the grill to make sure they do not fall through. Grill for 2-3 min per side. Remove and toss with the spicy dressing or chilli oil and lemon. Season with salt and pepper.
5. When steak is rested and ready to serve, carve and slice, serving with finishing salt, and ramekins of olive oil for dipping. Serve with the vegetables and the optional slices of prosciutto, salsa Verde and shavings of parmesan.
***
Degree of Doneness Internal Core Temperature
Medium Rare 130 to 135*F or 55 to 57* C (remove and rest at 120-125*F)
Medium 140 to 145* F 60 to 63* C (remove and rest at 130-135*F)
Medium Well 150 to 155* F 65 to 69* C (remove and rest at 140-145*F)