PÁMECARE is a Canadian, sustainable and premium hand/surface sanitizer brand. We spoke with Founder and CEO, Manos Petrellis, to find out more about them.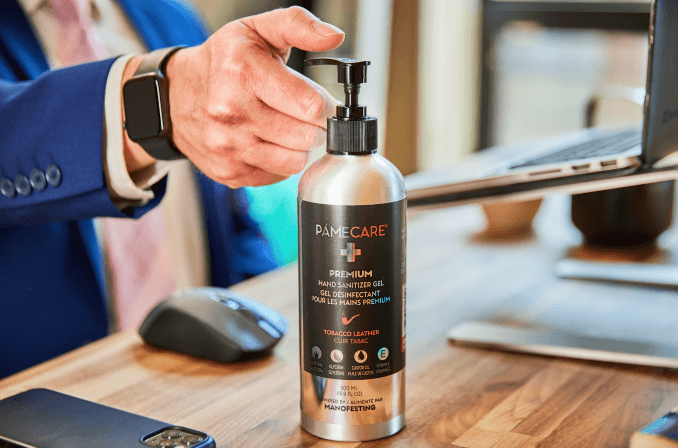 What is your business called and what does it do?
PÁMECARE ® is all about elevating personal care through sustainable products. Our hand sanitizers are only made of premium ingredients, that have been carefully formulated through extensive scientific research to keep your hands protected, moisturized, non-tacky, and smelling great!
Other than premium ingredients, what really sets PÁMECARE ® apart is its unique scents! PÁMECARE ® is currently available in 8 unique fine fragrance scents that match different personalities. Go ahead, indulge your senses and express your personality freely!
What made you want to do this work?
I am very passionate about cleaning in general using various products & solutions. Having been in the commercial cleaning business for over 20 years, I was inspired one day to share this passion with everyone.
What problem did you want to solve with the business?
Over the past 20 years, I've been using hand sanitizers almost daily in the field of work in my commercial cleaning business. Having tried hundreds of different brands, I noticed that they all had one thing in common. An unpleasant experience. Be it the bad smell, the tackiness, or the harshness.
I then questioned myself, "why does applying hand sanitizer always have to be such an unpleasant experience?" And that's when I decided to launch PÁMECARE®, in 2019, a premium line of moisturizing hand sanitizers that's here to change the way people experience hand sanitizers!
The only premium line of moisturizing Hand Sanitizer that understands your needs.
Proudly manufactured in Canada, PÁMECARE ® has been carefully formulated based on your needs. Backed by extensive scientific research, we know you're going to fall in love with it from the first rub.
Who are your clientele/demographics?
We offer sustainable luxury products to conscious customers and cater to the ever-growing demand for quality and self-care. The majority of our demographics are women, but a good share is also from men.
How does your business make money? How does it work?
We currently sell on our e-commerce platform. We are also in talks with retail and wholesale for presence.
Where in Toronto can we find your profession?
Imitations you can find everywhere, the original only at www.pame.care
What is the best question a prospective customer could ask a member of your profession when comparing services? Give the answer as well.
One of the common questions the industry gets is geared towards quality ingredients. A question might ask, "What makes your hand sanitizer better than anyone else's?"
PÁMECARE ® is all premium and contains 10x the amount of moisturizing ingredients as compared to ordinary hand sanitizers, offering you a much superior experience.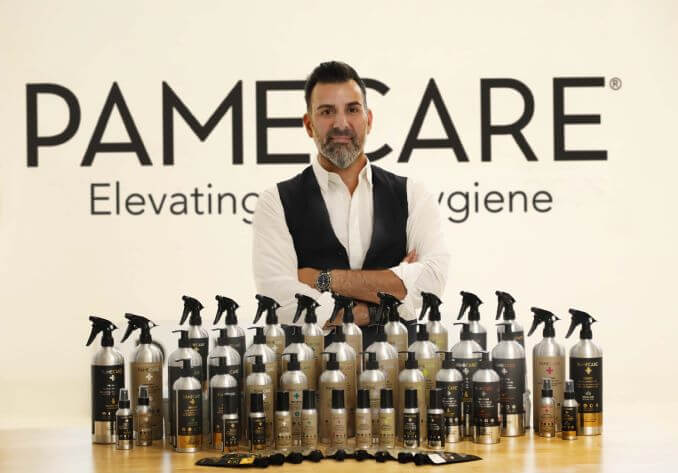 What is the best part about what you do? What is the worst part?
Love creating new formulations that people will love. The worst part is that we cannot create products fast enough because of the pandemic.
What is your favourite joke about your own profession?
That there are so many bad sanitizers out there.
What are your social media channels?
You can find us on a number of channels:
Instagram | Facebook | Twitter | YouTube | TikTok | Pinterest
PAY IT FORWARD: What is another Toronto business that you love?
There are so many out there and it's hard to choose, but I really like what Drink Juice Co. is doing.
***
Bonus: My personal review
I had the opportunity to test PÁMECARE ® products and it's already been a month since I use their products daily.
Since the beginning of the pandemic, hand sanitizers are essential to our health and we use them multiple times on a daily basis. As I have sensitive skin, hand sanitizers are often irritating and they leave me almost always with dry skin.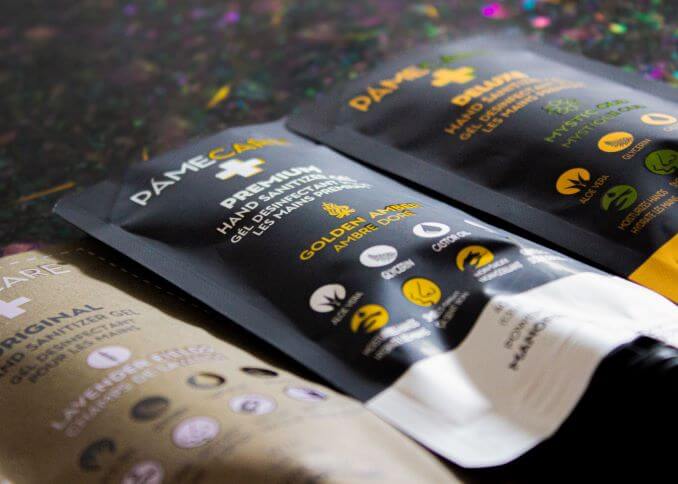 Why is PÁMECARE® different than the other brands?
It is the first time that I see hand sanitizers that are that moisturizing!!
PÁMECARE® uses hydrating agents such as Aloe Vera, Glycerin, Castor oil and Vitamin E (such good ingredients!) in their hand sanitizers and it shows !
After using PÁMECARE® products, my hands don't feel dry and they smell good!
I have tried different formulas but I have to say that the Premium hand sanitizer "Golden Amber" is my favourite! In addition to disinfecting and moisturizing my hands, it leaves them with an elegant fragrance smell that I love.
During this month, I also have been sick and I have been disinfecting my house with the Sanitizer Spray that leaves a great lavender smell.
Their products are good quality and very easy to carry everywhere.
Do I recommend PÁMECARE®?
Yes! I definitely recommend their products and I will keep using them in the future.