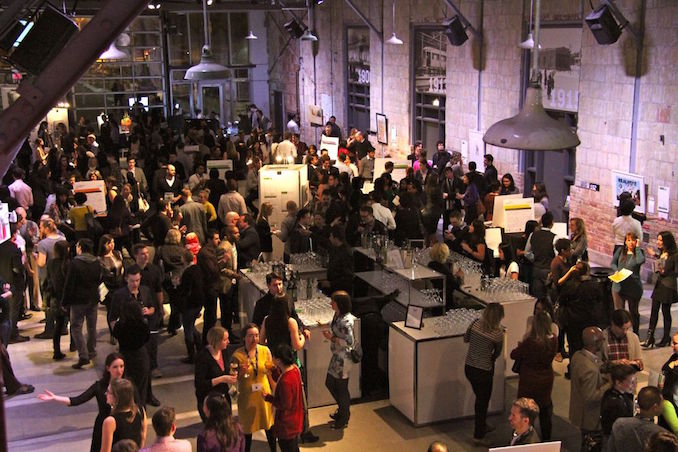 We have all been to fundraisers, but how about a Timeraiser? Artscape Wychwood Barns was a buzz last Friday in celebration of the 10th Annual Toronto Timeraiser event. Born and bred in Toronto, Timeraiser brings artists and their work, young professionals, and community agencies together at a fun filled event to inspire volunteerism.
Instead of bidding money to win silent auction items as you would at a traditional fundraiser, Timeraiser works to encourage community engagement by calling on its participants to bid their time and talent. Participants have 12 months to complete their volunteer hours with an agency their passionate about and, if they fulfill their commitment, they are rewarded with their chosen piece of art.
Skeptical as to whether this really works? One visit to the Timeraiser website will convince you that it definitely does! Anil Patel, founder and Executive Director, and the rest of the Timeraiser team take measurement and transparency very seriously. They want their stakeholders – artists, agencies, sponsors, vendors, participants, volunteers & community – not only to understand their social impact and strategy, but also to understand the value in sharing and leveraging technology to maximize mission delivery.
Timeraiser's proven track record in Toronto has encouraged it's spread across Canada to 12 cities coast to coast. The events have generated over 115,000 volunteer hours for a number of nonprofits and have invested more than $690,000 in Canadian artists. Whereas most fundraisers ask artists to donate work, Timeraiser works with sponsors to gain legitimacy within the artistic community by paying market value for the work showcased at the events. Timeraiser's unique model creates a win-win-win situation: participants find meaningful volunteer opportunities, artists are paid for their work, and each nonprofit has the chance to attract skilled volunteers to their cause.
At Friday night's event, 32 nonprofits, from Arts for Children and Youth to Working Women Community Centre, were situated throughout the venue amongst approximately 400 participants. The event provided a great opportunity for the organizations to share their mission and the volunteer opportunities they're looking to fill.
Alongside the variety of community agencies, beautiful artwork inspired participants to commit to community service. 30 of the 36 pieces of art on display went for the maximum bid of 100 hours. Artists such as Linda Martinello, Sarah Mulder, Heather Smith and Christopher Hayes stood out amongst the crowd. To take a peek at the artists, as well as the agencies in attendance visit the Toronto Timeraiser page.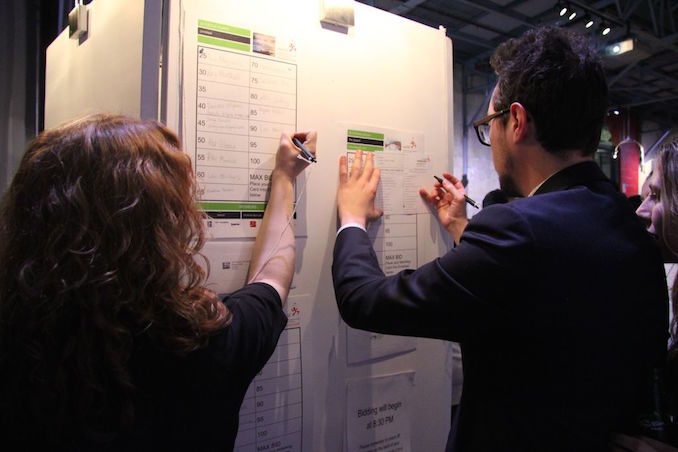 Timeraiser not only takes great consideration in selecting the art and agencies in attendance, but also looks to the community for its event partners. Paintbox Bistro, a new social enterprise out of Regent Park, provided the tasty food and Phoenix Print Shop, a social enterprise of Eva's Initiatives, produced the printed materials. The Timeraiser team has instilled a social procurement policy "to secure catering, supply rentals, printing, etc. from socially/envrionmentally responsible vendors, and where possible social enterprises." As Anil explains, "social procurement is hugely important for a sector that generates 75 billion dollars a year in revenue. If nonprofits were really smart as a bunch of like minded organizations, we could pool our purchasing power and do some really remarkable things."
Want to join the ranks?
As an emerging artist: visit Timeraiser's artist page – learn more and apply!
As an individual: Attend an upcoming Timeraiser and/or connect with artists directly and support Canada's artistic community
As a corporate sponsor: help to purchase the art and, in return, you get to display the works of art in your offices and boardrooms while participants complete their pledges.
Timeraiser is redefining Toronto by encouraging community engagement, as well as supporting and promoting local artists. RedefiningTO believes there is much more to come from the Timeraiser team as it works hard to understand the changing landscape of the nonprofit sector and the tools and technology that will shape the future of how we work. For those who are curious about what else they are up to, I recommend taking a peek at Timeraiser's planning document to get a taste.