Art Souterrain is a non-profit organization that began in 2009 with the idea of showcasing international contemporary art institutions, artists, and the architectural and cultural heritage of downtown Montreal's underground city.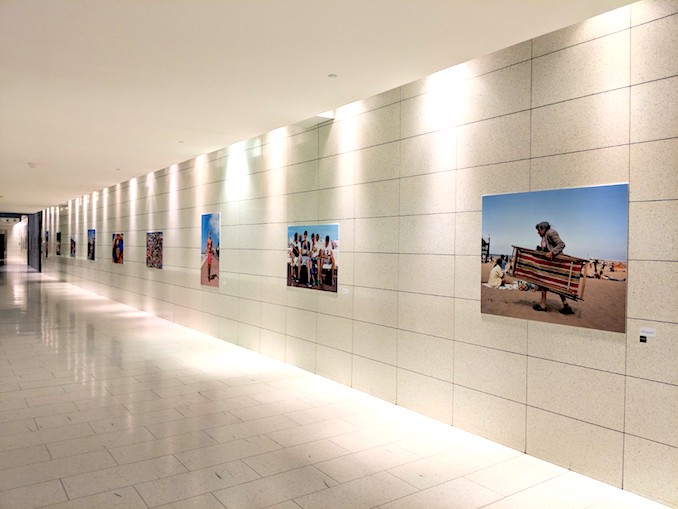 Originally an extension of Nuit Blanche, this year's Art Souterrain will exhibit 94 different local and international artists' work in public spaces around the downtown core, mostly in the underground walkways and buildings. The idea is to have art on display for all to see, bringing the exhibits out of the traditional art galleries. This year's theme is Latin Labour Improbus, ironically exhibiting work in art in places where those commuting to work will pass by. The chosen locations of these exhibits will have more than 300,000 individuals passing by during the exhibition, making it hard to not reflect on the work as it relates to them.
Art Souterrain runs from March 3-25, with exhibits on display the whole time and special events running throughout the run . From sculptures to videos and photography, there is a lot to see.
Here are some of the things to check out if you are able to make the trip.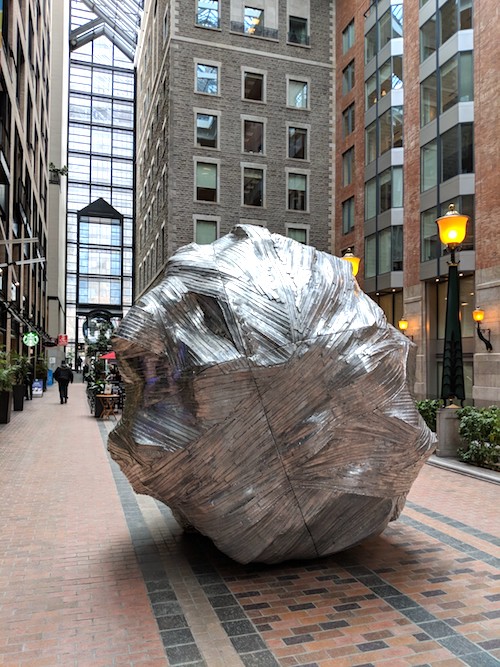 Marc-Antoine Côté
Québec City artist Marc-Antoine Côté's sculptural work raises questions about how we perceive the physical world, the unknown and the unfathomable. His large sculpture located inside the Centre de Commerce Mondial de Montréal is made from 1,150 lbs. of material welded together with tiny strips of aluminum. The piece was done alone and took many hours to complete. The exhausting and repetitive work pushed the artist's body. On its own, the large object obstructing people's path inside the building seems inept, useless and unproductive, when in fact it evoke curiosity which leads to inspection, an understanding and then contemplation.
"It is akin to a mountain: a mountain of labour"
***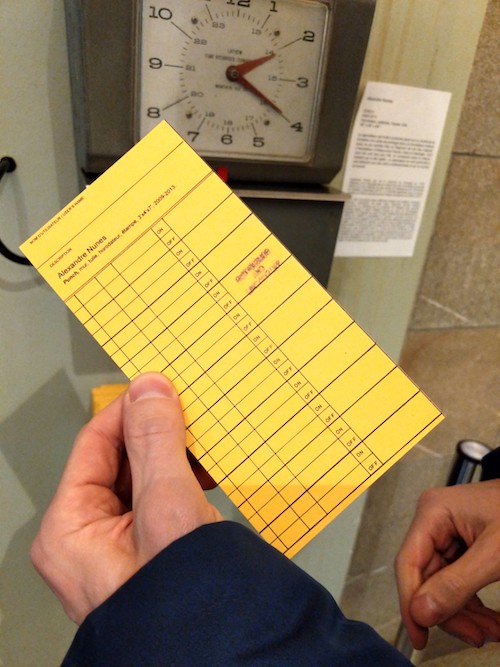 Alexandre Nunes
As a part of of of Art Souterrain's Midi Express special events, we had a representative from the festival on site to explain to people the art and its meanings. We visited the work by Alexandre Nunes which was also in the Centre de Commerce Mondial de Montréal.
Alexandre Nunes is a Portuguese-born Canadian sculptor whose art examines the appropriation and alteration of objects. His work is often found objects that can be interacted with by the public.
Punch is an old punch clock for work time cards that is on display in a space surrounded by offices. One is invited to punch a card though the time is no longer added, instead a message.
"Alexander Nunes' sculptures are always objects in waiting: Beyond their aesthetic merits, their purpose is to establish contact with the public and offer them a different take on reality; but without the spectator's physical participation, the work remains mute and retains its secret."
***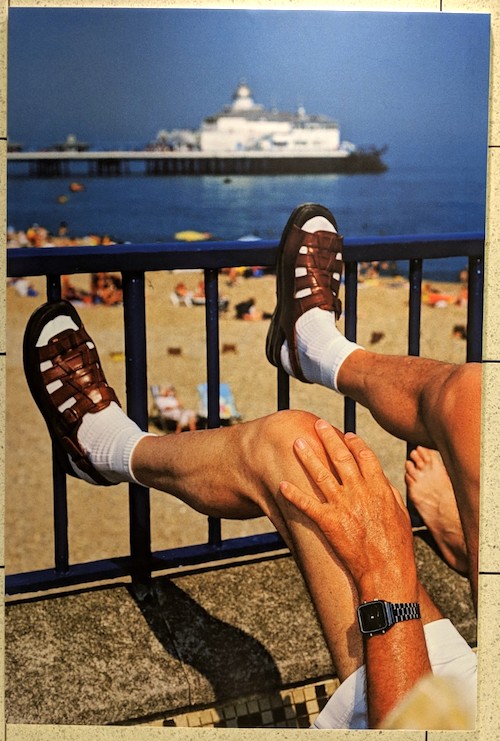 Martin Parr
A British photographer who is inspired by advertising and the images that appear around us from day to day.
"Through critique, seductiveness, and humour, Parr's photographs explore the themes of leisure, consumption, and communication by attacking the symbols of our contemporary society."
His show at Art Souterrain is called "Life is a Beach" and although they seem like regular pictures of those on holiday break from their work, Parr describes mass tourism and "unbalanced economic relations between North and South while his images tell with humour the simple shared pleasure of swimming and idling."
***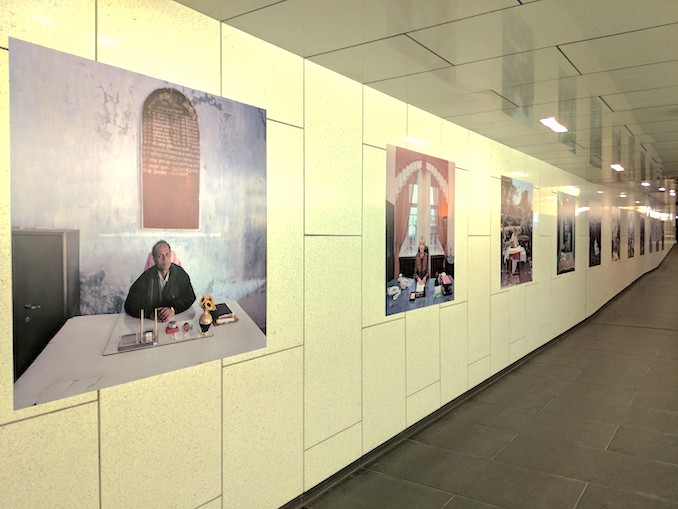 Jan Banning
Probably my favourite thing at Art Souterrain was by a dutch photographer with a focus on the power of government and the abuse in it that takes place. In this series of photographs entitled "Bureaucratics", the artist visits government offices around the world to photograph agents at work. Bolivia, Chine, Russia, USA, France, Yemen and many more countries were visited and show both the similarities and difference these government workers' spaces have.
By closely inspecting the photos and the object within them, one can find the details that offer "insight into th country, social status and identity of the employee."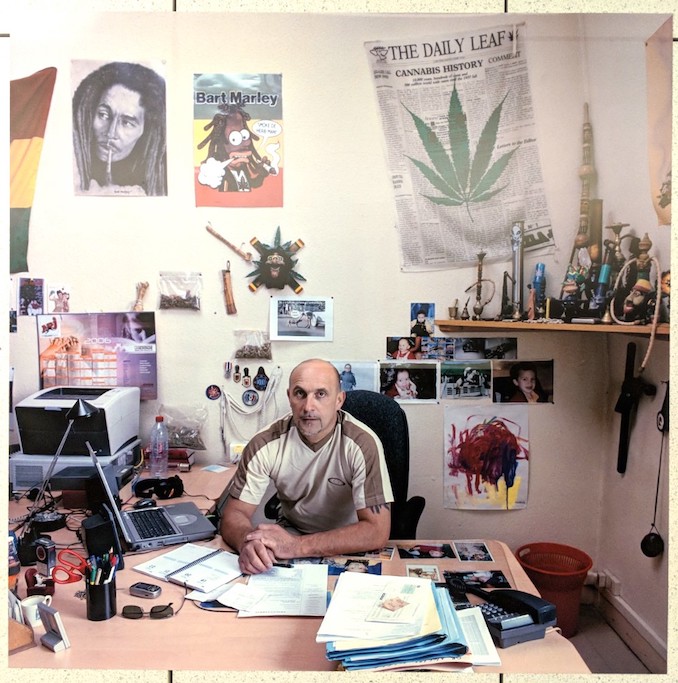 ***
Looking to see some Toronto artists while visiting the festival? Check out these four locals who are featured in 2018.
Toronto Artists in Art Souterrain
· Carol Condé & Karl Beveridge – displaying a catalogue of photographs titled, Public Affairs
· Kelly Mark – displaying photographs in a piece titled, The Kiss
· Johannes Zits – personifying Atlas in a performance piece
· Naomi Dodds – displaying an installation titled, Bridge 2