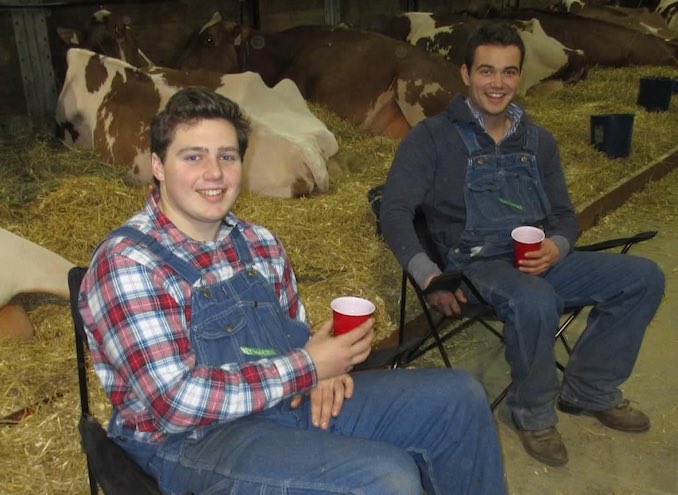 Canada's premiere agriculture and equine showcase, The Royal Agricultural Winter Fair turned ninety years old this year, a special occasion marked on Friday Nov 13th 2015 by the visit of Sophie, Countess of Wessex who toured the grounds, tasted local cheeses, jams and fruit preserves and generally reveled in the event's festivities.
'The Royal' as it is affectionately known in farm circles, runs from November 7th to the 15th every year, and over the course of the last century has grown to become the World's largest indoor agricultural and equestrian competition.  This decidedly urban attraction draws more than 340,000 visitors annually to Exhibition Place in Toronto where people shop at over 300 vendors stalls, and watch animal judging competitions and other unique live shows starring over 6000 well fed and immaculately well groomed farm animals.
These farmers didn't ask to come to this show, they were invited here, lured by the chance to win a big prize and everlasting fame.
The Royal Agricultural Winter Fair is Canada's ultimate fall fair, and for many farmers its the defining event of their careers. Here under the bright lights in the big city with thousands of people watching they vie to be recognized as breeders of national championship winning livestock.  Its interesting to consider that every animal on display here is someone's most prized possession and represents, in many cases, a once in a lifetime achievement.  Every dairy cow, horse, sheep, goat, pig, rabbit, or fancy bird you see in these buildings this week has already won a first place finish in their own small town, and maybe won again in a division final somewhere before they were invited to compete at The Royal Winter Fair.  Its a process, and the people out on the competition floor are as proud as punch to be there.  When they go back home their whole town will know of their journey and salute them – this was the year their animal made it all the way to The Royal.
Its more than just bragging rights, there's money on the line.  Not only do the winners get a substantial cash prize, and get their names in the paper, but a slew of international livestock buyers will almost certainly approach them immediately after the show and ask to buy genetic material, either semen or embryos for which they will pay handsomely.  According to a recent Toronto Star story on cattle buyers at the Royal genetic material taken from Canadian dairy cows and Holstein bulls was shipped to eighty six different foreign countries last year, and many such arrangements were made at the show.
The Royal Horse Show is a gala event that has been a cornerstone of the fair since its inception, but large crowds gather to watch every type of animal related competition event. Below is a picture taken during the Royal Breeding Sheep Show and I wish I'd thought to record the audio here; it was 'baaad' and even more interesting than the pictures.
President's Choice Animal Theatre showcases all types of animals at work and play, including sheepherding dogs.  A crowd favorite, in one show we watched a seasoned sheep herder named Viki Kidd and her talented border collie rally a large herd of sheep into one small pen.  This was just one of many President's Choice 'Superdogs' on display in their thrilling live show.
Spirit of the Horse ™ was developed in conjunctions with the Ontario Equestrian Federation (OEF) and this event is designed to showcase the diversity of horse breeds and equestrian disciplines in Canada.  It does not however feature a diversity of ethnic participants.  A live audiences watches white people, mostly young women demonstrate their equestrian skills doing Indoor Eventing, Dressage, and Show Jumping.  This whole scene would definitely be included in the Canadian version of Stuff White People Like. Back by popular demand, Guy McLean returned to The Royal Horse Show with his magical insights into the bond between horse and rider.
The new Food & Lifestyle stage featured exhibits demonstrating best practices for holiday decorating and entertaining. To spice things up even more this year the administration has set top International and local Chefs against each other in head to head cook-offs and this drew large crowds at both ends of the food court areas.
Burnbrae Food & Lifestyle Stage, hosted a wide variety of entertaining and decorating demonstrations during the day. Evening events include craft beer and cider competitions and Royal Champions Day, where guests can sample wine, cheese, and jams and view the Royal Winter Gallery, which hosts top artists who demonstrate their different styles and techniques along with the opportunity for guests to learn to draw animals.
Algoma Highlands Wild Blueberry Farm at 2015 Royal Winter Fair
Trevor Laing is a wild blueberry farmer who made the trip from Wawa Ontario to raise attention to his all natural, organic wild blueberries in the big city of Toronto. After meeting the man and talking about his berries I bought a blueberry smoothie which I will never forget and an $8 bottle of jam which I will probably serve up alongside cheese pears and crackers during the holidays.
A small synopsis of the history of this attraction on its ninetieth incarnation would mention W.A. Dryden, a Shorthorn cattle breeder from Brooklin, Ontario whose idea it was to create a National agricultural exhibition that would showcase the best Canadian agriculture.  The Royal Agricultural Winter Fair is the product of his vision and determination of a handful of industrious farmers. It all started in 1918  just after the First World War. All the prominent livestock associations gathered together and agreed to send their winners to the exhibition, and to recognize and honour National Titles. This group agreed with Dryden's vision and founded a committee called  The Agricultural Winter Fair Association of Canada which was later changed to The Royal Agricultural Winter Fair Association of Canada after His Majesty King George V granted permission to use the word "Royal".
Celebrating its 90th year, the 2015 Royal Winter Fair is a league of its own.