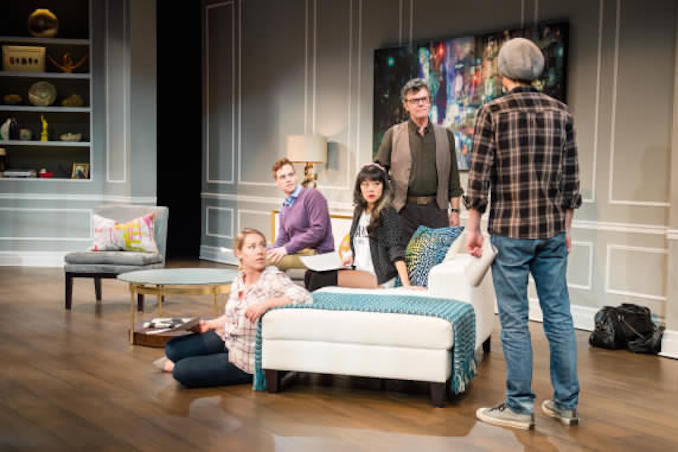 Award-winning playwright Theresa Rebeck's comedy Seminar is about ambition, power, and lust. It's about a group of young writers who hire a literati to give them insight into the career they've decide to embark upon. But what happens is not coming up as they had expected. What they hoped would be words of encouragement from their mentor turned out to be a harsh and realistic point of view from this famous and highly acclaimed writer who is also hard-drinking and oversexed.
Fresh from his role in the new Oscar worthy film ROOM, Tom McCamus plays the role of the Leonard in this stage production, Seminar (Mirvish Productions) November 14 to December 6 at the Panasonic Theatre.
His character, who's career is waning, now teaches workshops to struggling, young aspiring writers. So, what happens?
We caught up briefly with Tom McCamus as he prepares to hit the Mirvish stage.
Although the story is about aspiring writers did you experience anyone similar to the character you play?
I've experienced a few theatre directors that used some of these tactics.
Why is he so harsh?
He wouldn't call it harsh – he would call it the truth.  And he believes that if you can't take this kind of harsh unforgiving criticism  you're never going to make it in the real world .
Is it harder to get into the role of playing someone so abrasive?
I find it easier to play things that are far from myself – the hard part with Leonard is to find what makes him vulnerable.
There's much grumbling these days about Millenials vs everyone else… if you could give them one piece of advice, what would it be?
I, myself, am not a good teacher and hesitate to give any advice at all.
Your favourite one liner in the performance?
Pussy
***
Seminar originally opened on Broadway in November 2011. Theresa Rebeck is an award-winning and widely produced playwright throughout the United States and abroad. Her work has appeared on various New York stages, including the Music Box Theatre, the Golden Theatre, The Biltmore Theatre, Second Stage and the Variety Arts Theatre. In addition to playwriting, Ms. Rebeck has had her work featured in American Theatre Magazine, The Harvard Review and has published two novels, Three Girls and Their Brother and Twelve Rooms with a View. In television, Ms. Rebeck created the NBC drama Smashand has written and produced for numerous successful television series including L.A. Law, Third Watch, Law and Order: Criminal Intent andNYPD Blue — for which she won a Peabody Award. Ms. Rebeck is originally from Cincinnati and holds an MFA in Playwrighting and a PhD in Victorian Melodrama, both from Brandeis University.
Tickets for Seminar are $19-$89. For more information  visit www.mirvish.com