I have a new found appreciation for Canadian artists. Not to say I didn't appreciate it before but with the latest Lawren Harris exhibition "The Idea of North" now on at the Art Gallery of Ontario, it's brought back the urge to rediscover the artists, like the Group of Seven, once again. I embarrassingly cannot remember the last time I had visited the McMichael Canadian Art Collection and having chatted with a few others, it appears that I'm not the only one. Located in Kleinburg just on the outskirts of Toronto, there's really no excuse. It's also McMichael's 50th anniversary. So, when Ford Canada invited an intimate group of media to their Art of Fusion event in Kleinburg recently, how could I resist? It was time for me to hit the road for a day of rediscovery.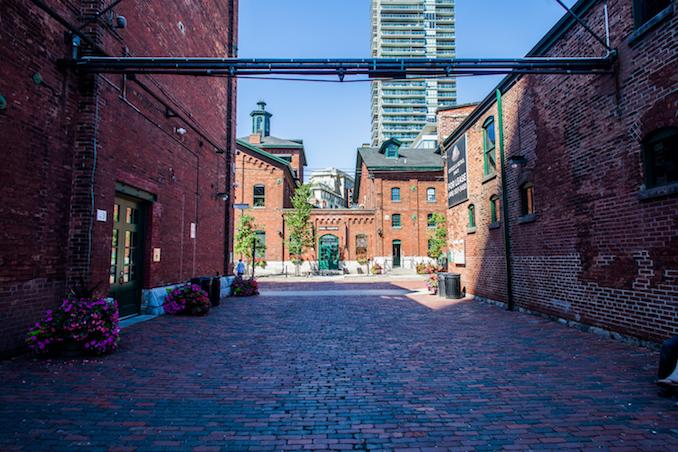 The day started with the unveiling of the 2017 Ford Fusion Energi Platinum – a plug-in hybrid that marries a gas engine, electric motor, and a chargeable lithium-ion battery – together offers incredible gas savings and the company tells us it's considered the smartest Fusion yet. While we anticipated  a full pitch on all the bells and whistles they simply gave us the top line features and then just handed over the keys and said, "have fun and safe drive! We'll see you at the lunch stop." The best way to discover what something can do is experience it, right?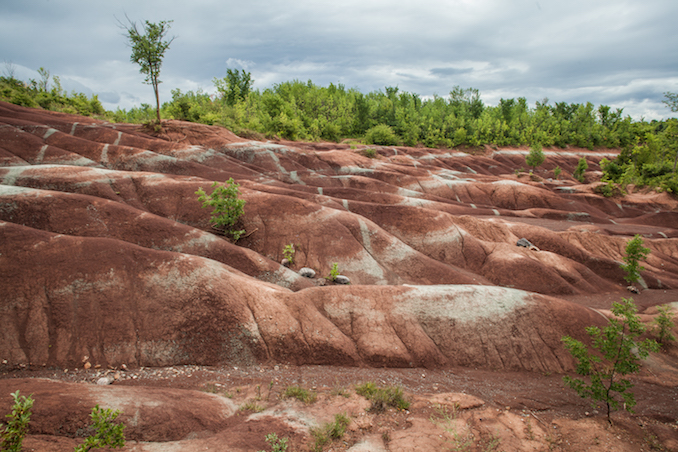 The GPS lead us past the Cheltenham Badlands to the beautiful and picture-worthy stop in Belfountain. As we drove through the quaint little town (blink and you'd miss it) and into the Conservation area, we were inspired. We all went exploring throughout the park and while we were all snapping photos with our phones and cameras, we also knew that we needed to absorb this scenic park with our own eyes. We lingered longer than we should have but hey, us city folks crave this kind of peace of mind. Why haven't I been here? Note to self, there's so much to explore in our province.
"Okay, you should probably get moving on to the next stop," a woman said to my driving mate, Jenn as we were comparing images we had just taken. Did you go on the swing bridge? Did you see the fishermen? Do you think they are on Tinder? Jenn asks me with a smile and I don't think she's kidding.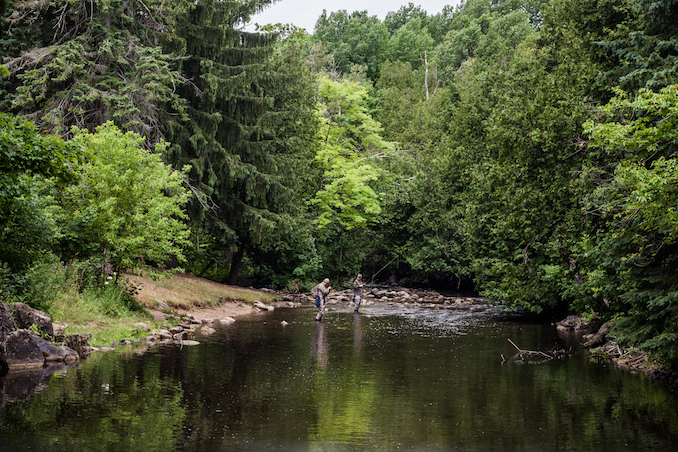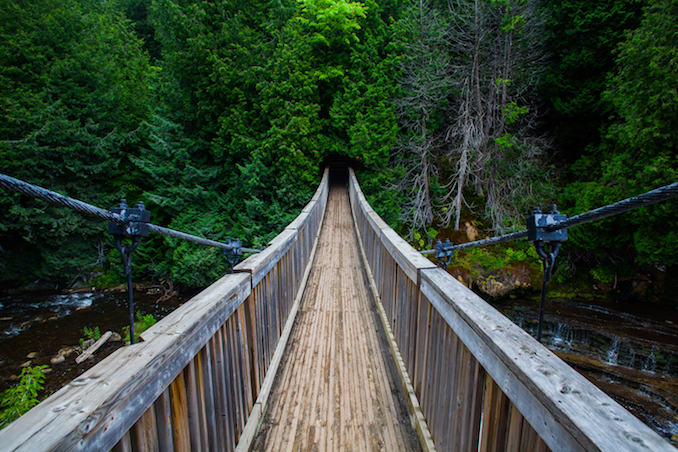 When we arrived at the McMichael Gallery, I had forgotten that this too was a conservation area. We had a guided tour around the grounds and walked past large sculptures. We visited the cemetery where most of the Group of Seven were laid to rest and we were tested on our knowledge. We had visited Tom Thomson's studio – transplanted from it's original home in Riverdale. By the way, many people assume that Thomson was part of the Group of Seven. Although he was a highly influential artist, Thomson had passed away in a mysteriously on Canoe Lake in Algonquin Park before the group was formed.
We were all inspired as we learned more about the Group of Seven styles. "Movement in nature was very much a common style with the artists in this group," mentioned our knowledgeable guide. "The artists captured movement of nature in all weather conditions and year round."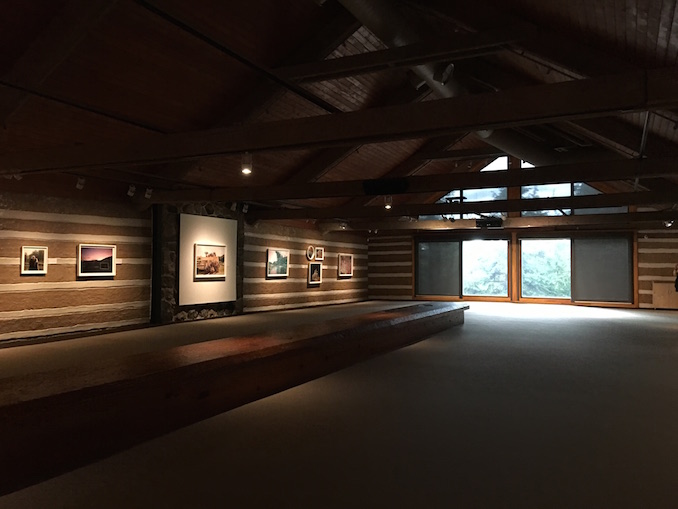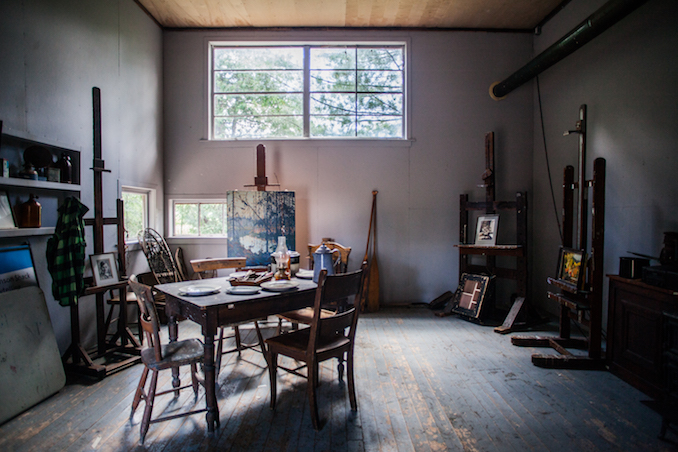 With that in mind we were lead to a private area to do our own plein air paintings inspired by our favourite Group of Seven artist. This was a dream come true for me since I've been painting for a while now and the setting was perfect. Since Lawren Harris was top of mind, I naturally found myself drawn to his stark landscapes of the north. His work appears to be simplified but I assure you they aren't anywhere near as easy to paint. Harris didn't seem to fear dramatic colours so I went full of gusto. Hey, who's gonna judge? I'm in exploration mode. But I did welcome the tips and words of encouragement from the teachers who hovered over us. Shadows? Highlights? Blending? I'm all in. But  there's only 2 hours to paint (and that's after they extended the time three times).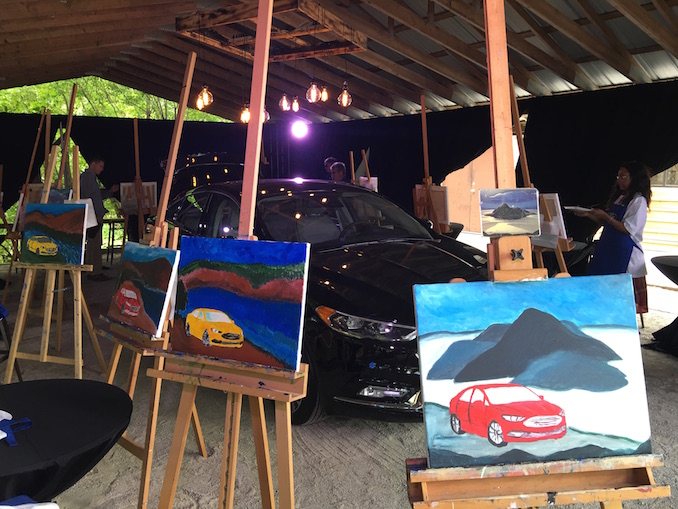 We finally had to drop our paintbrushes and move onto an after-hours private tour of the McMichael Art Collection. We explored the permanent collection and special exhibitions including the stunning abstract works of Colleen Heslin. Her collection named "Needles and Pins" incorporates panels of fabrics that from a distance appear to be large paint strokes. "Field Trip" is a featured exhibition of contemporary arts by Sarah Anne Johnson shows recent photograph inspired by the artist's fascination with outdoor music festivals.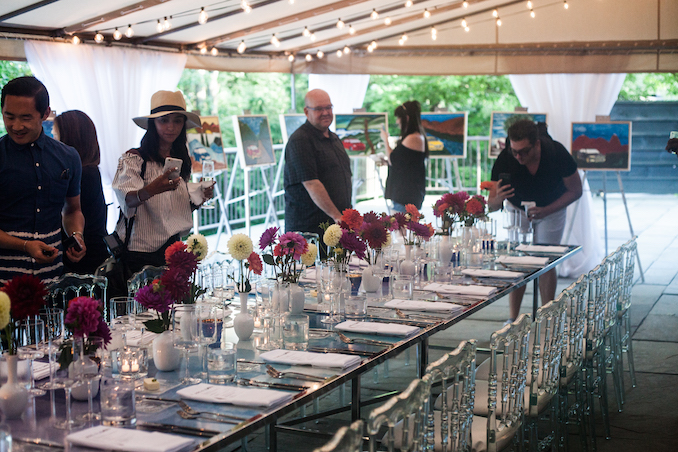 We ended the day with an incredible dinner outdoors surrounded by our creative pieces displayed on easels. No judging happened (thank goodness) because at the end of the day we were all reminded that while we all need to keep moving, it's important to take note of our beautiful surroundings.