We, the north, are very familiar with the works of Lawren Harris. As a Canadian artist, Harris is more often associated with being a founding member of  The Group of Seven than with famous actor and comedian, Steve Martin. When I had received the invitation to the press preview with  Martin in attendance, I admit to having to rub my eyes a few times. THE Steve Martin? What does he have to do with the artist? I was curious.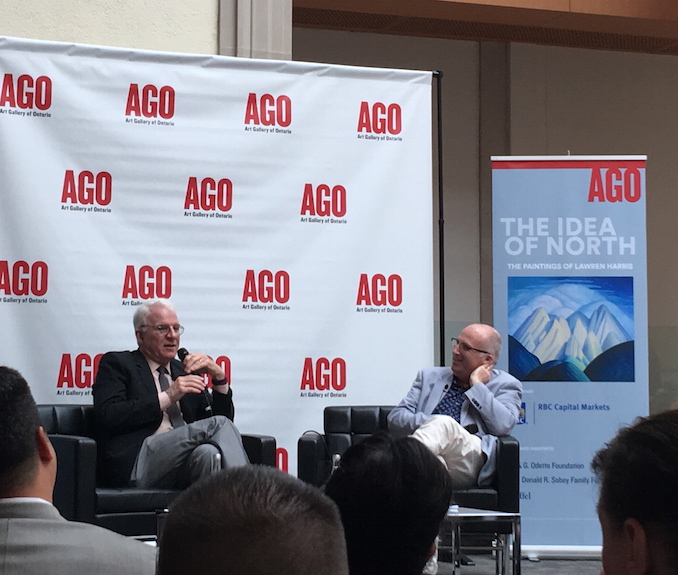 Steve Martin recently chatted about his involvement as guest curator of the new Lawren Harris exhibition that officially opens July 1, 2016 at the Art Gallery of Ontario (AGO). The exhibition titled The Idea of North: The Paintings of Lawren Harris features 80 works in total that includes additional works of several contemporary Canadian artists; Nina Bunjevac, Jennier Baichwal and Nick de Pencier, Tin Can Forest and Anique Jordan.
In conversation with the AGO's curator Andrew Hunter, Martin tells the media how he has a fond appreciation for Lawren Harris's work. So much that he has associated himself to this large exhibition that initially was created to introduce the artist to the US audience.
The exhibition has been worked on for three years with presentations in Boston and Los Angeles in partnership with the Hammer Museum (LA) where it was very well received. Now it has "come home" to Canada and really, Toronto, specifically.
Andrew Hunter, curator at the AGO tells us that Martin's involvement wasn't a token gesture but the star has actively participated in viewing each work that was chosen for in this exhibition at the AGO. The show has also expanded for the Canadian audience since an "introduction" to the artist wasn't necessary here on home turf.  The exhibition takes a slightly different approach than in the US. "We wanted to honour the inspiration of Steve's by re-introducing Harris and to bring new ideas and new take on the work," said Hunter. He hopes the new exhibition in Toronto will give visitors  a fresh perspective especially with so many works in one space.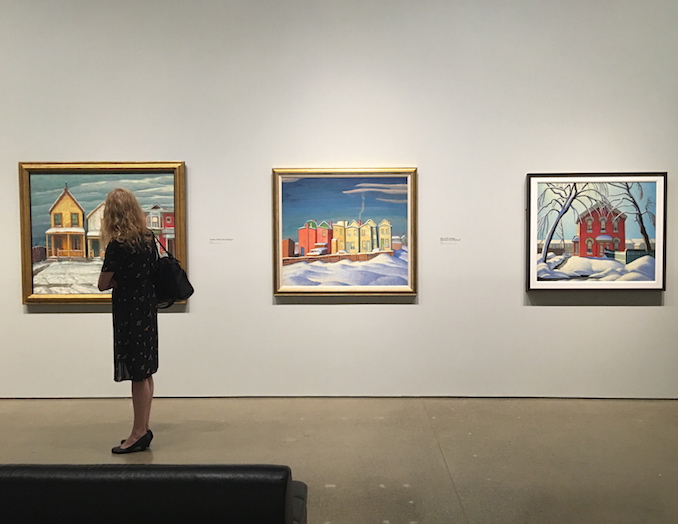 "I'm a fan of his work and this opportunity came up. I've never curated before and I'll never do it again," says Martin kiddingly.  "Not because I didn't have a great time but because nobody needs me. There are other great curators." said Martin. "Lawren Harris in  America was a very special case because I love his work and I felt like I was the only person that could do it. (laughs) I was really excited about bringing his body of work to America."
"People came in throngs to see his show in Boston. In LA they came in thongs." said Martin on the reaction to the exhibition in the US.
The core of the exhibition is similar to the presentation in the US but visitors here will see a new prologue and a new epilogue that feature more than 30 additional works featuring the artists' earlier work from here in Toronto. "It really situates Lawren Harris as a Toronto artist," said Hunter. "Being in the city and experiencing the city in his teens and 20s really shaped his vision." Throughout the exhibit visitors will also see photography from that time by other artists.
Martin tells us his first encounter with Lawren Harris was seeing his work in a book but had originally mistook his work for an American painter. He soon realized who the artist was and did his research on Harris. "I thought I had discovered this guy!" said Martin. "and was pretty disappointed to find out that he was really famous already in Canada."
He purchased a couple of small paintings at an auction but noticed that the works were pulling some significant numbers. He learned that Ken Thomson was a great collector but the work wasn't on display in public at that time when he was in Toronto as the AGO was under construction. He wrote Ken Thomson a letter and told him how much of a fan he was of Lawren Harris's work. Thomson invited him to view the artwork in storage.
Martin was asked what was his initial feeling when he saw the collection.
"Hunger!" said Martin. "I was feeling awestruck and jealous at the same time. I thought 'gee, would I love to have that painting in my living room' but I'm also realizing that it's a national treasure."
The Idea of North: The Paintings of Lawren Harris officially opens to the public on July 1, 2016 at the Art Gallery of Ontario.
Several events, guest speakers, performances are planned including the upcoming AGO First Thursday evening event, DUE NORTH. The event features Toronto's supergroup Darlene Shrugg (with members of U.S. Girls, Slim Twig, Ice Cream and Fiver); also featured are artists-innovator Anique Jordan, dancer Brian Solomon, and a pop-up comedy showcase.
For more information on the exhibition and the events visit www.HarrisAGO.net
There is also a documentary about Lawren Harris that recently premiered on TVO (that can now be streamed on tvo.org). Where the Universe Sings: The Spiritual Journey of Lawren Harris is considered one of the most comprehensive films on the Group of Seven artist to date. The film features over 130 of Harris' paintings, previously un-seen photographs and 8 mm family films, and interviews with Steve Martin.