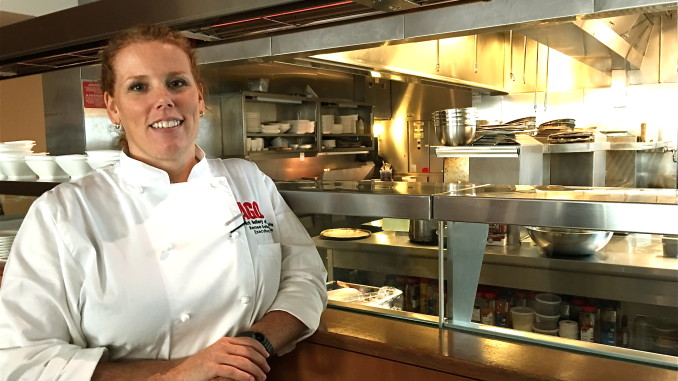 I was excited to learn that AGO's new Executive Chef at FRANK Restaurant was recently appointed. Renée Bellefeuille has over 20 years experience working at some the city's premiere kitchens including The Drake Hotel, the Consulate General of France in Toronto, and alongside Jamie Kennedy, with whom she's worked as Pastry Chef for five years.
Bellefeuille grew up in Waterloo County, Ontario where she had access to fresh picked fruits, vegetables and local farmers' markets. And her cooking chops? She was gifted the lessons naturally from her French Canadian grandmother who taught her how to appreciate and understand the importance of harvesting and preserving the best of each season. Her style of cooking is not too contrived yet comforting food for the soul. Bellefeuille has a great love for local and slow food that she grew up with. Today, she's a member of Slow Food International.
While she learned the foundations of cooking at home, Bellefeuille also has a love for global flavours taking inspiration from other cultures and their cuisines. Some of her favourite flavours can be found in South America, India, Sri Lanka, Mexico, Middle East, and North Africa.
As Executive Chef at the Art Gallery of Ontario's restaurant FRANK, she'll bring her own special touches while keeping with artful collaborations with featured exhibitions as a tradition between gallery and restaurant — something I love experiencing personally!
"Tying into the exhibitions here at the AGO is always a big draw and having art translating into food is such a big thing," said Bellefeuille. "When I propose the concepts to the curator for the J.M.W. Turner exhibition, he was so thrilled that even how simple the menu looked and how it translated which is an important relationship we have with the curatorial team and the gallery."
The J.M.W.Turner Prix Fixe Menu ($35 for lunch/$45 dinner) is mouthwatering as I hover over the Venetian Flatbread and Duck Cassoulet.
I'm very excited to see what she and her culinary team comes up with for the upcoming Chinese artist, Song Dong, exhibition. "Definitely! He's a foodie himself so we're very excited to bring in his ideas for that exhibition. Many of his art installations are food based so stay tuned." said Bellefeuille.
Bellefeuille tells us there's a difference between working in a Gallery restaurant than any other that's very special. "You don't just take food as food here, there's more of an involvement with art and how it all ties together. Chefs are notoriously creative and artists as well but how it actually folds in and overlaps into the art is the next step of culinary creation where you can have a dialogue and people try to understand what you represent. Tying in the artists who inspires you to create the dishes is incredible."
And what's her favourite part of the Gallery? She tells us it's in the Canadiana section on the main floor. "There's a nice little nook to sit and gather yourself, I love it there."