Some of the most memorable and recognizable voices stem from watching our favourite childhood shows.  If you ask anyone over the age of 40 what cartoon character voice comes to mind most will say Bugs Bunny without hesitation. The Looney Tunes character's "What's up, doc?" never gets old . For Scarborough raised Eric Bauza, cartoons became more than something he watched as a kid, it also became his dream career. He is the voice of some of the most-loved cartoon characters of all time.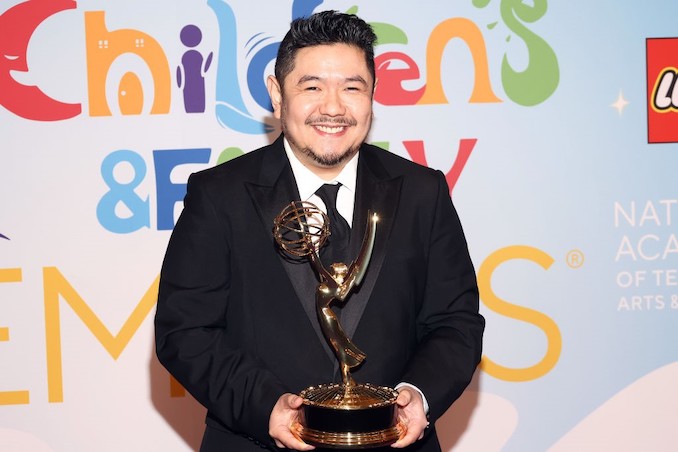 So, how did a young kid from Scarborough grow up to become one of the most famous voices of all time? Bauza recalls watching cartoons when he was younger. "Remember when you could only watch cartoons on weekends and after school?" he asked laughed during our recent interview. He remembers watching the classic Bugs Bunny and Tweety Show reruns on television started everything. "I would have recorded them on VHS because there was no pause on television back then."
Mel Blanc was of course, by today's standard the G.O.A.T. when it comes to voice actors. With a career spanning over 60 years his voice was heard all over the radio and television. He became known as the man of 1000 voices and considered one of the most influential voices of all time in the entertainment industry. "He was the voice actor that created these iconic characters that we're still talking about 80 years later," said Bauza.
Bauza is now walking, or talking, on the same path within the animation entertainment industry. Bauza not only is the voice of Bugs Bunny but he also is the voice of Daffy Duck, Tweety Bird, Sylvester, Elmer Fudd, Porky Pig, Marvin the Martian, and the list goes on.
Bauza said he was always considered as the class clown in high school by both teachers and classmates. But he was never discouraged by his teachers.  "They found me very entertaining . So, they didn't say stop. They said keep going… but make sure you hand in your assignments on time." He went to Cardinal Newman, that was situated near Scarborough Bluffs. Winters were always a trekking through the school's snow covered yard to get to the TTC bus he recalls fondly. But after school everyone either went home through Kennedy Station or to the Scarborough Town Centre.
He started in the industry after graduating from Centennial College in 2000. Bauza's career started as a character layout artist. It was his first introduction to the animation world. "I was the guy who would take a storyboard and draw the characters in their final poses before  handing drawings off to an animator who would then move them," said Bauza. "So, I as actually doing something that I had in me as an artist but as soon as they said they'll pay me to say 'What's Up, Doc?' into a microphone I said, "see ya later!"
He's only auditioned for Bugs Bunny twice in the past decade and has been the voice for the past four years. Bauza went on to explain that auditions for new actors to play these iconic voices are very rare. "They want consistency. Fans want to hear something familiar even if it's a replacement voice and not the original. I feel that lucky that I was even considered."
Now that he has a kid of his own he's making sure that everyone understands that following their dreams is cool but also recognizing that, regardless of whatever career path you take, it always requires work. When kids and adults discover what he does for a living they always want to know how he landed such an dream job. For the kids, he straight up tells them it's amazing but everything has to do with reading.
"Whether I'm auditioning or in a recording session I'm reading pages of scripts," said Bauza.  "Being able to read is number one and being able to act is the other thing. It's not just about funny voices. You have to really care about the characters. You have to believe in Bugs Bunny."
Adults are even more inquisitive always asking him how they can get in on the action. "It's funny how you meet other performers or people in the industry," said Bauza. "They think it's just funny voices and it's a very easy thing to do but it takes time and like anything you do, there has to be some kind of trust especially since there are people who have been working in it for longer than I have."
He's worked with people he grew up with watching and had to earn their trust. "To get that stamp of approval is amazing and that only comes with time. You can't just rush into any career. You have to work at it and find your own footing."
Bauza recently received a Children's & Family Emmy Award for his voice work as Bugs Bunny, Daffy Duck, Marvin The Martian and Tweety Bird in Looney Tunes Cartoons and having a blast. He's also becoming recognizable in the city.
Now, he's experiencing how his work gets him star-studded treatment. "I was just on the lot of Warner Bros. shooting a video for their 100th anniversary. One minute you're a nobody but once the cast and crew heard the voice they won't leave you alone.  It's like being a kid in a candy store and making people happy."
At a recent Toronto Raptors home game he was there to promote Looney Tunes and the CBC show Stay Tuned. He was shown front and centre on the Jumbotron to say a few words in his Bugs Bunny voice. "It was so surreal! I go to Raptors games all the time but as soon as I left the Jumbotron, I couldn't walk back to my seat without people stopping me," said Bauza.  "And lots of Filipinos. They're all convinced I'm their cousin now."
And what can he tell us about his Scarborough?  "Yes! we're putting Scarborough on the map! It seems like every year someone from Scarborough has become famous. My Scarborough is the only place you can get good fish and chips. It was always very multicultural."
Even though his job takes time away from his family he loves knowing that a lot of his work over the past 20 years can easily be seen by his family and friends on TELETOON+  streaming service. "My parents always had to save everything on  DVR but now it will forever be up there on TELETOON+."
Canadians can watch some of Eric's most popular series like Looney Tunes Cartoons, Bugs Bunny Builders and King Tweety on TELETOON+ with a 30-day free trial.
*Eric Bauza Emmy Win Feature photo credit: Tommaso Boddi/Getty Images. Provided by and printed with permission from Corus Entertainment.