Local entrepreneurs Stef Prodea and Jack Baker started Welo "to create real and functional products for real people" and do so through their lineup of healthy snacks and drinks that contain probiotics and other healthy ingredients. The company currently produces Probiotic Cold Press juices, Probiotic Bars, Probiotic Ferments as well as Apple Cider Vinegar drinks and Alkaline Water. A lineup that focuses on its ingredients being healing, wholesome, and nutritious.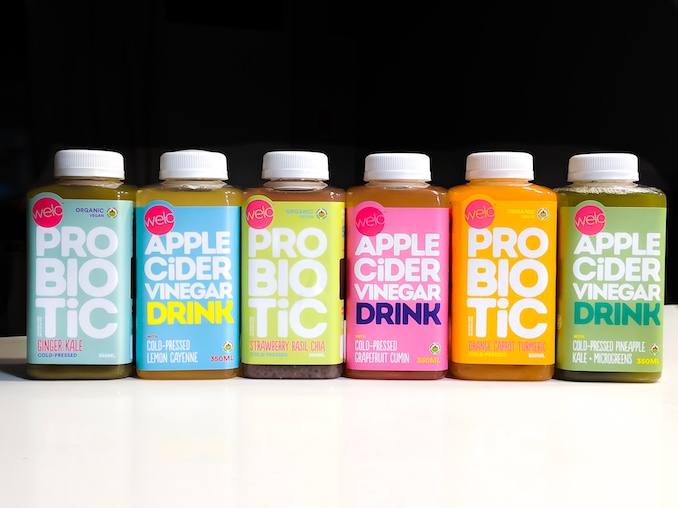 On top of promoting good health through their drink dominated line, they also donate a portion of their sales to provide clean drinking water to communities abroad.
We chatted with Stef and Jack to learn more about what they do.
Where did your knowledge and passion for creating foods and drinks originate from? (family, friends) And at what age?
Jack – My passion started in my teens and continued to grow as I became more involved in fitness and sports. While I did see improvements the more I worked out, it wasn't until I focused on nutrition and my diet that I saw significant changes not only physically but mentally. That really encouraged me to start researching nutrition and ingredients online and then doing my own experimenting by putting a healthier spin on foods I already enjoyed.
What are some of the first things you remember Jack making?
Stef – He had quite the sweet tooth, so he was always making protein based desserts (pancakes, peanut butter cookies etc.). He'd find healthier alternatives to everything (avocado instead of butter, protein powder instead of flour etc.) and everything always tasted amazing.
How did you come up with some of the flavours of the drinks? How long did it take before you had your full line? Where did you start out of? (home, kitchen)
Jack and Stef – The flavours come from functionality combined with flavour. For instance, we use a lot of ginger and turmeric as they're extremely anti-inflammatory, and we also combine ingredients that are complementary (flavour or functionality wise). For example, Beta Beet is amazing pre-activity because the beets are high in b vitamins and niacin which aid in blood flow.
We initially launched with five organic cold presses, which took around eight months from idea generation to execution. Since then we have released three other lines – probiotic ferments, apple cider vinegar drinks and probiotic bars over the course of a year and half. Our newest product, probiotic kids bars will be launching in May at Loblaws!
We started out of a commercial kitchen in Toronto, from there we've expanded into our own facility in Mississauga.
Tell us a bit about the benefits of probiotics and apple cider vinegar?
Jack and Stef – Probiotics are live bacteria that help strengthen the gut, which then helps your body better absorb vitamins, nutrients, protein etc. (don't worry – they're good bacteria!).
Apple cider vinegar is amazing; the fermented apples contain pectin, which is key for good digestion as it encourages the growth of good bacteria (probiotics are that good bacteria!). It also has a variety of other health benefits.
How many of these drinks/bars would be a daily serving of probiotics/ACV?
Jack and Stef – If you consume a single serving of any of our products, you would consume the daily recommended amount of probiotics/apple cider vinegar. However, you won't do any harm by consuming more, but rather help your gut even further!
What are some of the challenges you faced getting the beneficial ingredients into drinks and bars while still having them taste good and be profitable? Finding new ingredients, adding, reducing sugars, etc.
Jack and Stef  – We had to do a lot of research and experimentation in order to get the final formulations that were not only functional, but also delicious, vegan, and profitable. We knew our final products had to help our guts, be made of clean ingredients, and have strong nutritional information. We went through various stages of research and recipe formulation/modification until we had products that we could feel proud about.
Our major challenge was finding the most suitable probiotic that would have the highest survivability. When most probiotics are added to whole foods they react to the other ingredients, as they're very sensitive. The strain we chose doesn't activate until it's consumed, thereby increasing its survivability (it's also backed by over 20 research studies).
Tell us a bit about your work planting trees, building wells in Africa and helping some of our most needy. What organizations do you work with?
Jack and Stef – Giving back is so important to us and was one of the core reasons Welo was started – love is at the forefront of everything we do. Our beverages support water wells and our bars help food banks worldwide.
We work with an organization called Creation of Hope, which we love because even though it's small it makes lasting changes to global communities. Our donations allow them to foster sustainable and life-giving water sources to the people who need it most by providing infrastructural solutions, ones that are then maintained and fostered independently.
What is the best part about doing business in Toronto?
Jack and Stef – We love Toronto because there are so many amazing people here! We find that they care about their health and the food they consume, and are also interested in local products. We also love all of our partners, from our distributors to the local store owners, we're very appreciative of all the local support.
PAY IT FORWARD: Name another awesome business that you admire or respect in Toronto?
Jack and Stef – We love Station Cold Brew! They are a great group of people, are open to collaborating with other Canadian companies, and of course, they have amazing products.
To learn more about Welo, or to find out where to buy their products, please visit their website.