An ambassador for female beauty, Malinda Prud'homme is a portrait artist based in Toronto who strives to make every woman feel beautiful and represented through her art. She is passionate about working with a very diverse definition of beauty and makes conventional "flaws" into something that every woman should embrace.
A true mixed media artist, she is familiar with mediums such as watercolour paint, willow vine charcoal, encaustic (wax) paint, chalk pastels, and coloured pencil, although most of her realistic portraits are created using oil paint and acrylic paint. Some of her more extravagant works also feature gems which are all meticulously adhered by hand, one at a time.
Malinda graduated from university with a teaching degree but ultimately chose to pursue a career in art. A professional artist since 2009, she's been working relentlessly on perfecting her technique which combines her soft realism and bold, lively colours to achieve a portrait that is both visually intriguing and empowering.
As her career gains momentum, the diversity of her subjects only keeps increasing. Her clientele comes from around the world, and she doesn't seem to be slowing down anytime soon. Her passion for sharing beauty with the world will continue to drive all of her artistic endeavours and will undoubtedly continue to inspire all those who view her work.
~ By Danielle Ouellette, OCAD Student
1 – Solo Art Exhibition "Beauty Is Varied" at Gallery 50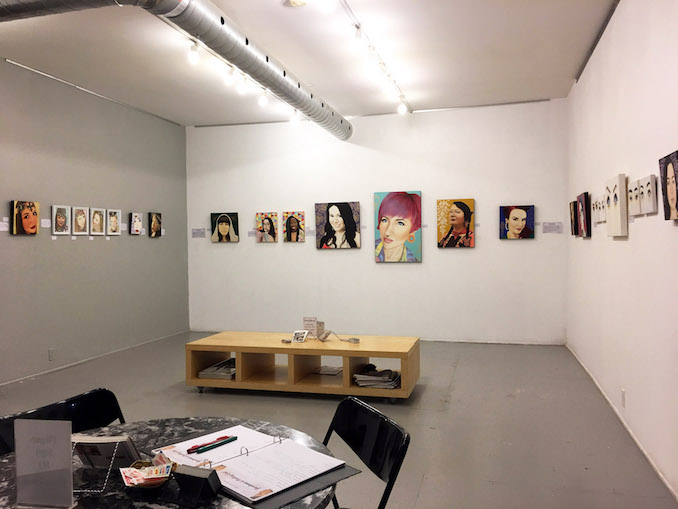 2 – Portrait painting "The 20s Reborn" in progress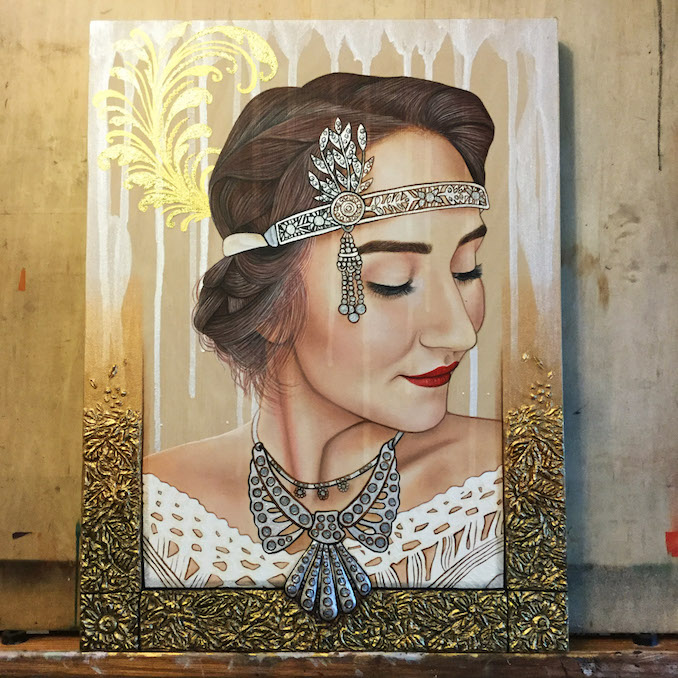 3 – Filming "Artifact" for the Artist Unknown Web Series during her Solo Art Exhibition at The Kingston Social
4 – Exhibiting her "Bejeweled Beauties" mixed media series at the historic OXO Tower Wharf in London, England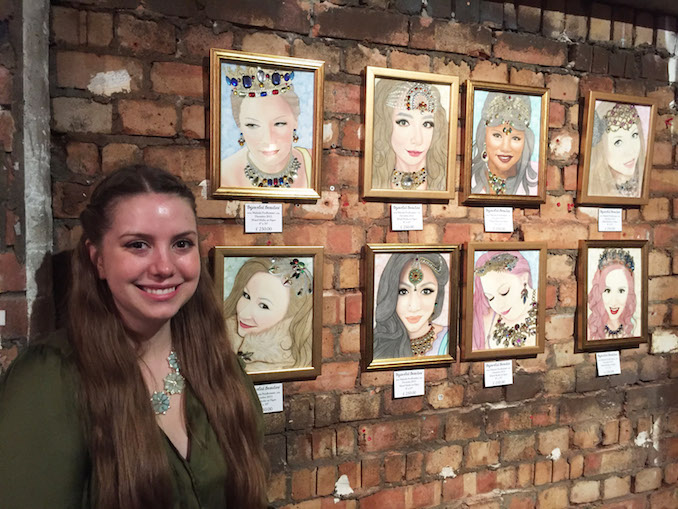 5 – Freshly completed abstract beauty portrait "Restless Mind ~ Beautiful Spirit"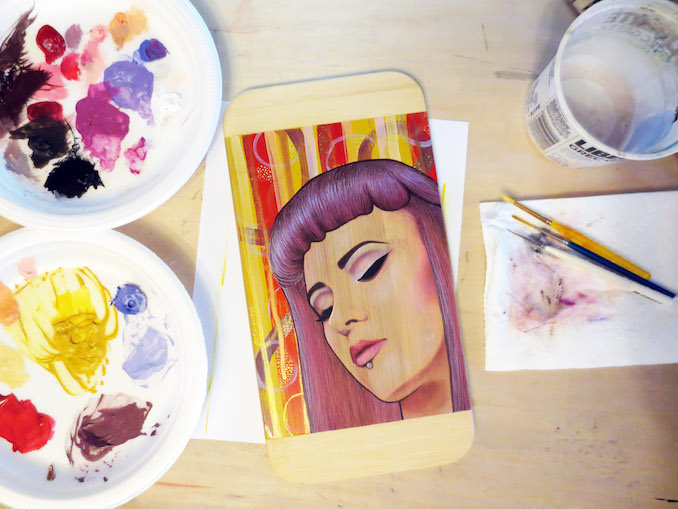 6 – With her muse Alyestal Hamilton next to her newest series "Cheeky Beauties"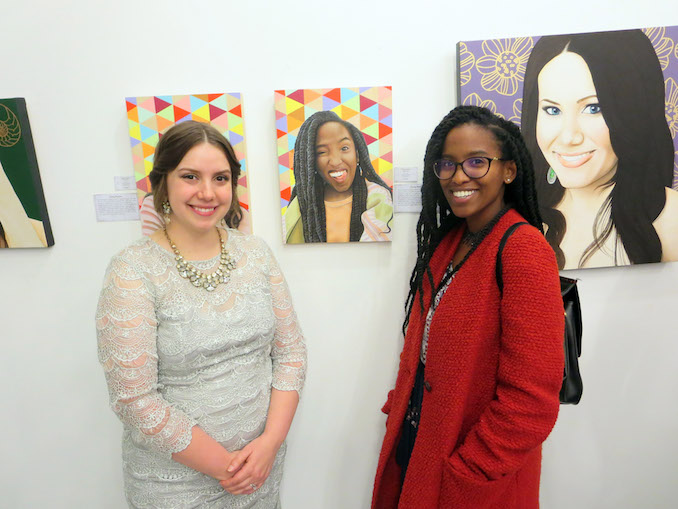 7 – A portrait of abstract painter Katrina Schaman in progress.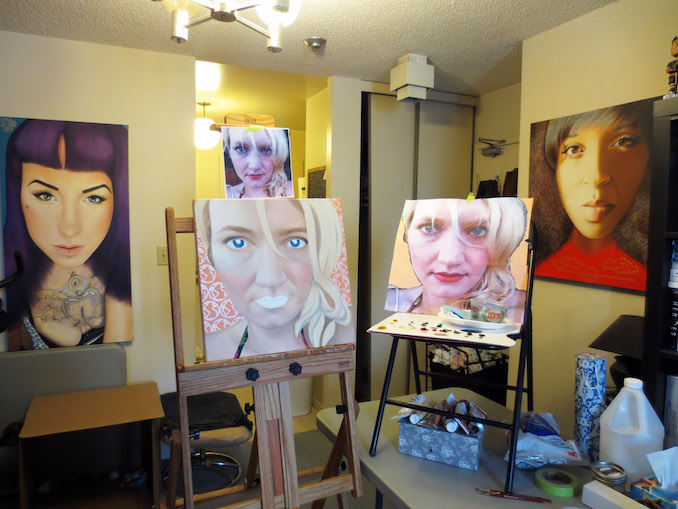 8 – Posing with her large scale Indian Bride portrait in progress.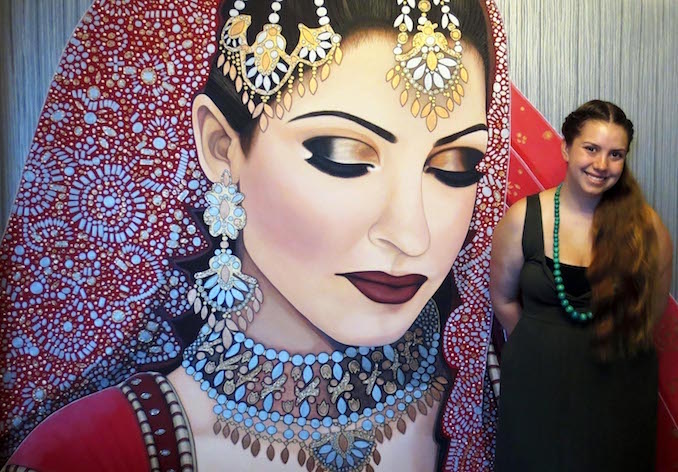 ***
What hood are you in?
My home and studio is right on the cusp of the Art & Design district and Parkdale off Queen Street West.
What do you do?
I'm a full-time mixed media and portrait artist working from Toronto.
What are you currently working on?
As we head into the holiday season I'm focusing my attention on commissions. But I'm excited for the new year when I'll be working on a new large scale Emerald Indian Bride as well as some new pieces just in time for my upcoming Solo Art Exhibition taking place at Ben Navaee Gallery on Queen East from March 17th to 30th 2017.
Where can we find your work?
You can find all of my artwork on my website, Facebook Page, and Instagram. But when it comes to my finely detailed work, it's always best to see it in person! Check out my upcoming exhibition dates on my website here.