Name: Good Lovelies
Lead vocals, electric and acoustic guitars: Caroline Brooks
Lead vocals, keyboards, banjo, guitar: Kerri Ough
Lead vocals, percussion, guitar, synth: Susan Passmore
Founded: Dec 15, 2006
# of Albums: 8 in total: 4 studio albums, 1 Christmas album, 2 EPs. 1 live album
Latest Release: Shapeshifters (Feb 9, 2018)
Latest Videos:
I See Gold (Nov 2017)
When We Were Young (Jan 2018)
Take Me Take Me (coming May 2018)
Bio
You hear it a lot these days – the idea that something is greater than the sum of its parts – and yet there's really no better way to describe the musical essence of the Good Lovelies.
Kerri Ough, Sue Passmore, and Caroline Brooks – immensely talented vocalists and songwriters in their own right; however, it's their voices interwoven in harmony – powerful and pure, organic and inspiring – that elevates the Good Lovelies from impressive to peerless.
Over the course of their decade-plus career, they've covered plenty of stylistic ground, adding tinges of pop, roots, jazz, and even hip-hop to their country folk core at various points.
The trio first united in 2006 for a one-off performance and has since compiled a catalogue of four studio albums, a pair of EPs, a live album, and Christmas collection. Through it all, the unmistakable sound of their intertwined voices has been the sonic anchor, and that remains true as the Good Lovelies now look to push further into the mainstream with their most accessible and pop-influenced output to date.
Their upcoming collection offers a perfect balance between a more modern production style and the wholesome musical influences that have made them a household name over the years. What's more, the songs themselves build on the Good Lovelies' familiar foundation with a widespread appeal.
If what happens next goes according to plan, though, the Good Lovelies will see their profile propelled to new heights thanks to a contemplative creative approach and a new spin on the signature sound that's earned them audiences and accolades the world over. The music, the album, and the trio – all are greater than the sum of their individual parts. Simply, that's the Good Lovelies
Latest Single:
I See Gold
Favourite Restaurant:
Kerri Ough: The Fish Store – College Street. Totally unassuming place, BEST fish and veggies ever.
Caroline Brooks: Pukka on St Clair – Such delicious indian food, and the coziest most romantic setting
Sue Passmore: Pizza Libretto on Ossington
Favourite band as teenager:
KO: Ani Difranco, Lauryn Hill, Sublime, Smashing Pumpkins
CB: The Beatles, Sarah McLachlan, Bruce Cockburn
SP: Sarah McLachlan, Ani Difranco, No Doubt, Goldfinger, Bob Marley
Favourite band now:
KO: Tune-Yards, Lucius, Sharon Van Etten
CB: I can't answer that question! Too many!
SP: Leon Bridges, Sam Cooke, Michael Kiwanuka
Guilty Pleasure Song:
KO: Titanium Sia and David Guetta or Bad Romance Lady Gaga
CB: This Is What You Came For, Calvin Harris feat. Rihanna
SP: How Far I'll Go from Moana (what can I say, my son loves it too!)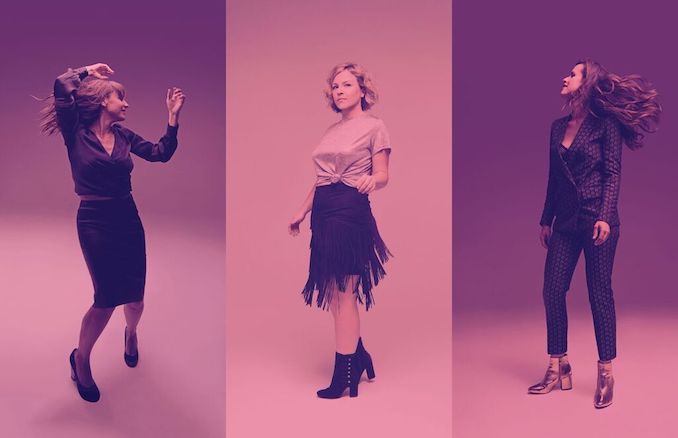 Live Show Ritual:
KO: We belly bump each other just before walking on stage.
CB: Yep we do!
SP: Sometimes we go through the Fresh Prince theme song, too
Favourite local artist:
CB: Charlotte Cornfield
KO: There are so many great Toronto bands! I agree with CB though – Charlotte is almost a secret treasure in Toronto.
SP: Loving Lydia Persaud's debut EP release
Sneaky Dees nachos, pasta from Terroni or a superfood salad from Fresh?
KO: Salad from Fresh
CB: How much have I had to drink?
SP: I tend to be a nacho gal
Queen or College St?
KO: College Street for business, Queen Street for coffee and clothes
CB: Queen St
SP: Queen St
Trinity Bellwoods or Highpark?
KO: Trinity Bellwoods
CB: High Park
SP: Ooo, that's tough. I love them both, depends on what I need day to day. Social times or peaceful woodsy walks.
EP or LP?
KO: LP
CB: EP
SP: LP
Early bird or night owl?
KO: 100% early bird
CB: Before I had kids, night owl, now an early bird but not by choice
SP: Earlybird, though my son makes it earlier than I'd prefer.
Road or studio?
KO: Road wins out, but only by a teensy bit.
CB: Road too!
SP: It's a tie. I love the focus of the studio, and love the live shows equally.
Swiss Chalet or Roti?
KO: Roti
CB: Roti, especially in Toronto
SP: Roti
Check out their show at Massey Hall with Royal Wood on May 11th, 2018. Here is the link: https://www.masseyhall.com/tickets/royal-wood/
Also check out the band's website: http://goodlovelies.com/