Being an entrepreneur today is much easier than doing so in years past. Before, it could take weeks or months to develop your business plan and start selling to customers. Now, you can take care of everything online and be ready to launch within a week or so. In fact, all it takes is seven steps to go from an idea to reality.
That said, while the process is straightforward, it still requires a hefty investment of time, money, and effort. If you want your business venture to succeed, you have to know what to expect and roll with the punches. Although starting a business is relatively easy, making it work is more challenging.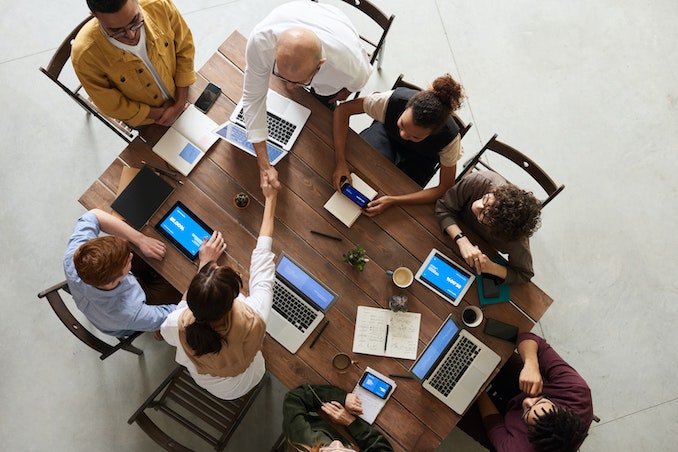 So, with that in mind, let's dive into the seven steps to starting an online company and discuss the various elements to pay attention to during each step.
Step One: Decide What You'll Sell
The first step to creating any business is to figure out how you will make money. With an online company, there are a few different options available, such as:
Digital Products – Examples can include webinars, e-books, e-courses, digital merchandise, or apps. The primary benefit of selling digital products is that it's super easy to scale up based on demand. So, as your company grows, you don't necessarily have to invest a lot of capital in new inventory or infrastructure to accommodate more users.
Online Shopping – More consumers buy products online than ever before, so there is a ton of demand for digital retailers. Fortunately, you don't have to buy lots of inventory to get started. Instead, you can partner with a dropshipping company so that you can sell products without needing a lot of startup capital. Alternatively, you can make your own products and sell them online, a la Etsy.
Professional Services – Another advantage of starting an online business is reaching customers anywhere, not necessarily those physically close by. So, if you can offer digital services (e.g., tech support, mentoring, consulting, writing, etc.), you can cast a massive net and cultivate clients worldwide.
When determining what you'll sell, you need to consider various factors, such as:
Startup Costs – Regardless of what type of business you'll be running, you need a website. However, selling products means you need infrastructure to ship items to customers and manage inventory. Even if you partner with a dropshipper, you must factor those costs into your bottom line.
Scalability – If you're offering professional services, you're likely the only one doing the work. While you might be able to hire other professionals later on, you need enough business to justify their labor costs. Overall, you want to focus on something that allows you to scale quickly and efficiently without sacrificing quality.
Passion – Starting and running a business takes a lot of hard work, so you have to be committed to the outcome. If you're going to spend countless hours and dollars on your new venture, will you lose interest after a while? Find something you're both good at and passionate about to ensure you can power through the tough road ahead.
Step Two: Research Your Competition
Once you've established how you're going to make money, you need to determine if there's enough demand for you to succeed. After all, what's the point of selling a particular product if no one wants to buy it? This step is just as crucial as step one because it helps you narrow your focus and validate your business model before investing too much.
When researching your competition, keep these elements in mind:
Local vs. National Competitors – If you're selling products online, you're competing against local retailers and massive chains like Amazon or Wal-Mart. Since you won't be able to compete with the big guys, you have to figure out how you'll stand out against smaller brands. What can you do differently that will endear you to your customers?
Market Growth and Potential – Demand for online shopping has only increased in recent years, and the trend doesn't look like it's slowing down. That said, you also have to pay attention to your niche. Just because customers spend money online doesn't mean they'll visit your website. Examples of niche products can be baby toys, lighting fixtures, party supplies, etc. Look at the market potential for your products to see if it's trending up or down.
Unique Value Proposition – Your UVP is how you validate your business model before launching. What sets you apart from other companies within your industry? Do you offer better customer service? Higher quality products? Whatever it is, be sure to infuse it into everything from your website to your marketing materials.
Step Three: Choose an E-Commerce Platform
Whether you're selling products or services online, you should be able to handle transactions digitally. Fortunately, there are several high-profile payment platforms that can work well with all online businesses. Examples include Stripe, PayPal, and Square. However, while you might have a payment processor in mind, you also need to use the right e-commerce platform. Here are some components to focus on when comparing different sites:
Customization – E-commerce platforms usually offer tons of templates based on your niche. However, can you build your site from scratch? If so, how easy is it to create each page?
Shopping Cart Logistics – Your shopping cart process can make or break your business. If the experience is too complicated, customers will abandon their cart and go elsewhere. If it's too easy, you may have issues with fraudulent or unwanted purchases, leading to refunds and lengthy disputes. So, choose a platform that offers a streamlined checkout process.
Software Syncing – Once you get your site up and running, you'll likely have to use various other programs to run your operations. Examples can include email marketing systems, customer relationship management (CRM) software, etc. The best e-commerce platforms will allow you to sync these programs to streamline your logistics. Otherwise, you'll spend most of your time manually managing and connecting each account.
Analytics and Sales Tools – Adaptability is an essential virtue when running a business. However, you need to have raw data from which to draw conclusions. Otherwise, you're acting blindly, so it's hard to tell what's working and what isn't. Ensure your e-commerce site includes analytical data and sales tools to help you make the most of each visitor.
Step Four: Design a Logo
Now that you have a platform and a business model, it's time to focus your attention on marketing and brand awareness. The first step for both of these practices is a high-quality logo. 
Keep it Simple – Don't overcomplicate your logo with too many words or flourishes. Think of the top brands, such as Apple, Mercedes, and Pepsi. These logos are memorable yet simplistic.
Align With Your Brand Identity – As an online business, you need to connect with your customers instantly. Your brand identity is what people will associate with your logo and marketing materials. Do you want to appear trustworthy, authoritative, or whimsical? Make sure your logo reflects that persona.
Make it Memorable – During the research phase, you should pay attention to competitor logos. Studying their iconography will help you determine which elements stand out the most. From there, you can figure out how to do something similar to capture your audience's attention.
The price of a designing a logo varies from $25 to $5000 or more. Obviously, the more you invest the better the final design will be. However, if you want to keep your start-up cash for other areas of your business then go with $25 dollar option and create a logo with an AI designer. It's won't be perfect but it will do until you can save money for something more high-level. 
Step Five: Start Sourcing Your Products and Inventory
If you're selling physical items, you need to know where you're getting them before launching. If you're working with a dropshipping company, you should look at reviews and referrals from other online businesses. For example, one common issue is dropshippers repackaging and reshipping damaged or knockoff products. If that happens, your customers will leave bad reviews, making it harder to build a substantial audience.
As you start your business, it may be challenging to build relationships with vendors and suppliers. However, it's crucial to put your best foot forward and communicate openly as you grow. This way, your partners are more willing to go the extra mile when it counts.
Step Six: Add Important Site Pages
As you build your business website, you need to include product descriptions and pages. However, while you may be focused on these elements, you can't forget about other core pages like:
Shipping – Outline your shipping procedure and answer any customers' questions. For example, how long does it take for a package to arrive? What shipping costs are associated with each order? Do you offer free shipping for qualified orders? If so, how do customers take advantage of it?
About Page – This page is where you can outline your mission statement and the why behind your brand. You want to connect with your customers, and the about page is how to do that effectively.
Returns Policy – No matter what, some customers will need to return items. Is there a window in which that needs to happen (i.e., two weeks)? Will you issue a full refund or wait until you can verify the item's quality? What if an item arrives damaged? How can you confirm if the issue occurred with the customer and not someone else?
Step Seven: Develop Your Initial Marketing Strategy
Marketing is essential when building a strong brand identity. Even if you haven't launched yet, now's the time to develop various marketing materials so that you're ready to go out of the gate. Some low-cost strategies include:
Social Media – Set up profiles on the top social sites you plan to use. Then, try to build a following based on product photos or marketing images. You can also discuss with potential customers about what they want to see from your brand.
Search Engine Optimization – Most of your traffic will come from SEO marketing, so you need to be aware of it when building your site. Choose a list of high-quality keywords and make sure you optimize each page. Don't forget about title tags, meta tags, alt image tags, etc. This process is time-consuming but worth the effort.
Influencer Marketing – If you're following some influencers that may like what you have to offer, you can try to build relationships with them. Ideally, you can get an influencer to promote your brand as soon as you launch. Make sure to develop a mutually beneficial relationship so that they're invested in your success. For example, influencers get a commission on each sale.
As you can see, starting an online business is relatively straightforward. However, keep in mind that each step requires diligence and perseverance. Also, it's easy to get discouraged when you launch and don't have a following right away. Therefore, it's crucial to be patient and follow your own guidelines. As long as you put in the work, you should see results eventually.