This week, Chef Lynn Crawford shared this easy, delicious & sustainable Rotisserie Chicken Grilled Cheese Sandwich recipe!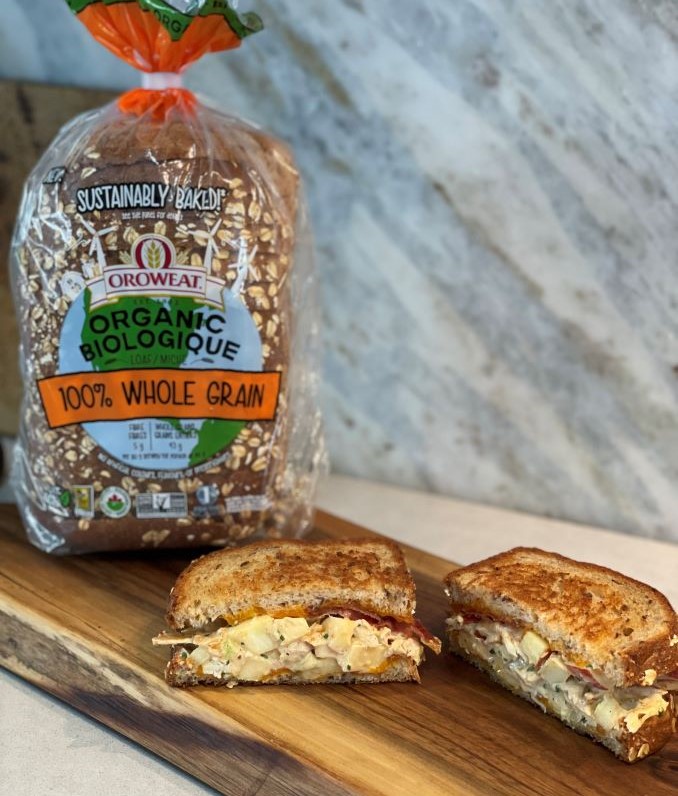 Rotisserie Chicken Grilled Cheese Sandwich
Serves 2 
Ingredients:
– 1 cup shredded cooked rotisserie chicken
– 2 tablespoons mayonnaise
– 1 teaspoon Sriracha hot sauce
– 2 teaspoons Dijon mustard
– 1⁄2 teaspoon Worcestershire sauce
– 1 teaspoon lemon juice
– 1 tablespoon chopped chives
– 1⁄4 cup celery, finely diced
– 1⁄2 medium apple, cored and diced
– Salt and freshly ground black pepper
– 4 slices Oroweat 100% Whole Grain
– 2 tablespoon unsalted butter
– 1 teaspoon olive oil
– 2 slices prosciutto
– 2 slices cheddar cheese
Directions:
1) Add the mayonnaise, hot sauce, mustard, Worcestershire sauce, chives, and some salt & pepper to a medium bowl. Stir until smooth.
2) Add in the chicken, celery and apple. Stir together until combined. Season well with salt and pepper.
3) In a large frying pan, over medium heat, add the olive oil and prosciutto and cook until crisp about 1-2 minutes per side. Remove from oil and reserve on a plate and wipe pan with paper towel.
4) Return pan to medium heat and place 2 slices, butter side down to the skillet.
5) Top with cheese slices, followed by the prosciutto, then top with the chicken mixture. Place the remaining bread on top, butter side up.
6) Cook until cheese is melted, and bread is golden brown, about 2-3 minutes per side.