"When it comes to comfort food in the way of soup one of my favourites is a classic French onion soup. But for me I can never really make anything the way it is supposed to, I am a bbq guy and for me there needs to be a twist. For this recipe I like to fire up my charcoal grill and fire roast the onions over hot coals until they are charred all over on the outside and the flesh is hot, moist & tender on the inside. Now that's the way an onion should be. I then peel away the outer layers and inside is where the love is. Make this soup. People will be drooling over it!" – Chef Ted Reader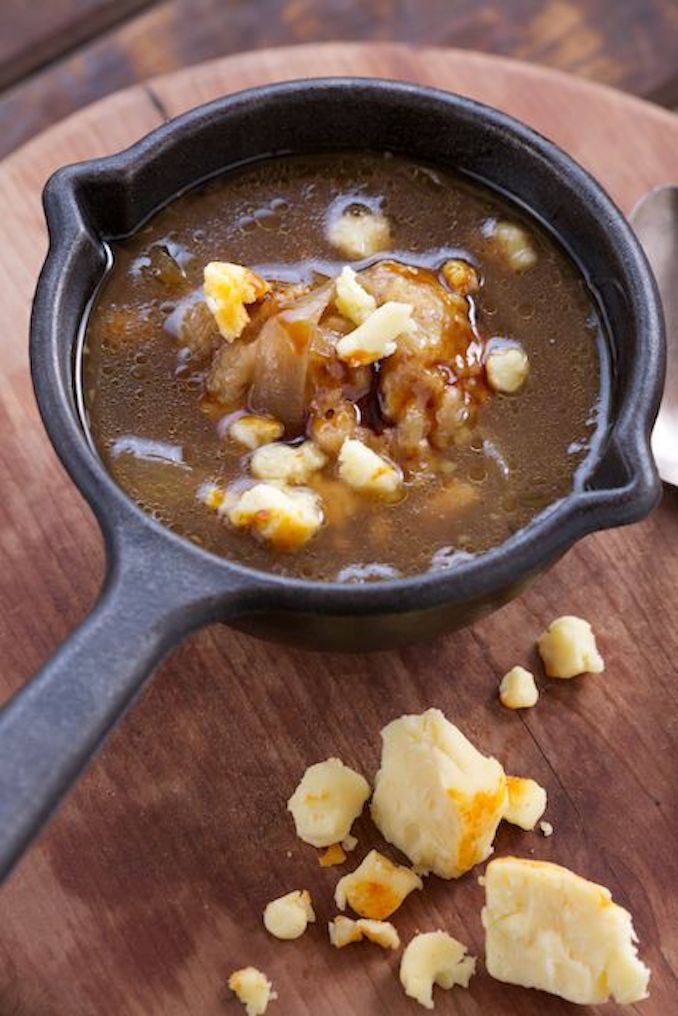 Fire Roasted Onion Soup with Smoked Apple Wood Cheddar Dumplings
Grill Temp: 450-550 degrees f.
Grill Time: 45-60 minutes for roasting onions
Special Equipment
-Large soup pot
-Wooden spoon
-Flour sifter
-Mixing bowl
Ingredients
Fire Roasted Onion Soup
-8 large sweet onions, sliced
-1/4 cup butter
-12 cloves garlic, finely chopped
-1/2 cup Spiced whisky
-4 sprigs fresh thyme
-2 bay leaves
-1 tsp. cracked black peppercorns
-12 cups beef stock
-Salt and freshly ground black pepper to taste
Applewood Smoked Cheddar Dumplings
-2 1/2 cups all-purpose flour
-2 tsp. baking powder
-1 tsp. salt
-1 + ½ cup shredded applewood smoked cheddar cheese
-1 tbsp. chopped fresh parsley
-1/4 tsp. black pepper
-Pinch cayenne pepper
-¼ cup melted butter
-½ to 1 cup buttermilk
-8 tsp. birch syrup
Directions
1. Preheat your grill.
2. Place the whole onions above the coals, close lid and roast for 45-60 minutes, turning occasionally until the onions are charred on the outside and tender on the inside. Make sure you don't turn them into mush.
3. Remove onions for grill and allow onions to cool slightly. Peel and thinly slice onions and set aside
4. In a large soup pot heat ¼ cup of butter over medium heat. Add the roasted onions and garlic and sauté for 15-20 minutes, stirring constantly until the onions are lightly browned and extremely tender.
5. Deglaze the onions/garlic with the whisky. Stand back as you add the whisky, as it may flambé. Stir to scrape up any brown bits.
6. Add the thyme sprigs, bay leaves, peppercorns, beef stock and salt to taste. Bring to a rolling boil; reduce heat to medium-low and simmer, stirring occasionally, for 30 minutes. Adjust seasoning with salt and pepper. Discard bay leaves.
7. Meanwhile, prepare the dumplings. Sift the flour, baking powder and salt into a large bowl. Stir in 1 cup of cheese, parsley, black pepper and a pinch of cayenne pepper. Make a well in the centre and add the melted butter and 1/2 cup of the buttermilk. Stir together to make a soft dough, adding more buttermilk if necessary.
8. Drop 16 spoonfuls of the dumpling batter on top of the simmering smoky onion soup. Continue to simmer, uncovered, for 8 to 10 minutes or until the dumplings are puffed and cooked through.
9. To serve ladle soup the onion soup mixture into bowls
10. Top each bowl with at least 2 dumplings
11. Drizzle with a little birch syrup and garnish with a little extra crumbled smoked cheddar cheese
12. Serve immediately with a shot of spiced whiskey on the side.
Now this is a gastro way to warm up your bones!
Serves 8