Ryerson Alumni Peter Chiu recently opened up his restaurant called Basil Box in the Ryerson Student Learning Centre on Yonge Street, just north of Dundas in Toronto. The restaurant offers fresh, healthy and ready to go takes on traditional Vietnamese and Thai flavours. Peter was nice enough to send us a Thai salad recipe for our readers to try at home.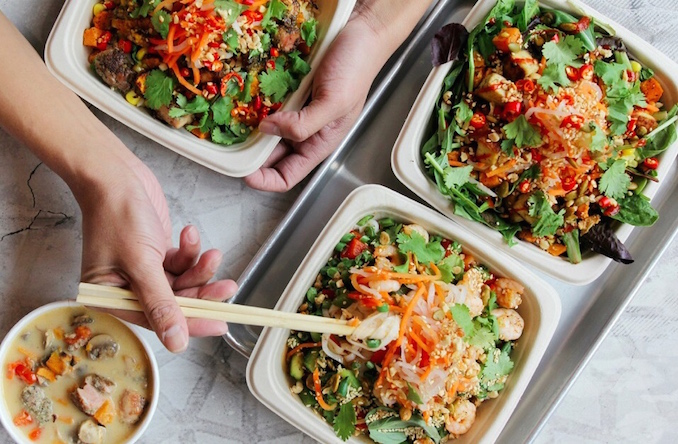 Tasty Thai Salad
Sriracha Pumpkin Seeds (Makes 1.5 lbs)
Ingredients
-1.5 lbs pumpkin seeds
-1⁄4 cup Sriracha sauce
Directions
– Pre-heat oven to 300F.
– In a mixing bowl, toss pumpkin seeds with Sriracha sauce.
– Spread pumpkin seeds onto a lined baking sheet.
– Bake for 2-4 minutes or until golden brown.
– Remove from oven and let cool.
– Top away!
–*This recipe is gluten-free, dairy-free and vegan.
Peanut Sauce (Makes 2 servings)
Ingredients
-1/4 tsp ground coriander
-1/4 tsp ground cumin
-1/4 tsp black pepper
-3 fresh Thai chilies
-5 stalks lemongrass
-1/8 cup coriander roots
-1/8 cup peeled garlic
-1 tbsp. chopped galangal
-1/8 tsp chopped kaffir lime leaves
-1/8 tsp lime zest
salt, to taste
-1/4 cup vegetable oil
-1/3 cup roasted peanuts
-1/4 cup low sodium vegetable stock
-1/2 cup coconut milk
-1 tsp brown sugar
-1 tsp lime juice
Directions
-In a food processor, add galangal and lemongrass to blend it to smaller pieces. -Add coriander, cumin, pepper, chilies, garlic, lime leaves, lime zest, salt, oil and peanuts, and blend into a smooth paste.
-Transfer paste to a sauce pan over high heat, add vegetable stock, coconut milk, sugar and lime juice.
-Season to taste with salt.
-Bring mixture to a boil, then reduce heat and simmer for 1 minute.
*This recipe is gluten-free, dairy-free and vegan.
Tasty Thai Salad (Use desired amounts)
Ingredients
-Mixed greens
-Optional: grilled steak
-Sweet corn
-Roasted sweet potatoes
-Roasted edamame
-Shredded carrot
-Shredded purple cabbage
-Watercress, tough stems removed
-Roasted sesame seeds
-Sriracha spiced pumpkin seeds
-Scallions
-Chopped fresh mint
-Chopped fresh cilantro
Directions
Toss the ingredients together, and top off with Basil Box's Peanut Sauce.
*Without the option of steak, this recipe is gluten-free, dairy-free and vegan.