I recently learned about the Toronto WiFi and Bluetooth speakers brand FABRIQ whose devices are beautifully designed and work well as design aspects of your home. Multiple speakers can be attached to your home WIFi giving you surround sound or audio in different rooms throughout your house. They are super easy to setup and maintain quality sound with style in mind.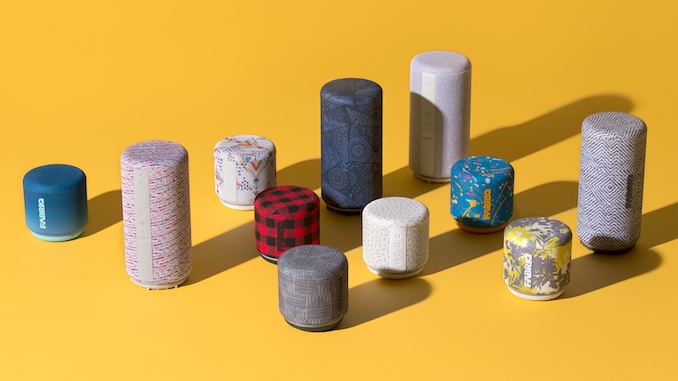 What is your business called and what does it do?
FABRIQ is a Toronto based speaker brand that we launched in October 2016. With style infused in their soul, our speakers are designed to stand out from a sea of black and grey mesh without falling short on substance.
What made you want to do this work?
We're a passionate group of music lovers that has been designing and developing speakers for over 15 years. We thought it was strange that music, a form of personal expression, was so often played through mass-market speakers suffering from a major lack of personality. With this in mind, we went to the drawing board to create a line of unique audio products that is packed with innovative technology at an affordable price.
What problem does this solve?
In the tech space, price always seems to be a big barrier to entry. We wanted to make sure that our products were accessible to everyone so we built a supply and distribution strategy that would allow us to offer our products at very affordable prices without cutting down on quality.
Who are your clientele/demographics?
Our customers are music lovers who want to stand out from a sea of black and grey!
How does your business make money? How does it work?
Start-ups are supposed to make money? Well our products are at Target stores, our website, and Amazon.com in the US. In Canada, FABRIQ speakers are available on Amazon.ca and www.ca.thefabriq.com
Where in Toronto can we find your profession?
Our head office is located in Scarborough but we'd like to think we can be found anywhere!
Why FABRIQ speakers?
We tell them that not only can you connect up to 10 speakers at once and turn your living space into a "whole house music system" with virtual assistant Alexa around every corner (waiting to respond to your request) but also the great patterns that are available to choose from.
What is the best part about what you do? What is the worst part?
We love being a scrappy little start-up in an industry that has been traditionally dominated by big brands. We're proud to offer consumers a great new speaker alternative that allows them to better express their personality while giving them access to try out some great new technology.
The worst part (or most challenging) is that we're a scrappy little start-up in a world dominated by big brands with big budgets. It's a love-hate relationship!
What is your favourite jokes about your own profession?
We just ask Alexa!
Alexa! Tell me a joke
Alexa – What's worse than finding a worm in your apple? Finding half a worm.
PAY IT FORWARD: What is another Toronto business that you love?
We love EcoBee. It's a Toronto based automation company that makes thermostats which you can control with Alexa. You should checkout their latest Ecobee Switch+.
Learn more about FABRIQ and order your WiFi and Bluetooth speakers on their website.