The Art Gallery of Ontario just announced an ambitious campaign to raise funds to bring a permanent Infinity Mirror Room installation by Japanese contemporary artist Yayoi Kusama to our city. The highly successful run of Yayoi Kusama: Infinity Mirrors at the AGO this past year drew over 165,000 patient visitors. Bringing  a permanent Infinity Mirror Room is a pretty safe bet for locals and tourists alike as this artist continues to be a popular draw globally.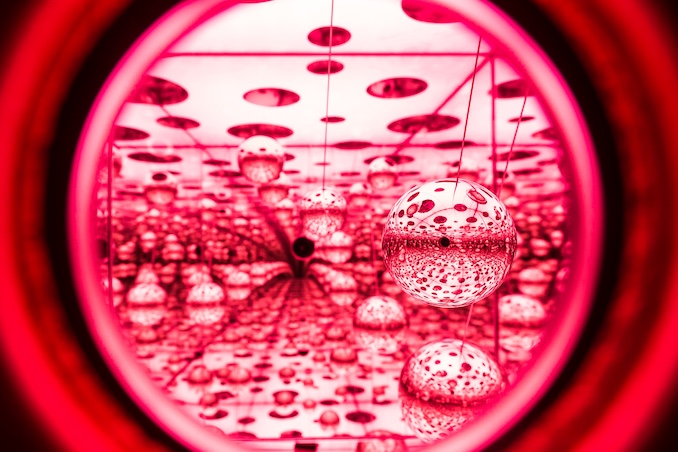 Toronto's affection for Kusama's exhibition was nothing short of phenomenal however, even with extended hours and crushing online ticketing system, not everyone who wanted to see her work were able to. The city had never experienced anything quite like it. With a permanent installation everyone who visits the AGO will be able to enjoy Kusama's extraordinary work…forever.
The crowdfunding campaign's goal is to permanently house an Infinity Mirror Room installation that has never been exhibited in Canada. The Gallery has already secured a half of the purchase price. If successful, the AGO will be the first Canadian public museum to acquire an Infinity Mirror Room. As the funds are raised, hints of the name and image of the installation will revealed as the campaign rolls towards it's goal of $1.3M Canadian hopefully within 30 days.
Donations start at $25 and donors will have a chance to be amongst the first to see the exhibit when it is scheduled to arrive in Spring 2019. Other levels of donations offer more perks. Donors within the first five days of the crowdfunding campaign will be entered into a contest for a chance to win a sleepover with five friends at the AGO which includes early and exclusive access to the Infinity Mirror Room. Donations of $100 and up will receive a tax receipt.
Donations can be made at InfinityAGO.ca