City Shred shared with us this sesame + tamari marinated salmon bowl recipe, which should really be called the Happy Hormone Bowl. Components in this dish will not only make your belly happy with flavour but your hormones too. It's rich in fibre, omega 3 fatty acids, vitamins(A/C/D/E/K), minerals (calcium, potassium, manganese, iron), antioxidants, beta-sitosterol (helps lower cholesterol levels in the blood by decreasing the amount of cholesterol absorbed from diet), which will all help support balancing hormones.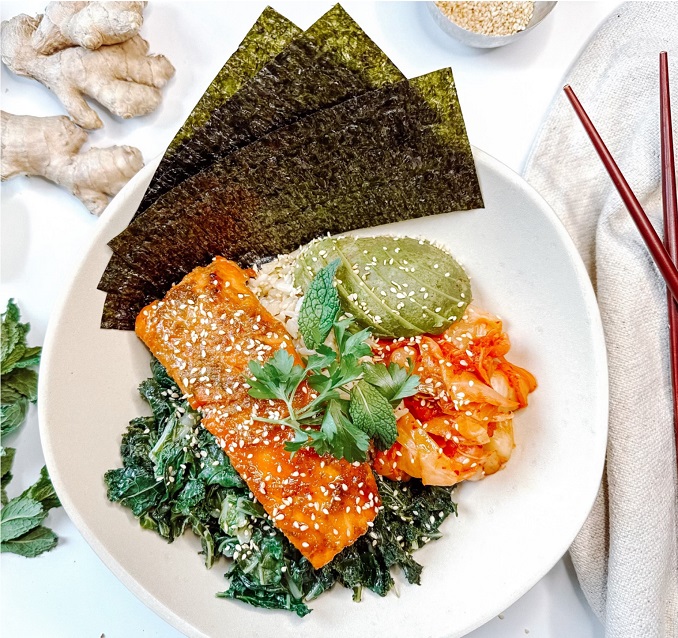 Sesame + Tamari Marinated Salmon Bowl
Serves: 2
Prep Time: 10 – 30 minutes (Depending on marinating time)
Cook Time: 30 minutes
Ingredients:
2 x 150 g portion Salmon (or protein of choice)
4 tbsp Tamari
1 tbsp Sesame Oil
5 tbsp Olive Oil
1 tbsp Ginger (peeled and grated)
1/2 Lime (zested)
2 tbsp Honey
1/4 tsp Chili Flakes (optional)
1 clove Garlic (smashed)
4 cups Kale (rough chop 1-inch width)
2 cups Bok Choy (rough chop 1-inch width)
2/3 cup Kimchi
2 sheets Nori (cut in 3 strips each)
1 cup Brown Basmati Rice (rinsed until water runs clear)
1 avocado (cut in half and sliced)
1 tbsp sesame seeds (toasted)
1 sprig cilantro for garlic (optional)
Salt
Directions:
1. Preheat the oven to 400 degrees Fahrenheit. In a mixing bowl add tamari, sesame oil, 2 tbsp olive oil, ginger, lime, honey, chilli flakes (if using). Mix together. Add your protein of choice to the bowl and marinate (approximately 10 -20 minutes), making sure the protein is covered with marinade. The longer you marinate, the more flavour the protein will absorb. Place on a lined baking tray in the oven for 10-20 minutes (depending on protein).
2. Meanwhile, in a saucepan, add rinsed brown basmati rice with 1.5 cups of water. Bring to a simmer on medium-high heat without the lid. When bubbling, place the lid on and turn the heat down to medium-low. Cook for 15-17 minutes. Remove from heat and rest for 10 minutes with lid on. Fluff with a spatula and season with salt once ready.
3. In a sautée pan on medium heat, add the remaining olive oil and smashed clove of garlic. Once garlic is golden in colour add the chopped kale and bok choy. Add a splash of water (approximately 2 tbsp) to help with the steaming process and place the lid on the pan. Once the water has evaporated and the greens are tender, remove the lid, toss and season with salt.
4. Divide rice in 2 bowls (if serving one, save the other portion for a meal tomorrow). Top with kimchi, cooked marinated protein of choice, sautéed cruciferous vegetables, nori, avocado, sesame seeds, and cilantro. Enjoy!
Tips:
1. When measuring the honey with a tablespoon, measure the olive oil first. The excess oil coating the spoon will make the honey slide right off the spoon.
2. If you do not have a large enough bowl for your proteins to marinate it, you could marinate them in a resealable bag!
3. You could make double the recipe and use it for meal prep for the week!
4. Save any of the excess drippings in your pan after cooking your protein. Drizzle that on top of your bowl for some extra flavour!
5. Don't feel like eating the same bowl tomorrow? Turn it into fried rice! Heat 2 tbsp olive oil in a sautée pan on medium heat. Add 2 beaten eggs. Once scrambled, add your leftovers to the pan (other than avocado), let cook until the rice is slightly crispy.