I love me a cooking class! As the weather has started to turn, so too has my attention on the kitchen. Soon I will be swapping summer nights swilling chardonnay on the patio to autumn nights swigging Malbec out the bottle as I rustle up something tasty and delicious to keep me warm. Luckily Chefs Stefano Faita and Michele Forgione were on hand to teach me a few tricks as well as show off his brand of Stefano Sauces.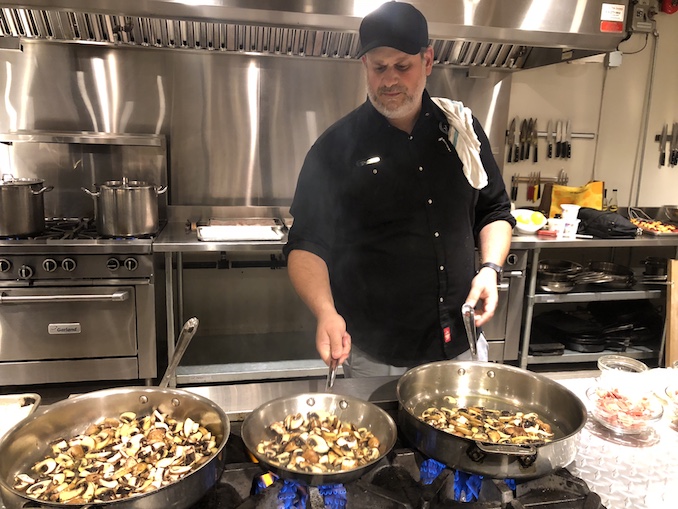 You may know Chef Stefano from the CBC show In The Kitchen With Stefano Faita or, if you are Montreal local, his family run business, Dante hardware store as well as his legendary restaurant, Impasto, which he co-runs with Forgione.
These days you don't need to be in Montreal to get a taste the chefs' renowned sauces; they've got four different sauces on sale in Ontario.
Okay, listen, I don't usually get down with a jarred sauce either, but honey is busy and these are absolutely great. Trust me. If I could do a better job myself in a reasonable amount of time, I would. The great thing here is that they don't taste like a jarred sauce at all…not AT ALL.  Also, the chefs were kind enough to walk us through some simple recipes.
First we made cavatelli, which is like gnocchi but involves an eggless semolina dough which you can also mix with ricotta if you want something a touch creamier. Served with mushrooms, the Stefano Sauces Rosé and parmesan, this was a simple, hearty dish best enjoyed with a splash of wine.  Fun fact for you; the duo were initially reluctant to make the Rosée sauce, but now it is the best seller!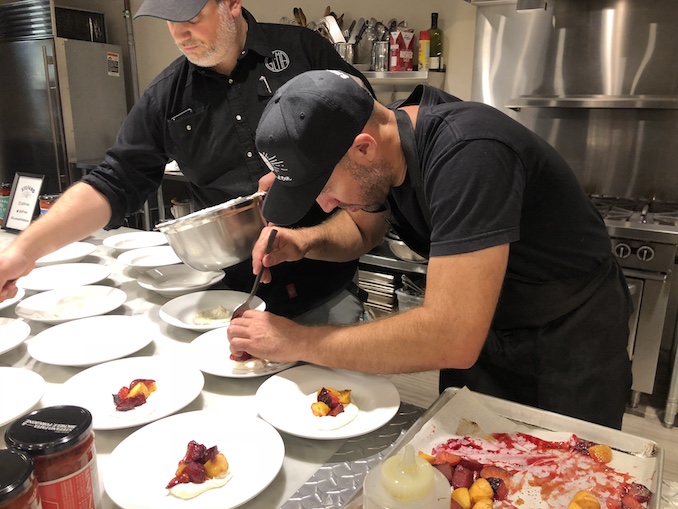 Wine seems to be a big thing with Italian cooking (thankfully) and our next dish had a plentiful pour of red to compliment Chef Stefano's marinara sauce, a classic offering.  Mixed with olives, capers and a beautiful piece of halibut, this dish is light and right. YUM.
The chefs don't do dessert sauces…because…well…that would be weird, but they did whip us up an absolute treat in the form of mascarpone with Grand Marnier, baked stone fruits and a dash of mint. So simple. So delicious. Honestly, if this is what they can do in ten minutes, I may need to book me a trip to Montreal to further sample their delights. At least for now I can buy their sauces from a local store.
The great thing about the dishes the chefs made were that they were so simple and easy, which honestly is a big sell for me. At the weekend I have time to cook extravagant dishes, but in the week, my time is precious.  If you want to have a go yourself, here is a recipe from the class: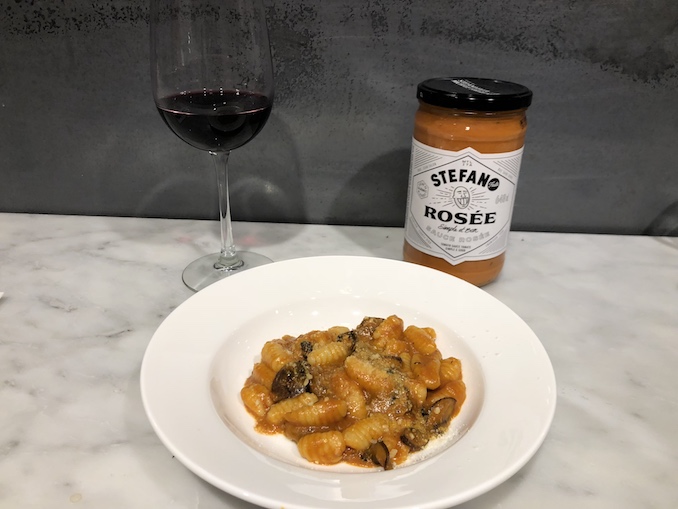 Cavatelli with Rosée Sauce
PREP 10 MIN / COOKING 15 MIN 4
INGREDIENTS
4 cups cavatelli (gnocchi will also work)
2 tbsp extra virgin olive oil
2 cups sliced mushrooms
1 cup prosciutto, cut into strips (optional)
1/2 finely sliced onion
4 finely chopped garlic cloves
1/4 cup white wine
300 ml Stefano Faita Rosée Sauce
1/2 tsp grated nutmeg
4 tbsp grated Parmesan
PREPARATION
1. Cook tortellini in a large saucepan of boiling, salted water.
2. In a pan, heat olive oil and sauté mushrooms until golden. Add prosciutto and let cook a few minutes. Then add onion and garlic.
3. Deglaze with white wine and let reduce.
4. Add the sauce and nutmeg to the pan. Heat and stir.
5. Add cooked tortellini to the sauce, mix and serve with grated Parmesan.
Merluzzo with Olives
PREP 10 MIN / COOKING 15-20 MIN
INGREDIENTS
4 x 200 g Halibut fillets
500 ml of Marinara Sauce Stefano Faita
80 g of sliced and pitted green olives
50 g of capers
60 ml of olive oil
2 garlic cloves, crushed and unpeeled
1 chili flakes
2 tbsp chopped parsley
Salt
PREPARATION
Heat the olive oil in a sauté pan.
Add garlic and chili and cook for 1 to 2 minutes, until golden.
Add the fish fillets and brown for about 1 minute on each side.
Add the tomato sauce, olives and capers. Salt to taste.
Allow the sauce to reduce without moving the fish in the frying pan. While cooking, it is best to brush the sauce on the fish instead of turning the fillets over again.
Cook about 10-15 minutes and add the parsley at the end.
Stefano Sauces are $5.99 for 660ml and are generally good for 4-6 people, depending on how saucy you like your dishes.