I've hit the days of feeling zapped and not really wanting to plan meals. School is out now and the summer is here. Like many, I'd rather be spending more time enjoying whatever awesome weather we have than in a kitchen over a hot stove. So, in comes PORTA, a subscription-based food delivery service you may have seen populating your social media feeds lately. I know, I know, another one? But at some point something flashed before my eyes about how  the dishes were created by the culinary team behind Terroni, Sud Forno and Spaccio right here in Toronto.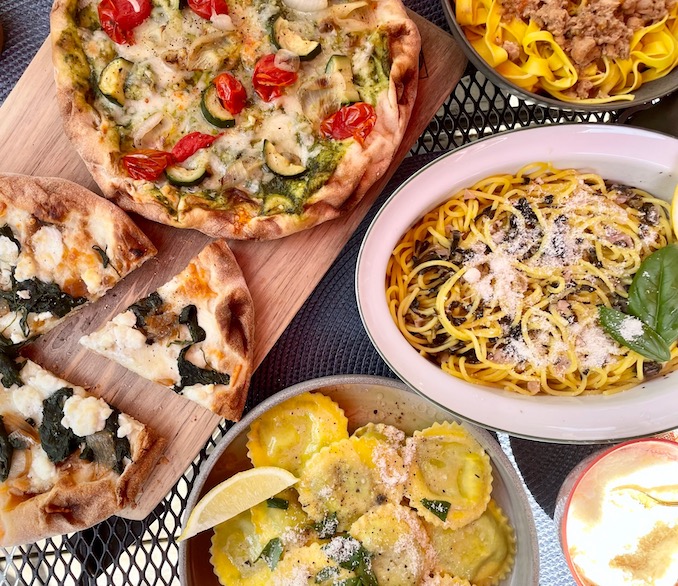 We've been blazing fans of Terroni from waaaayyyy back in the early 90s when we lived around Queen and Bathurst — near the location of the very first Terroni. It was where we had our first taste of pizza with fresh ingredients like arugula, proscuitto, and provolone. We instantly fell in love with the freshness of ingredients, the crust, and a new found style pizza (to us) that went well beyond what the typical corner pizza shop had to offer. Then, as our family grew we continued to follow Terroni right to the Price Street as well as the most recent Stock T.C. locations. We're also fans of Sud Forno on Temperance so we have an established love for their food and service. Now PORTA has entered our lives offering yet another way to enjoy their authentic and mouthwatering Italian dishes.
The story behind PORTA began 25 years ago when Cosimo Mammoliti and his family opened their restaurant, Terroni. With a loyal following he expanded the business but still had the idea of finding ways to get their Southern Italian food into the homes beyond the traditional restaurant setting. With his idea, PORTA launched. Porta means "door" or "carry" in Italian.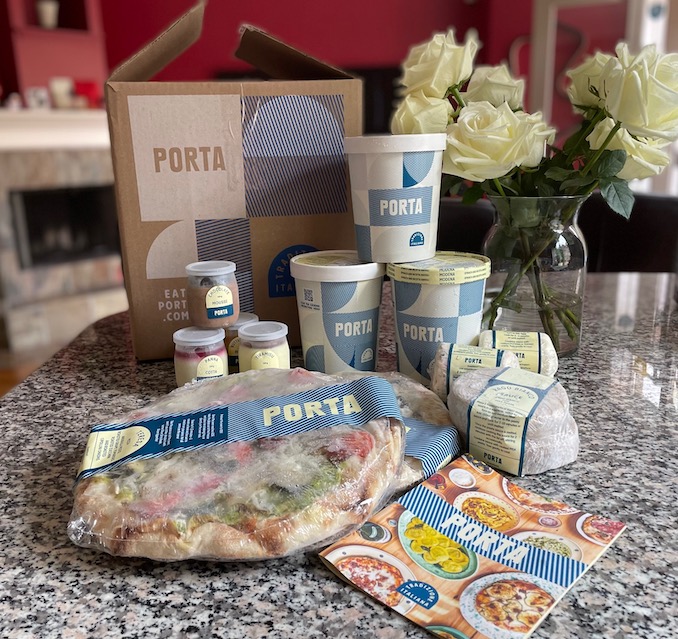 PORTA is a subscription-based food delivery service that is offered weekly, bi-weekly or monthly. Dishes are prepared by their chefs using time honoured Italian cooking techniques. Then, the dishes are flash frozen to preserve flavours and freshness. Pizzas, pastas and desserts are then delivered frozen to you door. The items can be stored in the freezer until ready to make. Instructions are straight forward and easy to follow.
Pasta dishes offer sauces separate from the noodles (fresh and then frozen). Sauces are heated in your saucepan while you cook the fresh pasta in a pot. Within minutes, you have a restaurant quality meal for your family and/or guests. Each portion is good for two servings.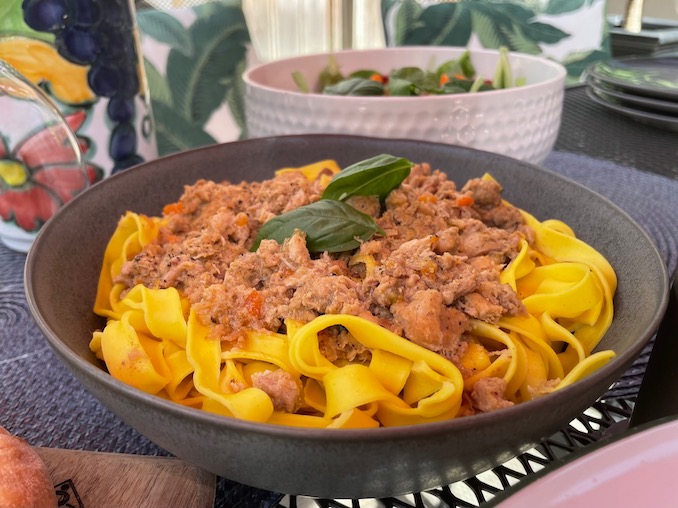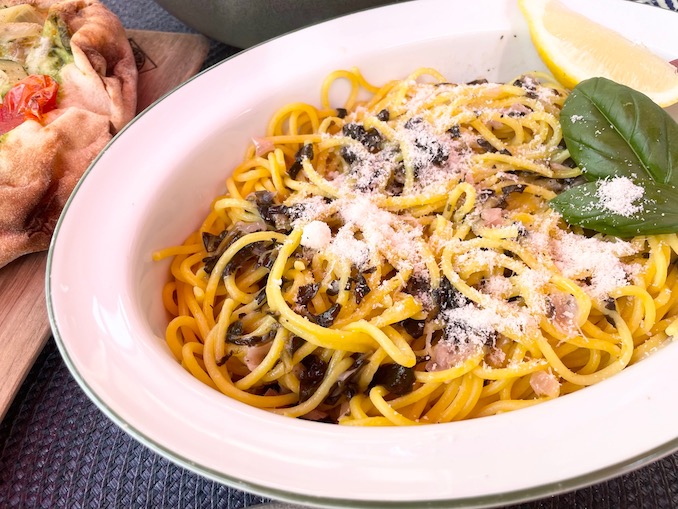 Pizzas, also good for two people, are prepared and just need to be warmed in the oven for about 14 minutes. Just add on a side salad and you've got a deliciously satisfying lunch or easy summer dinner.
There are 20 items to select from each week from favourites like their Margherita pizza to their ever popular Tagliatelle alla Bolognese – a traditional meat sauce made with beef and pork. We also love the Modena Ravioli that's stuffed with spinach and ricotta served with Burro sauce.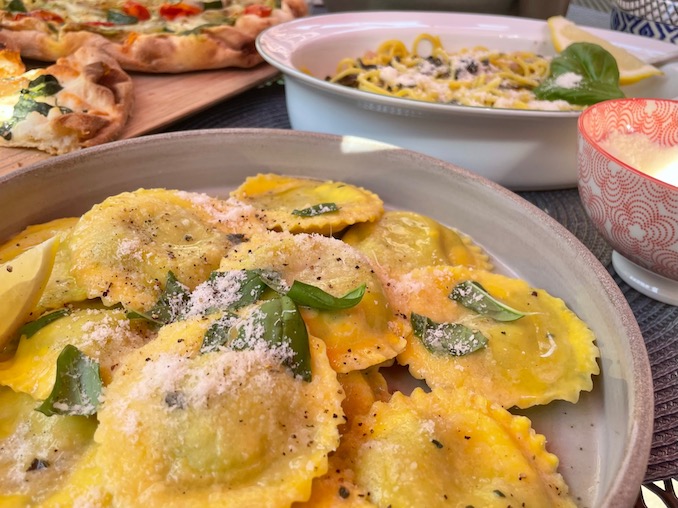 PORTA also now offers a few additional summer menu items that explore the best ingredients of this season. The new items include Checco Pizza (spinach, goat cheese, béchamel, caramelized onions and lemon zest), Teresa Pizza (roasted zucchini grape, tomatoes, and cipollini onions), Pisa Pasta (an absolutely delicious tagliatelle and Parmigiana cheese with Ragu Bianco sauce) and a highly addictive Sorrento Pasta (lemony good with  fresh spinach).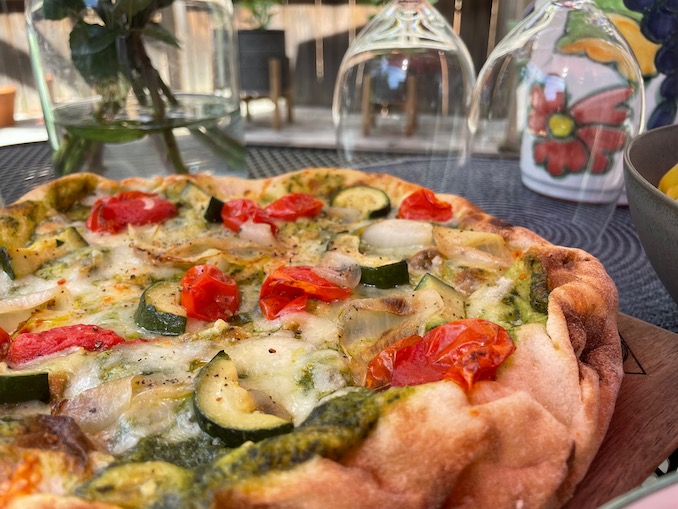 And don't forget about desserts! The individual pots of sweets are the perfect size to finish off the meal. Choose from Tiramisu, Chocolate Mousse, Butterscotch Budino, and a berry  Panna Cotta. There is also a selection of pastries!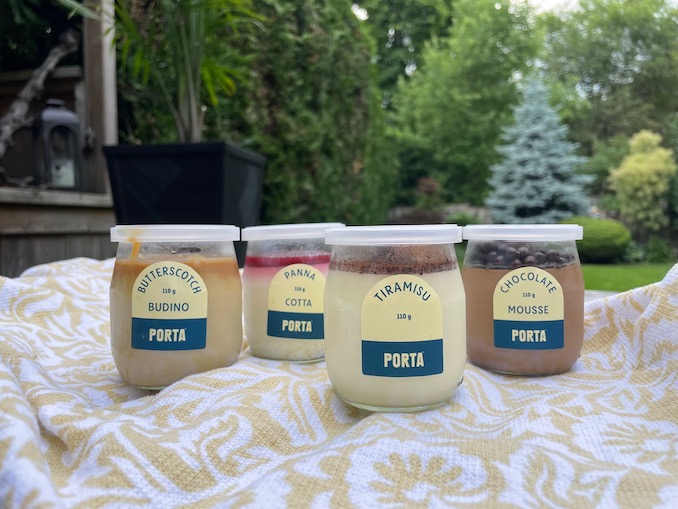 All so quick and easy to make at home! And if we should be so lucky to score a weekend getaway at a friend's cottage, this is what we'll bring (hint hint).
Here's the link to their drool-worthy site for more information: eatporta.com