With the world almost back to normal, it seems as though this summer is going to be the summer of celebration. Perhaps it is just me, but I've been finding weekends a bit more busy and lively in my neighbourhood and after two years of lockdowns, masks and restrictions, it seems appropriate. And the new Second City show, Mission Totally Possible, plays directly into that theme.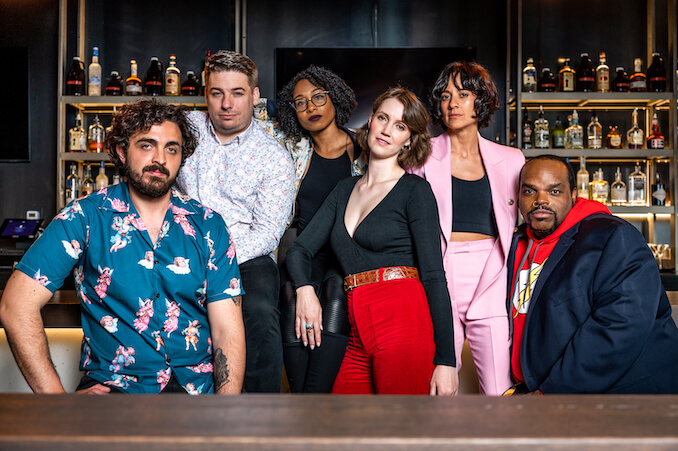 Arriving at the show with the marquee lit up and a gaggle of excited audience members gathered around the front door- the line-up wasn't due to social distancing, but rather just regular old space issues- it was hard not to feel the excitement in the air. When bringing us to our seats the waitress asked us to "laugh as loud as you can" and I can definitely say that we were ready for that assignment!
There were colourful dresses, quaffed hair and fitted shirts that suggested that people might be sick of wearing old sweatpants and not brushing their hair due to being sequestered away for so long. It might have been a Wednesday night, but people were ready to have fun.
The show started with a musical number that talked about our dire need to laugh due to…well you know- everything in society going to sh*t. Their mission- to make us laugh, and unlike the namesake movie, this mission was totally possible.
And let me just say- they were successful at their mission. The ensemble was made up of six actors who ran through the sketches with precision, going from longer running sketches (a few minutes) to short snippets that ran no more than a minute. Nothing seemed out of place, the actors morphed from one character to another seamlessly and literally, everything made me laugh.
The sketches ranged in topic, from the purely absurd (the melting of wax figures at a wax museum that is on fire) to a political rap that takes from the past (the creation of residential schools) to the present (the declaration of the Emergency Act). And my personal favourite is a three-part sketch depicting the very real struggle of trying to take off a sports bra after a workout.
Each actor is brilliant and brings their own style and talents to the show. Whether it be the singing talents of PHATT al, or the full immersion of Hannah Spear into each character, this group of actors is not to be missed. Andy(Hull) and Andy(Assaf) were great at carrying on the Second City tradition of improv always going with the suggestions, even if it required doing push-ups on stage.
Jillian Welsh had a beautifully poignant moment with a song about a women's right to choose what happens to her body and Nkasi Ogbonnah opened the second half of the show with a rundown of the most Boinkable astronauts(who knew??)
The show really is what we all need right now, so if you are looking for a fun night full of laughter, go see Mission Totally Possible– because they are right- the mission is totally possible!
Second City's Mission Totally Possible is playing at Comedy Bar Danforth at 2800 Danforth Ave. They are on stage Tuesday-Thursday at 8 pm; Fridays and Saturdays at 7 pm and 10 pm; and Sundays at 7 pm. Tickets are $30 and are available by phone at 416-551-6450 or at secondcity.com.