Oscar-Nominated director Selma Vilhunen returns to the Toronto International Film Festival (TIFF) this year with the World Premiere of her latest film, STUPID YOUNG HEART — a heartbreaking and heartwarming teen drama. Set in a quiet suburb, Lenni (Jere Ristseppä) is forced into adulthood when his off-again, on-again girlfriend Kiira (Rosa Honkonen) becomes pregnant at 15. Finding love and guidance from a right-wing leader and organizer, Lenni quickly gets in over his head and has to choose between being by Kiira's bedside as she gives birth, or carrying out an attack on a local mosque.
Selma Vilhunen and TUFFI Films recently directed and produced the international and viral sensation HOBBYHORSE REVOLUTION. Vilhunen attended TIFF in 2016 with the award-winning feature LITTLE WING, for which lead actor Linnea Skog, then 12 years-old, was awarded the Jussi Prize for Lead Female Role of the Year.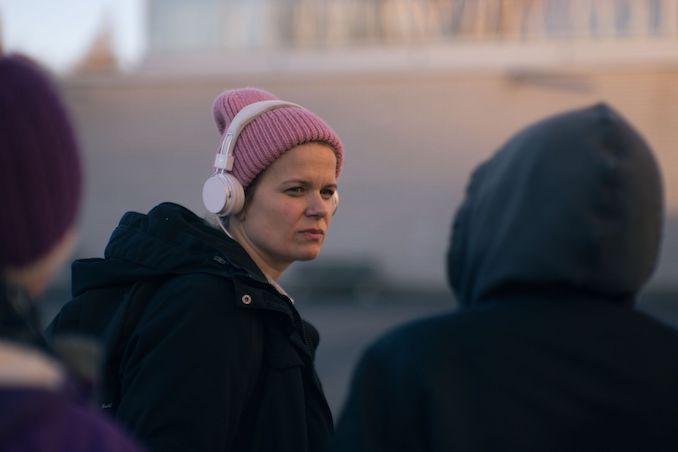 There are several story lines woven into this film, teens finding themselves and making choices in life, relationships, alt-right, and compassion in humanity. While the film takes place in Finland, many others around the world can relate. What do you wish people to know about this story?
Stupid Young Heart tells a story of young people who want to believe in the future even when adults around them seem to have lost their vision of it. It's a story of people who want to belong to something and who want to feel safe. The main character Lenni is about to take the shortcut to feeling like the strong man he desires to be by joining people who choose to cultivate hate and fear.
The actors in this film are not professionals but they play their roles well. Why did you choose to go this route?
The main characters in the story are fifteen, and I wanted my actors to be real teenagers in order to cherish the subtle nuances of the teenage energy. It proved to be a fruitful way to work as the actors could also help in many details in how teenagers really talk and think. The adult actors are all professionals.
The dynamic between Kiira and Lenni is a constant push and pull between living out teenage life and taking responsibility. Did the actors offer any of their own input into the script? 
They didn't have an input on the actual storyline but they did polish the lines together with me, and sometimes with Jere Ristseppä especially we would ponder about how exactly Lenni or his buddies would react in a situation. For example when Lenni climbs on the balcony reiling it was Jere who came up with the line "I am fucking God!" And he and the boys considered it more real that Lenni's buddies are more amused about Lenni's stunt, rather than frightened. Overall, I was happy to discover that my wonderful teenage actors were even braver and a bit crazier than I could dream of. It was easy to find the right approach to creating the scenes because they were right there with me in pushing the characters to the limit.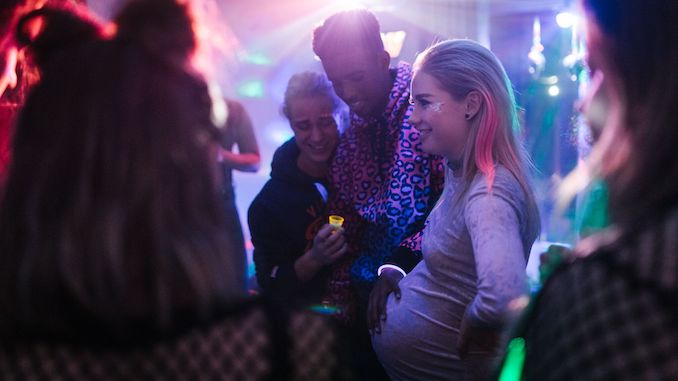 Understanding both sides of any storyline is important. Were there any challenges in balancing this? Lenni's gradual involvement with the alt-right in particular stands out for us.
The screenwriter Kirsikka Saari and myself discussed the problem of looking at the alt-right involved characters from the eye level, whether it will become sympathizing and normalizing their ideology. However, I believe that we can simultaneously look at people and their fears with respect while we take a stand against racism. I think that the level of the problem is so complicated that simply condemning racism is not enough. Even though it is difficult I still believe in dialogue between people.
The reason we choose to show the phenomenon through the eyes of a fifteen-year-old is that we want to bring up the themes of wanting to belong, wanting to build an identity and wanting to feel strong when the future seems very uncertain. These themes are something that a lot of grown-ups can recognize in their lives today, too. Being young, our main character is still capable of questioning his own stupid ideas. He is still full of love and hope.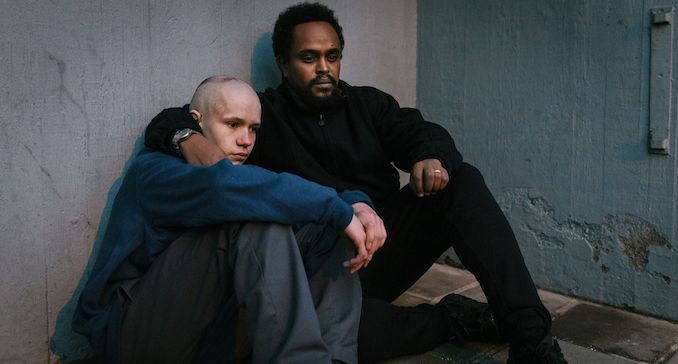 We've learned that 80% of the people who worked on this film are women. What can you tell us about a few of them?
The screenwriter Kirsikka Saari and the producers Elli Toivoniemi and Venla Hellstedt are all my partners in the production company Tuffi Films. Kirsikka Saari, Elli Toivoniemi and myself collaborated already in 2012 when we released Tuffi Films' first ever production, the short comedy "Do I Have To Take Care of Everything?", which went on to being nominated for an Oscar in 2014. Our cinematographer Lisabi Fridell and art designer Eva Torsvall are both from Sweden, representing the new, brave and fresh generation of the Swedish film talent. They definitely had a great impact in creating the colourful, sometimes unorthodoxly lit and very authentic look of the film.
This isn't the first time your work has been shown in Toronto. So, what does the Toronto International Film Festival (TIFF) mean to you? 
With my previous film Little Wing I enjoyed meeting with the Canadian and international audiences in Toronto. It was great to discover that the story carries through language barriers and cultural differencies. The film traveled a lot of festivals after Toronto, and I believe that the fact it premiered in TIFF had its effect on that.
What are you planning to do when you're here during TIFF?
I hope to see some good films and eat really good food. And dance with my cast and crew.
STUPID YOUNG HEART will have three public screenings at the 2018 Toronto International Film Festival. Tickets available at www.tiff.net
Public I – World Premiere Event (talent in attendance)
Saturday, September 8 7:15PM
Scotiabank 11
Public II (talent in attendance)
Monday, September 10 11:30AM
Jackman Hall
Public III
Saturday, September 15 8:00PM
Scotiabank 7