The announcements keep coming from the Toronto International Film Festival (September 8 to 18, 2016) and there is quite a line up of Canadian Filmmakers behind some intriguing titles. Here are a few that we are eyeing already:
Giants of Africa by Hubert Davis, Canada. World Premiere. On a continent where dreams are often displaced for necessity and survival, the game of basketball brings hope to many young men in Africa. Masai Ujiri, president and general manager of the Toronto Raptors, returns to Africa each summer to stage basketball development camps. Young men from across the continent overcome staggering odds, with an unwavering spirit, to attend these camps that are held in Nigeria, Kenya, Ghana and Rwanda. As Masai and his team of coaches work to train and inspire the raw talent that they encounter, Giants of Africa captures the amazing physical and emotional journey that these young African men pass through.
The Stairs by Hugh Gibson, Canada. World Premiere. The Stairs tells the story of Marty, Greg, and Roxanne, each of whom survived decades of street involvement in Toronto. Using that experience, each works in public health to help their old neighbourhood, while struggling to maintain their newly-found stability. Told over five years, The Stairs defies stereotypes about drug use, sex work, and homelessness through an intimate portrait that is by turns funny, surprising, and moving.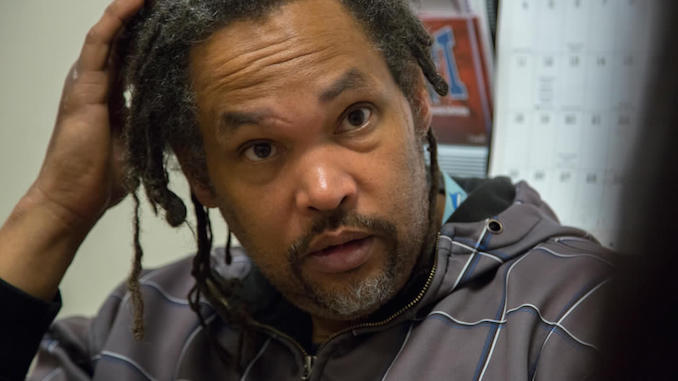 Anatomy of Violence by Deepa Mehta, Canada/India. World Premiere. In 2012, a young woman was gang raped by six men inside a moving bus in New Delhi. She was beaten senseless and thrown naked out onto the street. Eleven actors collaborated on Deepa Mehta's devastating fictional dramatization of the lives of the rapists.
All Governments Lie: Truth, Deception, and The Spirit of I.F. Stone by Fred Peabody, Canada. World Premiere. Investigative journalists Amy Goodman, Glenn Greenwald, Jeremy Scahill, Matt Taibbi, and others are changing the face of journalism, no longer tied to mainstream media, choosing independent alternatives. Cameras follow as they uncover government and corporate secrets, just as ground-breaking and influential American journalist I.F. Stone did decades ago.
Below Her Mouth by April Mullen, Canada. Below Her Mouth is a bold, uninhibited drama that begins with a passionate weekend affair between two women. Dallas, a roofer, and Jasmine, a fashion editor, share a powerful and immediate connection that inevitably derails both of their lives. Starring Erika Linder, Natalie Krill, and Sebastian Pigott.
We Can't Make the Same Mistake Twice by Alanis Obomsawin, Canada. World Premiere. In 2007, the Child and Family Caring Society of Canada and the Assembly of First Nations filed a landmark discrimination complaint against Indian Affairs and Northern Development Canada. They argued that child and family welfare services provided to First Nations children on reserves and in the Yukon were underfunded and inferior to services offered to other Canadian children. Veteran director Alanis Obomsawin's documentary We Can't Make the Same Mistake Twice documents this epic court challenge, giving voice to the tenacious childcare workers at its epicentre.
Two Lovers and a Bear by Kim Nguyen, Canada. North American Premiere. This film is set in the Great North, near the North Pole, in a modern town where about 200 souls live precariously in minus 50 degree weather, and where roads lead to nowhere but the endless white. It is in this eerie lunar landscape that Lucy and Roman, two young tormented souls, fell in love. But now, ghosts from Lucy's past are coming back, and she needs to run away or she will burn. Together, these lovers decide to make a leap for life, a leap for inner peace. Starring Tatiana Maslany and Dane DeHaan.
The River of My Dreams by Brigitte Berman, Canada. World Premiere. Actor-writer-director Gordon Pinsent is one of Canada's most beloved artists. Filled with humour, passion, and complexity, this film by Academy Award–winning filmmaker Brigitte Berman tells Gordon Pinsent's story, as well as a universal story about the human condition, while making creative use of state-of-the art digital technology.
Black Code by Nicholas de Pencier, Canada. World Premiere. Based on the book by Professor Ron Deibert, Black Code is the story of how the internet is being controlled and manipulated by governments in order to censor and monitor their citizens. As they battle for control of cyberspace, ideas of citizenship, privacy, and democracy are challenged to the core.
Visit the TIFF website for more info.