As you take a seat in a smart venue over a century old, you aren't expecting to be met by a debaucherous show filled with explicit language, nudity and dancing vaginas. Well, not unless you're going to see Peaches that is, as we found out during the Toronto pop princesses recent show at Massey Hall.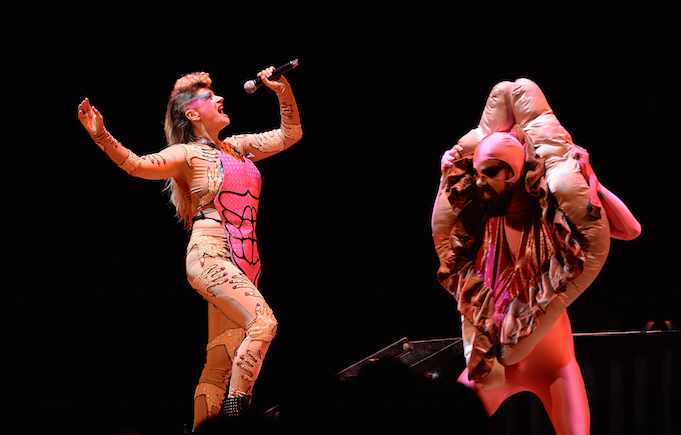 Peaches, where to start?
After six full-length solo albums, Merrill Beth Nisker, better known as Peaches, is showing no signs of softening her style. The raucous pop star has swathes of energy, coming across as an intense performer driven primarily by sexual expression and freedom. I must say it was unlike anything that I've ever seen before, nor was there time for anyone to get bored with the pounding electronic music, eccentric dance routines and Peaches herself switching costumes and roaming the stage like a lion in a cage.
It's probably not the sort of show I would recommend taking your nan to, though I guess that does depend what your nan is into! The backing dancers switched up their styles between wacky, jokey and disjoined routines and tighter, more choreographed ones. At one point they kept pretending to adjust themselves in a tongue-in-cheek play on traditional backing routines.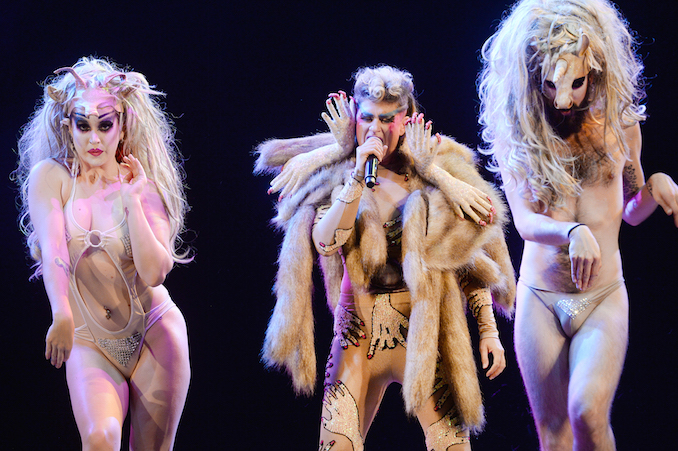 In terms of the music, Peaches sits in a weird area somewhere between the realms of pop and dance. Some of it sounds credible and some of it sounds like a joke, which it certainly appears is the aesthetic that Peaches is aiming for. One of the highlights of the night was 'Dick in the Air', – "I bet you never thought you would be shouting "Dick" as loud as you could at Massey Hall", Peaches mused. In all honesty, I wasn't expecting her to trundle over the seats from one side of the audience to the other, but she certainly likes to get everyone involved!
As well as prowling the stage, she also did some basic sampling and mixing, which added a level of legitimacy to the performance.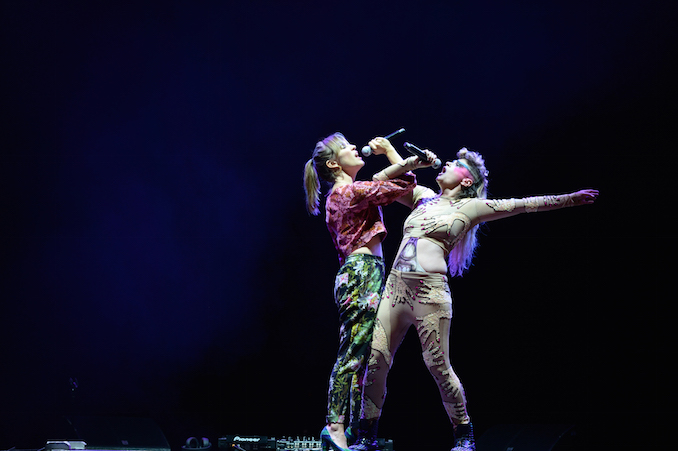 The most refreshing thing for me was that, whilst Peaches can be easily compared to pop icons like Lady Gaga in terms of her outlandish costumes, larger-than-life persona and poppy electronic style, it certainly sounds like she is still in total control of her music. After over twenty years, she definitely deserves credit for that; she does what she wants. It wasn't perfect, but if anything, the humanity in the performance helped the crowd to more closely relate to her, so there was less of a 'me' and 'them' atmosphere than you might expect from watching a 'pop star' perform.
I think you can guess what she ended the night's set on, and it's fair to say that the audience left pain free.
For more information about Peaches and her current tour that sees her visit Canada, America and many of the major European cities, please visit her official website.