The sixth annual Fight to End Cancer event benefitting the Princess Margaret Cancer Foundation will take place on Saturday, May 27th here in Toronto. Each year, a group of white-collar men and women take to the ring to fight one-on-one in attempts to raise funds for cancer research.
Each boxer is entered into the event with no prior boxing experience, but in the months before the competition, they endure intensive training. Each boxer has a personal drive to end cancer, bring you entertainment in the form of a heated exchange of fists.
Watch the 2016 highlights, and 2017 promo video here:
"Your funds are going to support one of the top five cancer research hospitals in the world; in those labs are the people doing the ground-breaking work that will conquer cancer in our lifetime," says Tom Ehrlich, a cancer survivor, on behalf of the PMCF.
Allison Dellandrea, one of this year's many fighters is a cancer survivor. She was diagnosed with cancer while pregnant with her third child. Upon the diagnosis, she had to have immediate surgery to remove a tumour that endangered both her life and the life of her baby. Since, she has given birth to a healthy son, with positive progress in her own fight against cancer.
"The promise of ending all cancers is certainly a cause worth taking a few lumps for and hopefully giving a few too," says Andrew Noel, one of the boxers for the event. "As the father of two amazing young girls, I am particularly motivated by the promise of a world without childhood cancers and will be fighting to raise as much money as possible to help realise that promise." He dreams of a world where his daughters do not have to worry about cancer.
Mark Benoit fights to remember a dear friend, Dr. Lionel Everett Mcleod. Mcleod was the Dean of Medicine at the University of Calgary amongst many other things, including "the kindest man I have ever met," says Benoit. Benoit fights to remember "a man who gave his life for the betterment of others was robbed of his future. While I am fighting in memory of a fine man, I am really fighting to preserve and protect the future of all……fighting to beat cancer."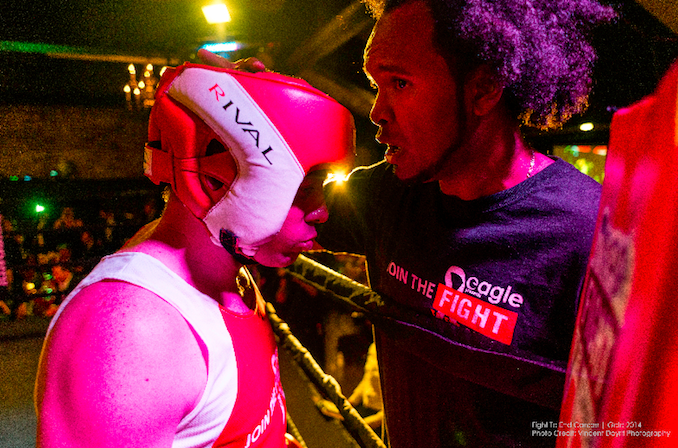 Two events will be held: a media day on May 18th from 5 pm to 9 pm, free of charge, on which people have the opportunity to meet the fighters before the actual match on the 27th. If you're interested, RSVP here
With help from the events official wine and beer sponsors, the media day event will be held at the Lavelle Rooftop Lounge in Downtown Toronto, featuring live DJ sets, celebrity guests, wine from the OMT Vineyards and beer from Steam Whistle
The gala event on the 27th will be in the style of Las Vegas, with a gourmet dinner and the promise of exciting entertainment.
The Fight to End Cancer event was founded in 2011 and has managed to raise over $600,000 since its inception.
On the Fight to End Cancer website, each boxer details their personal connection to cancer and why this event is necessary for them to raise funds for cancer. Of the annual goal of $200,000,  $107,000 has been raised already with a remaining 18 days to go. Links to the player bios here:
Get tickets for the gala here:
Again, RSVP for the free media day here: