With the return of the Fight to End Cancer (FTEC) charity boxing event after a 4-year hiatus, we wanted to find out more about this year's participants and to spotlight their stories for this year's event. These individuals have spent months training at Kingsway Boxing as well as fundraising along the way to prepare for the final count, where they will face off in the ring on May 27th at the Old Mill in Toronto and attempt to reach a total fundraising goal of $3 million. The funds raised will go to the Princess Margaret Cancer Foundation.
Our seventh fighter is Victoria 'Slick Vic' Williamson. This is what she had to say.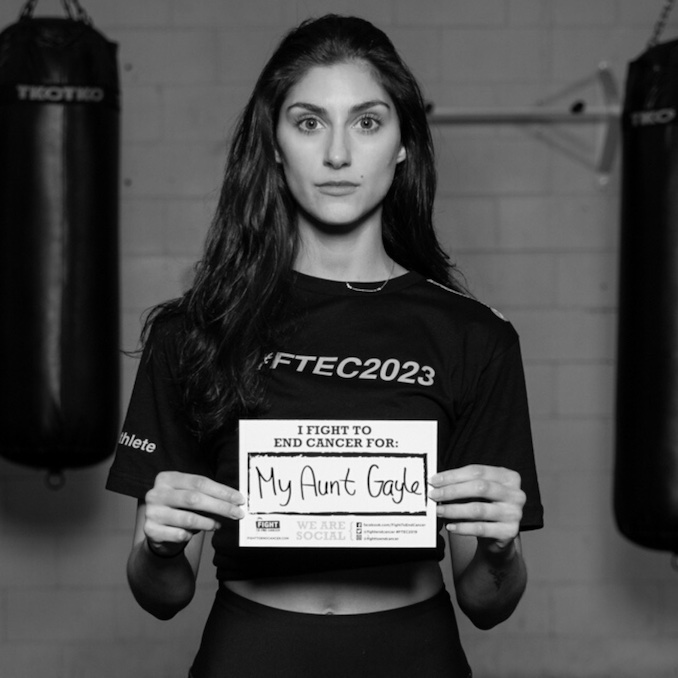 Name: Victoria 'Slick Vic' Williamson
Place of Birth: Mississauga ONCurrent Home: Etobicoke
How long have you been boxing?
I've been boxing on and off since 2019.
How did you hear about FTEC?
I heard about FTEC through Virgil – he told me about it when I came back to the gym after recovering from an injury
What made you want to get involved?
Both hearing stories from others and reflecting on how cancer has affected the people in my life made me want to get involved. I also saw it as a great opportunity to push myself out of my comfort zone by preparing to step into the ring.
What has been the hardest part about training?
The most challenging thing has been learning to get comfortable getting hit. Boxing takes a lot of mental focus and it can be challenging to remain in the right headspace when learning to fight.
What has been the best part about training?
The best part has been connecting with the other fighters and our coaches. Seeing everyone's progress makes me feel really proud of the whole team. I'm also very competitive and grew up playing competitive sports, so it feels good to train for something again.
What is your advice for people considering becoming a fighter with FTEC?
My advice is to go for it. It's a great opportunity to learn new skills, raise money for an amazing cause, and connect with wonderful people. I believe pushing yourself out of your comfort zone for an event like this is so worth it.
Who are you fighting for?
I am fighting for my aunt Gayle who my family lost to breast cancer.
The gala event and charity boxing match will finally return to the Old Mill Toronto on May 27th. Donations to the Fight Teams can be made at: fighttoendcancer.com.
Read our post about the event.