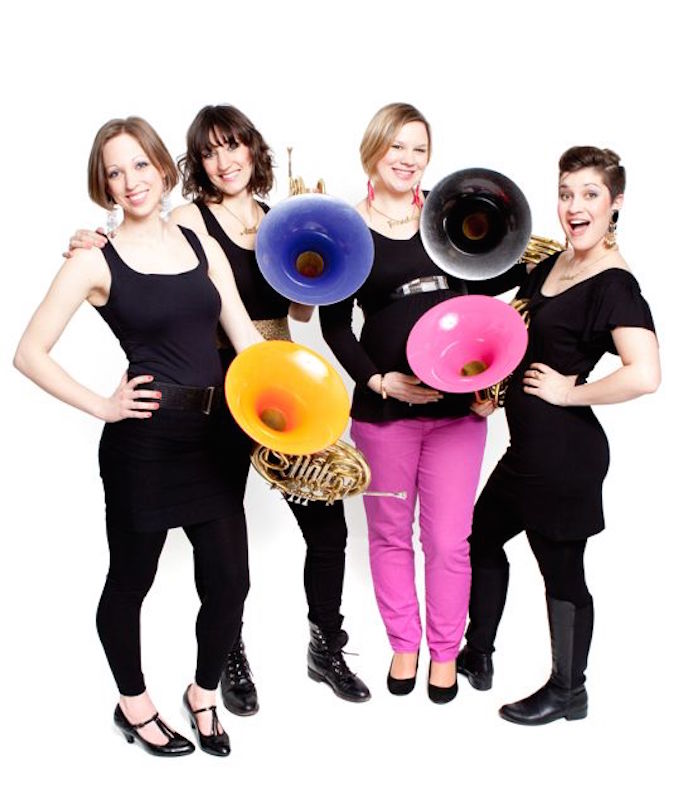 Walk into any band class in Ontario and look at the students holding French Horns, trumpets, trombones and tubas. Chances are you will find more boys than girls sitting there. While much has changed in the past three decades, gender stereotypes still abound about women playing brass instruments.
From questions about the weight of the instrument to how much air it takes to simply produce sound, women who command a brass instrument have heard it all. One group of extraordinary female French Horn players is working hard to blow those questions away.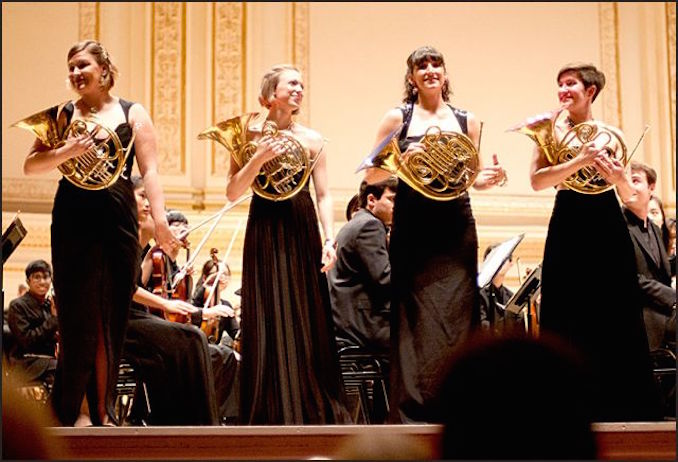 The New York based Genghis Barbie Horn Quartet is comprised of four conservatory-trained female French Hornists. Each woman boasts an impressive resume of solo work, orchestral playing and recording work.The group has taken a unique approach to their performance personas, with each woman sporting a moniker that reflects her persona, much the way the Spice Girls did in the 90's.
Born out of a desire to "create distinctive, interactive and personal performances" Genghis Barbie represents a shift in how classical brass musicians approach their audiences. Once thought of for marching bands and the Salvation Army ensembles that play in shopping malls during the holidays, brass music has now transformed into year round entertainment, seeking to engage audiences of all musical tastes.
Genghis Barbie performs arrangements of pop music from the last four decades, allowing them to access audiences who previously would have written off classical music as boring, or 'not their thing.' A quick glance at their videos on YouTube will show you the versatility of the ensemble. From the technical virtuosity (and fantastic singing) in Mariah Carey's 'All I Want For Christmas' to the extremely emotional warmth and musical depth of Toronto-native Leonard Cohen's 'Hallelujah' Genghis Barbie will having you tapping your foot and maybe even singing along.
The quartet of hornists plays this weekend at Toronto's Harbourfront Centre as part of the Summer Classical series. Caroline Holloway is the program curator for the Harbourfront Centre and is responsible for bringing the group to Toronto. When asked about what interested her in the group, Ms. Holloway points to the group's individuality: "I loved the fact that they were classically trained and that they still worked and taught in that area, but also let rip with their own style."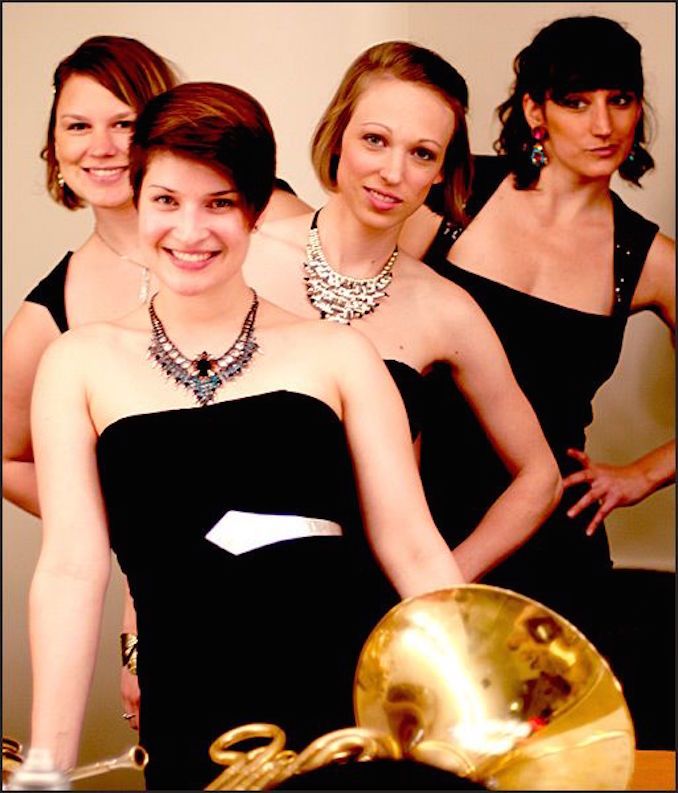 Performing as Velvet Barbie (Danielle Kuhlmann), Freedom Barbie (Alana Vegter), Cosmic Barbie (Leelanee Sterrett), and Attila the Horn (Rachel Drehmann), the women give audience members- particularly female ones- an opportunity to identify with the musical personality that most suits them.
That diversity of musical personalities and the idea that brass playing isn't always about big and loud is what makes Genghis Barbie such a trailblazer for the female classical music community. For women, the frustration was not only that the perception was that they were unable to keep up with their male colleagues (when in fact, they were) but that there was only one way to playing and only one way to approach brass playing.
Self-described 'post post-feminists', Genghis Barbie seeks to embrace their womanhood but allow their playing to be the determining quality of their musical success. Audiences who come to their concert can expect to hear four incredibly talented, strong, and intelligent women challenge their ideas on classical music, brass playing and what can be done in heels.
As Caroline Holloway told me, "I hope their show inspires someone to think about taking up the instrument, or brushing off the one that they used to play in school and reconnecting with the wonderful sounds it can produce." For Genghis Barbie, the audience experience is their ultimate goal: "to cut through the noise and take us to a place where we can dance together."
Genghis Barbie performs this Saturday, July 27, 2013 8pm at the Harbourfront Centre 235 Queens Quay West, as part of the Harbourfront Centre's 'Classical V: Brass,' a brass festival running from
July 26-28. Admission is free.
Please visit Harbourfront website for more details, and check out their site.