Until last night I had not been to the Fleck Dance Theatre at the Harbourfront Centre. I can't think of a better evening to make my debut than by catching Glass Fields, part of Toronto Dance Theatre 's 50th Anniversary Season.
You'll have to forgive me; I cut my dance teeth in London and I only recently moved to Toronto. Now I know what I have been missing over here as I was party to a beautiful evening of contemporary dance spread over six chapters and drawn from Christopher House's Glass Houses, a 1980s minimalist piece that still evokes poignant liveliness 35 years after its debut in Toronto.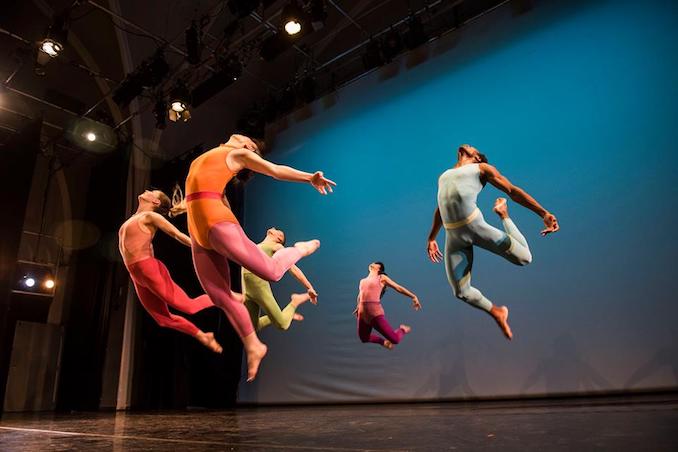 For opening night, we were lucky to be joined by Christopher House himself, who's passion and enthusiasm for dance came oozing through his smile and out into the hearts of the audience. The evening started off with one of his latest works and one of my favourite of the evening; Thirteen.
Thirteen somehow harked back to a time before Glass Houses, with some kitsch 1970s vibes. I was totally enamoured with the live musicians on stage, Thom Gill, Phillippe Melanson and Takus.  Visible and hypnotic xylophones and funky guitar provided a backdrop to what started as loose, free movement between three aesthetically diverse dancers but ended in a frenzy. In short, I loved it.
Mining Tracing seemed to me to be about particles and their effect upon one another; most specifically the power to energize. This notion was reflected in the glittering costumes. The dancers were either particles, or decidedly glamourous and energetic sheep. I like both ideas!
Rest in Suits plucked at the struggle with modernity eventually displayed in the original source material.  Sarah Shugarman's piece presented a lifelong, tiresome struggle between the urge to fight for success and to rest. After all, we are only human. Is the struggle worth it?
Greg Harrison's GH 5.0 offered up some great moments of unison amid some spellbinding partnerwork. While I felt a discord between the costumes, movement and music, for me this just emphasised the struggle.
6 People Doing 6 Poses From 6 Phots To Music was visually one of my favourite pieces of the evening and offered commentary on celebrity culture and the roles we play when we think people are watching.  The piece was inspired by the Longo Photos, one of the original inspirations behind Glass Houses. It was fascinating to see how a similar start point could lead somewhere entirely different. Interesting, I read a lot into Yuichiro Inoue's costume colour choice, which evoked image of the infamous Burning Monk for a few brief seconds.
Finally, the audience were treated to the dance that sparked it all, Glass Houses, revived 35 years later but delivered with what I can only assume was similar verve. In the 80s, Glass Houses was hailed as minimal, but today it fills the stage with a vibrancy. Throughout the evening of works, dancers Megumi Kokuba, Pulga Muchochoma, Christianne Ullmark, Valerie Calam, Alana Elmer, Yuichiro Inoue, Peter Kelly, Devon Snell and Margarita Soria weave a rainbow of talent and diversity that is so pleasing to watch.
Glass Fields took me on a journey through the modern human condition. Without being able to tell you precisely where I arrived at the end of six works, I can say it was a positive conclusion that has got me thinking what the next 35, the next 50, the next 100 years of dance will bring.
Glass Fields is part of Toronto Dance Theatre's 50th Anniversary Season. To find out more, visit the Toronto Dance Theatre website.