An all-new detective series is coming to the CTV network on Sundays that is worth watching for the stellar leading cast, the filming (in Toronto), and the smart storylines. The Detail centres around three resilient female homicide detectives and the realities of their lives both on and off the job. They work tirelessly to solve crimes while navigating the complexities of their personal lives.
The Detail premiere episode "Wake Up Call" (airing Sunday, March 25 on CTV and CTV GO) opens with Detective Jack Cooper, who, while reeling from a shocking revelation in her personal life, throws herself into the investigation of an apparent suicide with her partner Detective Stevie Hall, who's dealing with a shot of her own after a romantic figure from her past returns. As the two partners inventive the life of the deceased under the watchful eye of Staff Inspector Fiona Currie, the uncover a story of betrayal that mirrors their own personal drama and questions whether this was suicide or murder?
The three lead characters Angela Griffin, Shenae Grimes-Beech and award-winning Canadian star Wendy Crewson, were in Toronto recently to chat about the exciting new series. The panel interview was led by CTV's Liz Trinnear.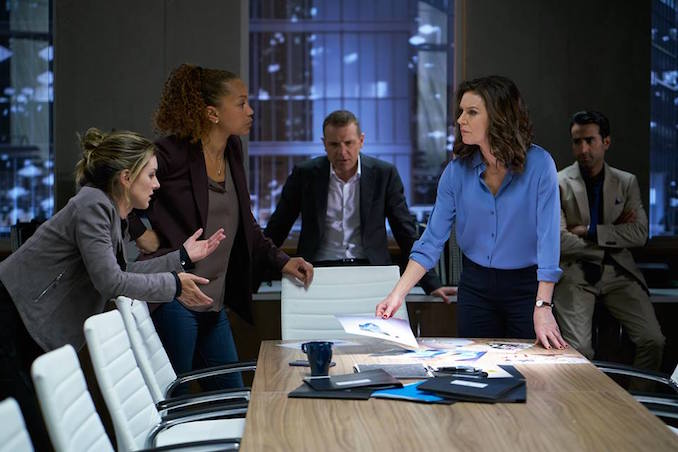 The title of the first episode "Wake Up Call", seems so fitting for the environment we are living today.
"This is an evolution of TV where we've had a predominantly male driven world of crime-drama, we've now three incredible fierce women leading it, " said Griffin. "We're not playing stereotypical roles. We're not the girlfriends or wives. We are complex, deep and we are women. We are the evolution for everyone to see."
There are a lot of female producers, writers and others who are working on every part of this series. Driving the smart, raw, and realistic narrative are Executive Producer and C-Showrunner Ley Lukins (Saving Hope, Lost Girl), who is also series developer; Executive Producers Ilana Frank, Linda Pope (Saving Hope, Rookie Blue), Sally Wainwright (Last Tango in Halifax), Nicola Shindler (Trust Me), and Entertainment One's Jocelyn Hamilton (Cardinal); Sonia Hosko (Saving Hope, Rookie Blue) is Co executive producer, Also included ar consulting producer Kathy Avrich Johnson, writers Naledi Jackson, Sandra Chwialkowska, Katrina Saville and Sara Goodman. Directors of the seres including Jordan Canning (Space Riders) and Sara St. Onge.
"When we were shooting this, we didn't know what is happening now, and what was going to happen, We were ahead of the game so I think it's quite timely that this show is coming out now," said Griffin. "It also checks off a lot of other boxes from age, generation, diversity and ethnicity but that's not what it's there for, it just happened that way. It's an entertaining show with great crime and great script. It's just a great show for people to watch. That's it!"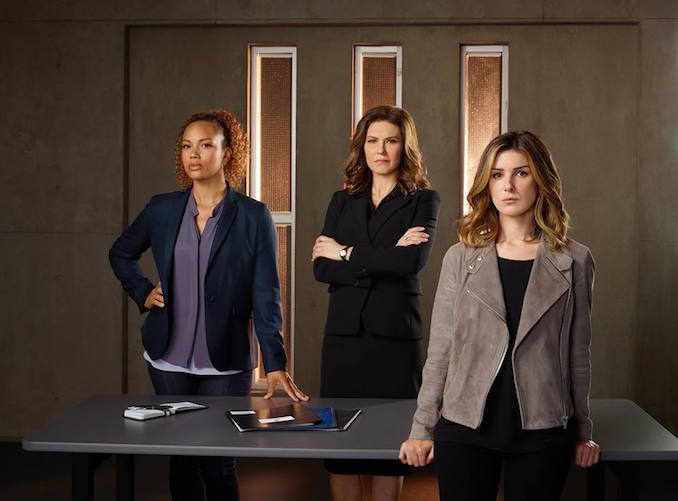 Grimes-Beech is probably most recognized for her roles on hit teen dramas Degrassi: The Next Generation and 90210. We had the opportunity to ask her what's it like to now take on an adult character.
"I was in high school for ten years and then a month later I got married. I really felt like a woman you know? I started 90210 at the age of 18 and wrapped things up at 23. I was a wife and it was mind-blowing. I took a break to catch up with myself but getting back into acting, it's hard to break that mould to cast you in that role. I mean, I'm little and petite so people still saw me as a college kid when they looked at me. I'm so excited that people will see this next chapter in my life and I hope they fall in love with Jack as much as I have."
Grimes-Beech also mentioned the biggest change in taking on this role and how she's embracing her character that is closer to her age. "I'm so use to playing the 'girl next door' and did that for ten years," said Grimes-Beech.  "I'm use to just sitting, looking pretty, being sweet and naive. But Jack is definitely not innocent — she's a lot more like me. She's unapologetically herself which is definitely something I have identified with  for a long time but almost had to push away because as a woman, and a public figure. We've been told to portray a more passive image and don't step on toes. Jack is the opposite of that and that is not in my nature. I think it's been so fun to embrace."
Crewson tells us as an actor, you're not use to being the boss and what resonates with her about the character she plays? "We're in this world that is collaborative and creative so it's difficult to find that piece of yourself that gets to lay down the line with everybody. But I have to say really, I could relate to the fact that Fiona wants to get it right. She understands that after all these years in a male dominated industry that unless you get the conviction, who cares if you got the bad guy down. You have to do it immaculately. You have to work really hard to make sure you do it twice as well as any man can do it. She really sees, and I'm sure in Jack, herself years ago in that "all-in" kind of attitude. She wants to make sure she uses those instincts with conviction. So, she's mentoring and that I believe in fully."
While Crewson and Grimes-Beech are familiar with Toronto, Griffin enjoyed discovering the city and mentioned wanting to take in everything she could. Yes, she did the usual CN Tower, the Islands, and even the bus tour. But one of her favourite spots to visit was Lavelle. "It was a doorway that led to a bar. It opened up and there was a swimming pool! I need to relive that experience. I'll  get back there again, even in the freezing cold."
It's also amazing to find Toronto featured as itself and is not a reasonable facsimile of another city. Lots of fun spotting the Toronto streets, landmarks and references!