We spoke to Lemon Bucket Orkestra about their chosen charities that will benefit from their upcoming Lemon-Aid Holiday Festival, a celebration in song and dance at The Opera House in Toronto.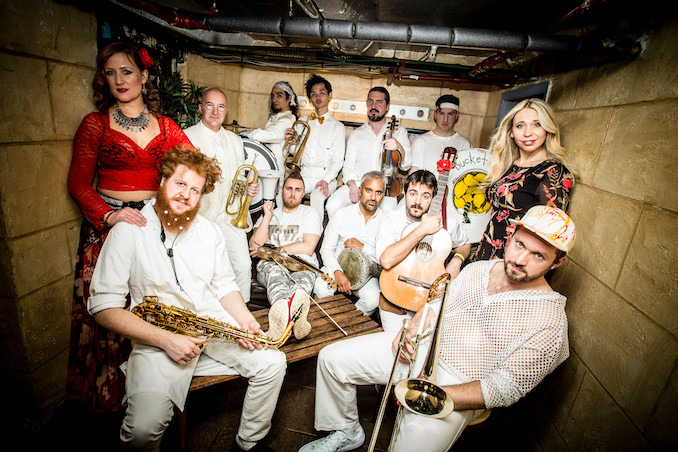 Describe your charitable endeavour in a few sentences.
We wanted to give artists in our community a platform to support the organizations that are important to them while celebrating another great year of making music in this beautiful city.
Each artist chose a charity that means something to them and will donate half their fees to these charities. The more people come to the Lemon-Aid festival, the higher the artist's fees, the more money we raise.
LBO chose Regent Park School of Music. It's a community music school that gives as many kids as possible a music education by removing financial obstacles. This year, they gave 1,000 young people aged 3-18 a highly subsidized quality music education at their central hub in Daniels Spectrum in Regent Park and in Jane and Finch and other high-priority neighbourhoods in Toronto.
The goal is to help kids thrive through music; the study of music allows young people to flourish creatively, personally and academically, enriching their lives and future prospects.
Balaklava Blues has been working closely with Help Us Help for many years. The Canadian volunteer run organization has been providing relief to orphans in Ukraine for the past 25 years. Mark, Marichka, and Oskar have personally travelled to and volunteered at the Help Us Help camp in the Carpathian Mountains and have seen first-hand how the organization's work has a positive effect on the lives of parentless children in a country where they are otherwise neglected and don't have government support or services to protect and nurture them, never mind giving them what they need to thrive.
Bangerz Brass is donating proceeds to RISE Edutainment. Reaching Intelligent Souls Everywhere (RISE) is a youth-led movement that has been providing opportunities and spaces for youth to develop artistically/professionally, personally, socially, and spiritually. They create safe and inclusive spaces that foster self-expression and healing through the performance arts and storytelling. The organization has provided a place for Bangerz MCs and countless other young artists in the Scarborough community and beyond a safe space to heal, build community and work on their craft.
Moneka Arabic Jazz started working with tuktuk4freedom as they wanted to do their part with regard to the protests in Iraq. They sell hats and send all the proceeds to Iraq, but it's more than just a fundraising organization. The aim is to raise awareness and to provide English language coverage to the movement back home.
What problem does it aim to solve?
There isn't any singular problem we aim to solve because we are so many different people coming together to make this event for our fans and our city. You heard about the organizations we've chosen to support as bands, but I guess if anything, what we're trying to promote by creating this kind of model is collaborative generosity within our community based on giving artists agency to choose what is important to them.
Plus, the sheer intensity and density of so much incredible, diverse, powerful music in one condensed place and time is sure to shake someone into solving something…
When did you start/join it?
I was one of the co-creators of Lemon Bucket in 2010.
What made you want to get involved?
Everyone has a different reason for joining. I had just returned to Toronto after a 2-year stint in Ukraine and was missing Eastern European music and culture. I met some people who felt similarly about various forces in their lives. We started to jam together and teach one another songs we liked that we learned on our respective journeys. People heard us and wanted to join— some as musicians, some as revellers, some as fans, some as co-conspirators. The band evolved into a movement— the music was just a vehicle for us to all connect with one another and out city and other cities and villages and feel like we were part of something larger than ourselves. Tradition. History. Life. Living.
What was the situation like when you started?
We were all depressed and anxious, then motivated and inspired. We went hard and didn't know when to stop.
How has it changed since?
We've learned to ride the cycle between depressed/anxious and motivated/inspired like a wave. We still go hard, but with breaks in between and with a more strategic view on how to make the world around us a better place.
What more needs to be done?
We all need to be more in tune with the world around us. There is an endless amount of work to be done and empathy and generosity are never in surplus. Sometimes it is the people closest to you that need care and attention, and sometimes we need to think more universally about our shared experience. I'm proud that the artists in our community think both locally and globally, personally and generally about how to dedicate the time and resources they don't need just to survive in this city. It's never enough, but I think we're on the right track.
How can our readers help?
By coming to the Lemon-Aid event! Like I said, the more people come, the more money we raise for our charities. It's as simple as that.
Check out each organization's website. If there is something that catches your eye or ear or heart, dig a bit deeper.
Other than that: cherish one another. Give generously and widely. Celebrate what we have. Together.
*
LEMON-AID – December 27 to 28 at The Opera House – 735 Queen Street East
Ticket info:
2-day festival pass – $30 +fees (limited to 250) – buy tickets here
1 day early bird – $20 +fees (limited to 250)
1 day advance – $25 +fees (limited to 300)
Day 1 – Friday, December 27
Moskitto Bar and Moneka Arabic Jazz and Lemon Bucket Orkestra – buy tickets here
Day 2 – Saturday, December 28
Balaklava Blues, Bangerz Brass and Lemon Bucket Orkestra – buy tickets here
Balaklava Blues have just released a music video dedicated to the international artists who travelled to Ukraine despite the war engulfing the east of the country to bring colour, perspective, and hope to the grey walls of the capital's apartment blocks.