HOT TAKE ALERT: Spinach is one of the few superfoods that taste good, Unlike other leafy greens like cabbage, lettuce, and celery, spinach does not have a strong aftertaste. As more Canadians opt for healthier meals and more varied diets, spinach had become one of our go-to greens in 2022.
Here we are going to explore the 4 most popular spinach recipes based on YouTube and Google searches in Canada! If you are a fan of this leafy green, you may get some new ideas for your next meal.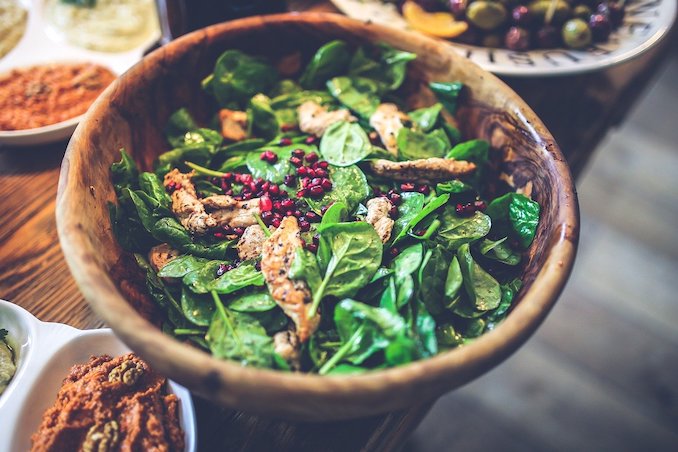 Spinach Artichoke Dip
Ingredients:
Chopped Spinach (½-1 cup)
Cream Cheese (8 ounces)

 

Sour Cream (¼ cup)
Mayonnaise (¼ cup)
Minced Garlic (1 clove)
Grated Parmesan (¼ cup)
Mozzarella (¼ cup)
Artichokes (8-14 ounces)
Crackers or chips (optional)
Instructions:
Heat your oven to 350 degrees. While it heats up, chop your garlic into small cubes, and mix it in a bowl with your cream cheese, sour cream, mayonnaise, parmesan, mozzarella, and pepper. Once thoroughly mixed, take your artichoke hearts and spinach, chop them finely and stir them in the mixture.
Get a deep baking tray and spread the mixture evenly. Place in the oven and let sit for around 20 minutes. Let sit for 5 minutes before serving. This dip is great when paired with chips, toasted bread, and other crunchy foods.
Creamed Spinach
Ingredients:
Spinach (2 ½ cups)
Sweet Onion (½-1)
Milk or Non-dairy Milk (2 cups)
Butter or Margarine (2 tablespoons)
Salt (as much as you like)
Black Pepper (as much as you like)
Cayenne pepper (just a pinch is recommended)
Heavy cream (¼

 

cup)

 

Cream cheese (4 cups)
Grated Parmesan (¼ cup to ⅓ cup)
Minced garlic (2 cloves)

 

Crackers or chips (optional)
Instructions:
Boil the spinach in a medium-sized pot with salted water. After half a minute, drain the water from the pot and take the spinach out and put it in a bowl of ice to cool down. Once the spinach is no longer hot to the touch remove it from the bowel and place it on a towel. Fold the towel over the spinach and press down on the spinach until it is dry. 
Now, get a frying pan or skillet and turn your stove on medium heat. Add the butter and onion to the pan for about 5 minutes, or until the onion is thoroughly sauteed. Next, add the garlic and cook for another minute. Once the garlic is cooked, pour the milk, cream cheese and heavy cream into the pan and turn the heat down to medium-low heat. Simmer until the cheese completely melts while stirring
Finally, mix the spinach and parmesan in the pan, turn off the heat and let sit for 2 minutes. Serves best with a side of crunchy grains like chips, crackers or toast. 
Strawberry Spinach Salad
Ingredients:
Balsamic vinegar (½ a tablespoon)
Honey (optional, 1 teaspoon)
Dijon Mustard (1 teaspoon)
Extra virgin olive oil (2 tablespoons)
Sea Salt (1/4 teaspoon)
Black pepper (1/4 teaspoon)
Strawberries (1-2 cups)

 

Pecans and/or Almonds, and/or Walnuts, and/or Sesame Seeds (⅓ cup)
Baby Spinach (6 cups)
Crumbled Feta or Goat Cheese (¼ to ⅓ cup)

 
Instructions:
Like most salads, this recipe does not require a lot of time or effort to create once the ingredients have been assembled. Here is a two-part overview of how you'll bring your strawberry spinach salad together:
Make the dressing – first, make the vinaigrette by whisking together the vinegar, honey, mustard, olive oil, salt, and pepper in a little bowl until completely joined.
Collect the plate of mixed greens – add the spinach, onion, strawberries, walnuts, and feta to an enormous bowl, then, at that point, shower the dressing on top and throw to join.
Spinach Smoothies – With Strawberry
Ingredients:
Spinach (1 cup)
1 ripe banana (optional)
Chia and/or Flax Seeds (¼ cup)
Strawberries, Blueberries, Raspberries or any other juicy fruit that you like (1-2 cups)
Other frozen fruits (optional, 1 cup)

 

Milk, Dairy-Free Milk (½-1 cup) or Greek Yoghourt (½ cup)
Protein Powder (Optional, 1 tablespoon)
Instructions:
Ensure that all fruits you add are either frozen or ripe. Carefully inspect any non-frozen fruits for dark spots and if you find any, get a knife and cut them out before washing your fruit under some running water. If you are using frozen food, make sure to check the expiry date to ensure the food is still good to eat. 
Slice your non-frozen fruits into small pieces for a more thorough blending. Once everything is measured you can throw everything into your blender and turn it on until all the ingredients are mixed to your preferred consistency. You can freeze all your fruits ahead of time to make your smoothie cold and more firm. Including a banana will also help in this regard.
Spinach smoothies are a great way to ensure you are getting lots of vitamins and nutrients in one quick and easy meal. It's perfect for those on tight schedules who don't have time to prepare and cook big meals three times a day, every day. 
Find Unique Spinach Recipes 
These are just a few of the ways you can turn ordinary spinach into extraordinary dishes that dazzle your tastebuds. Finding new and tasty ways to eat vegetables, especially leafy greens is key to living a healthy life without sacrificing flavour. HelloFresh is Canada's largest meal-kit provider, with over 100 delicious spinach recipes to choose from, there are plenty of options to help you eat more spinach and other vegetables your body needs to stay healthy.   
The Health Benefits of Eating Spinach
Spinach is incredibly healthy, being low in fat and calories, this vegetable is a great option for those looking to eat healthier or lose weight. Spinach has lots of fibre, helping your digestive system function properly and reducing the likelihood of constipation.
According to Medical News Today, spinach has been shown to improve blood sugar control in diabetic patients, reduce the risk of cancer and help improve bone and eye health. Including spinach in your regular diet helps ensure you get all your essential nutrients, especially vitamin C and K, iron, as well as a host of antioxidants.  
Being both healthy and tasty, it's no wonder why spinach is one of the most popular vegetables in Canada.